The Popular H-1B Visa
FREE Citizenship Case Consultation
1-866 INJURY 2
or
1-866-465-8792
Q: What is an H1B Visa and How Can I be Eligible to Obtain One?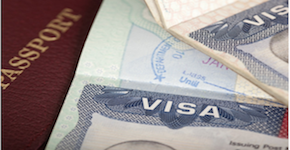 A: An H1b visa is a non-immigrant visa, which is used by individuals who are temporarily employed in a specialty occupation here in the United States.
What are the key Requirements an individual must fulfill in order to apply for an H1B visa?
Requirements From USCIS
You must have an employer-employee relationship with the petitioning U.S. employer.

In general, a valid employer-employee relationship is determined by whether the U.S. employer may hire, pay, fire, supervise or otherwise control the work of the H-1B worker. In some cases, the sole or majority owner of the petitioning company or organization may be able to establish a valid employer-employee relationship, if the facts show that the petitioning entity has the right to control the beneficiary's employment.

Your job must qualify as a specialty occupation by meeting one of the following criteria.

A bachelor's degree or higher degree or its equivalent is normally the minimum requirement for the particular position;
The degree requirement is common for this position in the industry, or the job is so complex or unique that it can only be performed by someone with at least a bachelor's degree in a field related to the position;
The employer normally requires a degree or its equivalent for the position; or
The nature of the specific duties is so specialized and complex that the knowledge required to perform the duties is usually associated with the attainment of a bachelor's or higher degree.

Your job must be in a specialty occupation relate to your field of study.

Some of the evidence you may submit to demonstrate that your degree is related to your position include the following:

A detailed explanation of the specific duties of the position, the product or service your company provides, or the complex nature of the role you will perform, and how your degree relates to the role.
Written opinions from experts in the field explaining how the degree is related to the role you will perform.
Printouts from online resources describing the degree fields normally associated with the occupation.
Evidence that similar companies in your industry require similar degrees for similar positions.

If your position qualifies but do not have at least a bachelor's degree in a field related to your position, then you may qualify by:

Holding an unrestricted state license, registration or certification which authorizes you to fully practice the specialty occupation and be immediately engaged in that specialty in the state of intended employment; or
Having education, specialized training, and/or progressively responsible experience that is equivalent to the completion of a U.S. bachelor's or higher degree in the specialty occupation, and having recognition of expertise in the specialty. through progressively responsible positions directly related to the specialty. In general, 3 years of work experience or training in the field is considered as equivalent to 1 year of college.

You must be paid at least the actual or prevailing wage for your occupation, whichever is higher.

The prevailing wage is determined based on the position in which you will be employed and the geographic location where you will be working (among other factors). The U.S. Department of Labor (DOL) maintains a database with applicable current prevailing wage levels based on occupation and work location.
To demonstrate you will be paid the appropriate wage, you must submit a Labor Condition Application (LCA) for your position, certified by the Secretary of Labor, which states, in part:

The employer is offering and will offer during the period of authorized employment to aliens admitted or provided status as an H-1B non-immigrant wages that are at least the actual wage level paid by the employer to all other individuals with similar experience and qualifications for the specific employment in question, or the prevailing wage level for the occupational classification in the area of employment, whichever is greater, based on the best information available as of the time of filing the application.

If you are currently working for the company (e.g. working for the company you started while on OPT), some of the evidence you may submit to demonstrate that you will be paid the appropriate wage includes:

Your most recent paystubs
Your most recent W-2
Showing the wages you received

If you are not currently working for the company, you may submit a letter from the company attesting to the wage that you will be paid once employed as an H-1B.

An H-1B visa number must be available at the time of filing the petition, unless the petition is exempt from numerical limits.

The H-1b visa has an annual numerical limit or cap, of 65,000 visas each fiscal year. The first 20,000 petitions field on behalf of beneficiaries with a U.S. Master's degree or higher are exempt from the cap.
Additionally, H-1 B workers who are petitioned for or employed at an institution of higher education(or its affiliated or related nonprofit entities), a nonprofit research organization or a government research organization are not subject to this numerical cap.
Cap numbers are often used up very quickly, so it is important to plan in advance if you will be filing for an H-1B visa that is subject to the annual H-1B numerical cap.
The United States government's fiscal year starts on Oct. 1. H-1B petitions can be filed up to 6 months before the start date, which is generally April 1 for an October 1 start date.
How Does One Apply?
Requires the individual to be sponsored by an United States employer
A labor condition application must be filed by your employer with the department of labor
Must attest several items, including, but not limited to – the payment of a prevailing wages for the position. –working conditions offered, -etc.
The employer then must file the certified LCA and H1B petition.
If the petition is approved the alien may then apply for the H1B visa.
How Long Does The H-1B VISA Last?
An individual can be in H1B status for a maximum period of 6 years. After that time the individual must remain outside of the United States for 1 year before and H1B petition can be approved.
Certain individuals may obtain an H1B extension beyond the 6 year period.
Contact a Lawyer
While we previously handled immigration cases, we still provide some general immigration information on our web site for assistance to the general public. This is no substitute for consulting with an immigration attorney about your specific facts and/or case which we highly recommend, especially since some laws, rules and procedures may change at any time and web site pages are not intended to provide legal advice and are not always updated. Thus, we urge you to consult with an immigration attorney now and if you need any assistance in finding one please contact our law offices now for help.
Meanwhile, we continue to offer an absolutely FREE consultation and case evaluation for anyone injured in a car, truck, motorcycle or any other accident or to any family who suffered the death of a family member with a wrongful death accident claim in Los Angeles, Orange, Riverside, San Bernardino, San Fernando Valley, Ventura and all of California.
We have over 45 years experience handling personal injury & wrongful death accident cases and during that time our injury accident lawyers have successfully resolved thousands and thousands of injury accident cases.
There are many easy ways to contact our personal injury & wrongful death accident lawyers:
Call us:

Local: 818-222-3400 (after hours, please press 1)
Toll Free: 866-465-8792 (after hours, please press 1)

Send us an email at info@WalchLaw.com
On personal injury accident cases & wrongful death accident cases there is NO charge for our initial consultation – it is absolutely FREE! And we work on a contingency fee which means we do not get paid until you win and then our fee comes out of the recovery paid by the insurance company and not out of your own pocket!
We look forward to speaking with you and helping you resolve your legal problems.
FREE CONSULTATION & CASE EVALUATION – NO FEE UNTIL YOU WIN!