Amusement Park Accident
FREE Amusement Park Accident Case Consultation
1-866 INJURY 2
or
1-866-465-8792​
Amusement Park Accident Injury Lawyers - Experience You Can Trust!
Amusement park accidents and injuries result not only from unsafe and defective rides, but also from premises liability injuries like slip & fall and trip & fall accidents. Guests and customers of amusement parks, theme parks, street fairs and other events with rides often suffer serious injuries, sometimes even fatalities resulting in wrongful death claims, due to the negligence and carelessness of others. Should you or a family member be the victim of an amusement park injury anywhere in California, including Disneyland, Disney's California Adventure, Knott's Berry Farm, Six Flags Magic Mountain, Universal Studios Hollywood, Raging Waters, Six Flags Discovery Kingdom or Sea World, we invite you to contact us for a FREE consultation.
Compared to car accidents or fall injuries, amusement park ride injuries are rather rare. However, due to the extreme and potentially dangerous nature of some amusement park rides, such as the 200 foot drop at Six Flags Magic Mountain's Goliath or the 115 foot water drop at Knott's Berry Farm's Perilous Plunge, amusement park ride injuries can be very serious or even fatal. The nature of such injuries could vary from severe cases where an amusement park ride, like a high speed roller coaster's safety restraining devices, malfunctions and a rider falls off a roller coaster or other ride to comparatively minor incidents where a hazard in an amusement park causes a person to trip and fall or slip and fall. For a list of ten (10) of the worst amusement park accidents, click here. In addition, for an excellent summary of amusement fatalities and accidents, see RideAccidents.com.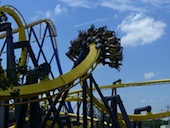 Sometimes, after a serious amusement park injury occurs, the amusement or theme park may try to cover-up or conceal the cause of the injury and may even offer a quick settlement to avoid bad publicity or a more substantial settlement once the full nature of all injuries and medical expenses are known.
If you are the victim, or a member of the family of a victim, of an injury at an amusement park, accepting such an offer from the amusement or theme park prior to careful review by an experienced attorney could be a terrible idea.
Further, proving liability (i.e., who is at fault under California law) may not be as simple as one might think. The courts in California, over the last few years, have, by judicial activism, created rules actually making it tougher for injured victims to recover damages resulting from recreational activities such as occur at amusement parks.
The California Supreme Court previously held in a case relating to sports injuries: "In cases involving 'primary assumption of risk'--where, by virtue of the nature of the activity and the parties' relationship to the activity, the defendant owes no legal duty to protect the plaintiff from the particular risk of harm that caused the injury--the doctrine continues to operate as a complete bar to the plaintiff's recovery." Knight v. Jewett (1992) 3 Cal. 4th 296. The court on December 31, 2012, extended this doctrine to other recreational activities, thereby limiting liability for injuries resulting from amusement park rides.
In fact, the California Supreme Court held on December 31, 2012, in the landmark case of SMRITI NALWA v. CEDAR FAIR, L.P., involving hand injuries resulting from a bumper car ride, that the legal doctrine of assumption of the risk when applied to recreational activities that inherently involve risks, such as amusement park rides, that riders assume some risks when voluntarily riding on these theme park rides, specifically stating "[T]he primary assumption of risk doctrine is not limited to activities classified as sports, but applies as well to other recreational activities 'involving an inherent risk of injury to voluntary participants . . . where the risk cannot be eliminated without altering the fundamental nature of the activity.' (Beninati v. Black Rock City, LLC, supra, 175 Cal.App.4th at p. 658.)"
The court added, "Where the doctrine applies to a recreational activity, operators, instructors and participants … owe other participants only the duty not to act so as to increase the risk of injury over that inherent in the activity." Thus, the court held that the amusement park was not legally liable for the hand injuries sustained by the rider of that park's bumper car ride. The court's decision can be read in full here.
Thus, in any injury at an amusement park caused by negligence, a defective product or unsafe ride, or other errors or omissions of another party, it is always advisable to fully understand the cause and nature of the injury, including any medical care that may be necessary to properly treat it, before considering a final monetary settlement with the responsible party. This is because most settlement agreements are final and include all future medical, physical therapy & nursing care as well as all future unknown damages. For this reason, if you accept a settlement without first knowing the full extent of the injuries and damages, and without having an experienced California Personal Injury Attorney review and evaluate your case, you may be settling your injury case for much less money than you deserve. In addition, you may leave yourself without the financial ability to obtain future necessary medical care and treatment.
According to the International Association of Amusement Parks and Attractions (IAAPA), about 290 million guests visit amusement parks in the United States each year. This number includes tourists to the United States, as well as guests who frequent more than one park in a year. The IAAPA reports that there were 1,207 amusement park ride related injuries in 2010. Of those 1,207 amusement park ride injuries, the IAAPA states that 59 required overnight hospital care. This number does not include the many other types of amusement park injuries that do not involve a ride, such as slip and fall and trip and fall accident injuries.
For more information on the safety standards for amusement parks, as well as injury statistics, you may visit the IAAPA's website.
Our Los Angeles & California personal injury lawyers handle all types of injuries and accident claims, including amusement park injury and wrongful death claims, and we are always available to speak with the victim or the loved one of a victim of an amusement park injury or death.
It's easy to contact us
There is NO charge for our initial consultation — it is absolutely FREE!
Over 45 years experience successfully handling thousands of personal injury & wrongful death accident cases in California!
If you had an amusement park accident, our personal injury & wrongful death accident lawyers offer an absolutely FREE & CONFIDENTIAL case consultation and evaluation and we work on a contingency fee. That means there is NO fee until you WIN and then the fee comes out of the recovery usually paid by the other parties' insurance company and not out of your own pocket.
There are many easy ways to contact us 24/7:
Please call us Toll Free at 866 INJURY 2 or 866-465-8792 (after hours please dial "1")
You may also call us at 818-222-3400 (again, after hours, please dial "1")
Simply click here for our quick and easy contact form to tell us about your amusement park accident or other injury accident.
Send us an email anytime to info@WalchLaw.com.
We offer FREE consultations and evaluations to those hurt in accidents in Los Angeles, Kern, Orange, Riverside, San Fernando Valley, San Bernardino, Ventura and throughout all of California and there is NO fee until you WIN!
We look forward to speaking with you today and helping you resolve your injury accident legal problems.
Damages In California For Amusement Park & Theme Park Accident
SE HABLA ESPAÑOL / SA ATIN PO ITO / FALAMOS PORTUGUÊS / 我們講普通話和廣東話
FREE CONSULTATION * NO FEE UNTIL YOU WIN !