Advice Where to Place Hands on The Steering Wheel of Your Car When Driving?
Use the Standard 10 O'clock and 2 O'clock Position?
or
Use the Alternative 9 O'clock and 3 O'clock Position?
Hint: When Deciding Where to Hold the Steering Wheel, Consider Air Bags, Comfort and Circulation!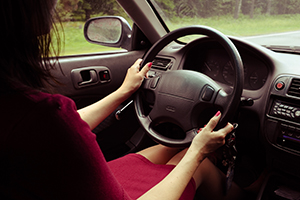 Many of us were taught in Drivers' Training Courses in Los Angeles and elsewhere to hold our car's steering wheel in the 10 o'clock and 2 o'clock position while driving cars. The primary reason for this technique was to have better steering control of the car or other vehicle that we would be operating. However, this thinking eventually changed with the implementation of airbags.
In 1998 the United States federal government required airbags to be installed in new passenger cars. And according to a 2013 report of the National Highway Transportation Safety Administration (NHTSA), airbags located in the front of passenger cars saved an average of 2,336 lives annually in the years from 2008 to 2012. Clearly, front airbags have added a significant element to our safety while we drive.
But placing hands at 10 o'clock and 2 o'clock on our steering wheels has been shown not to be as safe as we were taught in school when driving a vehicle with front airbags. Why is this?
Consider the higher the driver's hands on the car steering wheel, and of course holding our hands on our car's steering wheel in the 10 o'clock and 2 o'clock position is higher than holding our hands on our car's steering wheel in the lower 9 o'clock and 3 o'clock position, increases the chances that the drivers' hands and forearms will be over the plastic cover that is over the airbags, thereby making it more likely that they be struck by this cover and airbags when airbags deploy and thereby injured and also that they be knocked into the driver's face thereby also injuring the nose, jaws, face and head of such drivers.
In fact, the deployment of front airbags in car collisions (such as occurs in multi-vehicle rear end accidents when one car is struck from behind and pushed into another car so that the front airbag sensors are impacted on the cars that hit the rear of the cars in front of them), striking hands, forearms, chests, jaws and faces have caused various injuries, including broken noses, injured jaws (sometimes with temporomandibular joint injury, abbreviated TMJ injury), concussions, finger and hand injuries, sometimes even fractures and finger amputations, and other serious injuries.
When a front airbag is triggered by a collision then deployed, usually in rear end accidents as already described above, when the vehicles' front sensors are impacted, the process is that extremely hot nitrogen fills the front airbag, this airbag then expands directly towards the driver at about 150 to 250 miles per hour, forcing the plastic cover on the steering wheel to open, causing some injuries (as described above), purportedly much less significant injuries than may occur without the deployment of such airbags, such as fatalities which may result in a wrongful death claim against the other driver, manufacturers of the vehicle and/or airbags, and by passengers against the driver of the vehicle the passengers are in.
Should you be injured by an airbag deployment or other car injury accident, you should contact us right away as we offer an absolutely FREE consultation. Remember, there are time deadlines to file claims and to settle or file suit so please contact us now before the statute of limitations may bar, prevent and destroy your claim.
Other Benefits from Holding the Steering Wheel at 9 and 3 – More Comfort and Better Circulation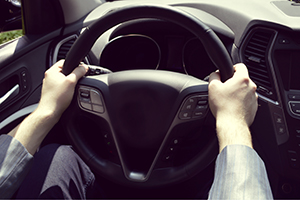 In addition to avoiding hands and arms being violently thrown into the driver's face and body, sometimes violently breaking bones, holding the steering wheel lower adds to comfort and better blood circulation.
Studies have shown that driving with hands slightly lower on the steering wheel than 10 o'clock and 2 o'clock, that is lower than the heart's level in the driver's body, can cause better blood circulation, including better blood circulation to the driver's hands with less likelihood of what some call "tingly fingers".
Of course, some steering wheels have different designs, including spoke positions, which may dictate where the driver will or can place his or her hands. Some even recommend holding the steering wheel lower than 9 and 3 – some actually believe it s more comfortable and maybe safer to hold the steering wheel at 8 o'clock and 4 o'clock (of course, again depending on the layout of the steering wheel including position of its spokes).
Next time out driving, try to safely watch other drivers and see where they are holding their steering wheels.
DRIVE SAFELY AND ALWAYS USE SEAT BELTS AND SHOULDER BELTS EVEN IF YOUR VEHICLE IS EQUIPPED WITH AIRBAGS!
We hope you learned something new and useful from this article.