Truck Accident Advice
What Should You do if You Were Involved or Injured in a Truck Accident, Truck Collision or any Car Accident in Los Angeles, The San Fernando Valley, Lancaster, San Bernardino or Anywhere in California?
Accidents involving trucks, due to their size, weight and momentum, are often much worse than smaller car collisions, sometimes resulting in serious injury and even death (often called wrongful death claims). Trucks, frequently referred to as commercial vehicles or commercial trucks, are much heavier than passenger cars and sometimes carry dangerous loads, such as flammable and hazardous materials, thereby causing major collisions and very severe injuries.
Due to the risk of severe injury, here is a simple check list of some things to do if you are ever involved in a truck accident or truck collision, subject to the linked Disclaimer, that is also printed below.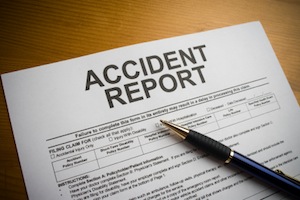 Be ready – keep a pen and paper; cell phone; flashlight; first aid kit; warning cones; proof of insurance and camera in your truck or car;
Do NOT leave the scene without identifying yourself and identifying all other persons involved and all witnesses;
Ascertain if there are any injuries and if any injuries are serious or in need of immediate attention, immediately call 911 for paramedics, etc.
Do NOT move the truck or other vehicles, if possible, until the police come and investigate; but, if you must move the vehicles, then first take photos of all vehicles and the scene of the collisions(s);
If the accident is not your fault, we advise calling the police and waiting for them to come so you (or your lawyer) can obtain a traffic collision (police) report verifying the accident was not your fault;
Obtain all contact and identifying information for all drivers and vehicles involved; and take many photos of all vehicles, their license plates and their drivers' licenses;
Do NOT admit fault and do NOT give any statements to any insurance companies without the assistance of an experienced truck accident injury lawyer;
Timely file all required reports with the DMV, insurance companies, etc. We advise first contacting an experienced personal injury accident attorney for assistance.
If injured, seek immediate and appropriate medical care. Some doctors will provide services on a lien basis where no money is requested until your claim is concluded. Our experienced personal injury lawyers can assist you with medical care when requested.
For a more in depth explanation of these key things to do when you have a truck accident, please read further below.
Meanwhile, even though trucks cause severe injuries and property damage, it is important to recognize their importance to our economy and way of life.
Commercial trucks are a key part of our transportation system, supplementing trains and other methods of transport in the delivery of agriculture, manufactured products and people. Smaller trucks are called pick-up trucks and larger trucks are often called "big rigs" or "eighteen-wheelers" or "18 wheelers" or "tractor trailers".
Generally, the driver of a large, commercial truck, such as a gas tanker, a moving truck or a cement truck, must have special training and have earned a commercial driver's license.
If you were involved in any truck accident with another truck, car, motorcycle or any other motor vehicle, we urge you to contact us now for some FREE advice. There are many time and procedural rules and deadlines, so it's in your best interests to act immediately. Too often we see clients delay or make innocent mistakes which cause major damage to their claims.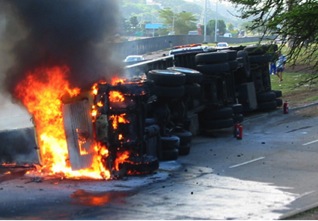 To further help you, we also provide below, for your convenient reference, some more detailed helpful tips and general legal advice, all subject to our linked general disclaimer , that is also printed at the bottom of this page:
First, "Be Prepared" – That is not just the Boy Scout motto, but also just plain good advice. Please always have the following items handy in your truck, car or other motor vehicle as one never knows when they may be needed:

Mobile or cell telephone
Paper and a pen or pencil
Camera to photograph the scene of the accident and all involved vehicles and people, especially any visible injuries. Remember, many mobile phone operate as both a camera and video device
First aid kit and other emergency gear such as red warning cones and flares
Flashlight, with extra batteries
Your proof of valid liability insurance or your insurance coverage card for yourself and/or the vehicle being driven. If you do not have it, you may simply request a copy from your insurance broker or agent or from your insurance company. Please review your insurance coverage at least yearly with your insurance agent or broker to be certain you are fully covered. Be sure you have appropriate insurance coverage to not just pay possible claims made against you by other parties, but also to protect your own family and you by having appropriate collision coverage, uninsured motorist (UM) coverage and underinsured motorist (UIM) coverage, and medical payments (often referred to as just med pay or MP) coverage. You also may contact a California Insurance Coverage Attorney for a free insurance coverage review and for insurance coverage advice.
If you have any special medical conditions requiring any kind of special care or medical treatment, you should have a card with you at all times that clearly describes any & all health conditions and problems. Please keep it in a readily assessable location so you and/or emergency responders can easily access it.

Stop & Identify Yourself - Do not leave the scene of any truck, car, motorcycle or other vehicle accident without first identifying yourself and also obtaining the identifying and contact information everyone else involved as this information may prove to be essential in winning your claim. Also, it may constitute a crime, often referred to as "hit & run," if you leave the scene of a motor vehicle collision without first identifying yourself.
And, further, we strongly suggest you also do the things listed below that are applicable to your own particular accident or collision.
Injuries - Check yourself, then each of your passengers and then anyone else involved in this accident for any injuries; and if anyone needs urgent medical care then please immediately call 911 for emergency medical assistance.
Try Not to Move Your Truck, Car or Other Motor Vehicle – If the truck accident is not your fault, its best, whenever possible, not to move your truck, car or other motor vehicle until the police arrive, investigate and authorize you to move your truck or vehicle.
Meanwhile, always turn-on your truck's hazard lights and flashers; and, if available, also use warning devices, such as red cones, if they can be safely placed without risking injury to yourself. If you must move your truck or other vehicle, be sure to take photos of its exact location (and all other vehicles, too) prior to moving it and any other vehicles.
Move to Safe Area – Be sure that you remain in a safe area. Also, when appropriate (and best to do only after the police investigate and authorize you to move your truck or vehicle), move all vehicles to a safe or safer position or area, but do NOT place yourself in any danger. Again, turn on the vehicles' hazard flashers (if working post-collision) and use other warning devices, such as red cones, if available and if can be displayed safely without risking any injury or harm to yourself. And, as already stated, if the placement of the vehicles right after the collision or accident is important to prove the other driver at fault, try to wait for the police and get photographs of the vehicles from different locations and angles before moving any vehicles.
Police – If the collision or accident is not your fault, then we advise that you call the police (California Highway Patrol if the collision or accident occurred on a highway or freeway) to have the police investigate and fully document what occurred in a police report (often called a traffic collision report). This report is prepared to document and confirm what really occurred. While this may take time (in Los Angeles sometimes even hours), it frequently saves substantial time in the long run. We have had cases where victims of accidents have come to us after the other driver admitted responsibility at the scene of the collision, but later changed his or her version as to what occurred. A written official traffic collision report may help prevent this serious potential problem and add much credibility to your position.
Other Parties Working? - If the other driver was working at the time of this incident, that is, appeared to be in the "course & scope" of any employment with any company or other employer at the time of the collision, try to get all employment contact information, including the full name of the employer. The employer may be legally responsible for your injuries and damages due to the negligent, careless or other wrongful acts or omissions of its driver under the legal doctrine known a "respondent superior".
Exchange and Record All Important Information – Obtain the all names and contact information, including telephone numbers, addresses and e-mail addresses, for the driver and owner of each involved truck and vehicle, all witnesses and passengers, and their drivers' license numbers, if possible. We strongly advise that you not only personally read and copy down the other person's driver's license information and that you do not rely on others to give you the information as it may be wrong or false, but that you also photograph it with your mobile telephone device's camera. Such photographs prove very useful. For each vehicle, please also record the license plate number (and, again, photograph it) and, if possible, also record the VIN (vehicle identification number); vehicle description including make, model, color, and anything written on the other vehicle(s) such as company names, telephone numbers, logos or other identifying information (and, again, please photograph this identifying information); and record and photograph the location of all property damage (both from this collision and any other damage that appears old, unrelated and/or pre-existing).
Take Photos & Video - Use Your Mobile Telephone or Camera - Take lots of photographs and video, if able to do so, of the scene of the collision and all involved persons, including any visible injuries, and anything that contributed or may have contributed to causing this accident, including obstructions, debris or unsafe road conditions. Remember: Many cell or mobile telephones devices also function as cameras and video devices. You should then be able to easily e-mail the photos and videos to your truck accident lawyers.
Take Notes – Afterwards, we strongly advise that you write-out a detailed summary of what occurred and what you believe caused this accident and before leaving the scene that you also make a sketch or diagram of the scene of the collision, including all lanes of travel, location of each vehicle at impact and also where they were when you first saw them and when they came to rest post-collision, all points of impact, all traffic signals & stop signs, any landmarks, etc.
Statements - Be courteous and polite, especially to any police officers, but NEVER admit any fault or liability as, among other reasons, there may be other factors that occurred that you may not yet know about, including, but not limited to, the fact that the other driver may have been traveling too fast for conditions, driving at an unreasonable speed, speeding or exceeding the maximum posted speed limit for trucks, carrying cargo exceeding the appropriate weight for that particular truck or the posted weight limits, or under the influence of intoxicating substances such as alcohol, drugs and/or excessive use of pain medications. Further, many times truck drivers, trying to meet schedules, drive without proper sleep or rest and their fatigue may have contributed to or actually caused the collision or accident. Also, if injured, do NOT give any statements to any insurer until you consult with a California Truck Accident Injury Attorney.
File All Required Reports – California law and insurers require certain reports be filed, including with the police, your insurance company and/or the DMV (often called an SR-1 Report). If you were injured, you should consult a California Truck Accident Injury Attorney for advice before giving any statements or making any reports to any insurers or the DMV. Some insurers require such reports right away or may deny coverage and if it is a hit and run or uninsured motorist (UM) claim be sure to make a traffic collision report (i.e., police report) immediately after the collision (as delay may cause denial of insurance coverage) and then submit the required DMV forms, known as SR-1 and later the SR-19 form, according to the DMV time requirements. Be sure to timely comply with all time requirements and procedures or your claim maybe barred or denied; and, if you have any questions or injuries, or need assistance with any reports, please contact a California Truck Accident Injury Attorney as soon as you possibly can for advice. Many of our clients actually call us from the scene of the collision for immediate advice and we invite you to do the same. You can reach us at 818-222-3400 or 1.866 INJURY 1 (after hours, please press "1"). The initial consultation and case evaluation is FREE with our personal injury law firm on all accident claims.
Injury Claims - If anyone involved in the truck or car accident or other injury accident suffered any injury requiring any hospital or other medical care, we advise you to immediately contact an experienced California Personal Injury Accident Attorney for help, including with car repairs or negotiating a total loss payout; arranging a free loan truck or other vehicle or reimbursement of all rental expenses or even all time without your truck or vehicle (Note: even if you did not rent a replacement truck or vehicle you still may receive compensation for your loss of use!); obtaining medical care, including doctors, physical therapy, specialists (such as orthopedic and plastic surgeons, neurologists, dentists and psychologists), prescriptions and other medications, scans (e.g., MRI and CT Scans) and X-Rays, surgery and hospital care (usually on a lien basis, which means you do not need pay anything, not even any deductible or even any co-payments, until your claim is resolved); and, when appropriate, emergency cash advances.
Contact Us – Its easy to reach us for an absolutely FREE consultation and case evaluation. Just call 818-222-3400 (after hours, please press "1") or toll free 1.866 INJURY 2 (again, after hours, please press "1").
As stated, truck accidents and collisions can be especially damaging due to the larger size, weight and momentum of trucks compared to much smaller vehicles. Such accidents often require prompt investigation, hospital and other medical care, and assistance by an experienced truck accident injury lawyer. Should you need any help, advice or just would like a FREE case evaluation, please call us now at 818-222-3400 or 1.866 INJURY 2 (after hours, please press '1") or use our simple contact form. Our initial consultation and case evaluation are FREE on accident injury claims; and on such cases we work on a contingency fee basis which means that there is NO fee unless and until we WIN!
The initial consultation is FREE and on truck accident, car accident and other personal injury accident cases there is NO fee with the Walch Law Corporation law firm UNLESS & UNTIL you WIN!
Disclaimer
The content and/or information contained in this truck accident advice webpage and entire website is provided for general informational purposes only, and should not be construed as legal advice on any subject matter or any particular claim or case. No recipients of content from this truck accident advice web page and/or site, whether clients or otherwise, should act or refrain from acting on the basis of any content or information included in the truck accident advice page or entire web site without first seeking the appropriate legal or other professional advice based on the particular facts and circumstances at issue in any particular incident, claim or case from a California Truck Accident Injury Lawyer or a lawyer licensed in the recipient's state. The content of this truck accident advice webpage and entire website contains general information and may not reflect current legal developments, strategy, laws, verdicts or settlements. These Attorneys and Firm expressly disclaim any and all liability with respect to any and all actions taken or not taken based on any or all of the information and/or contents of this general truck accident advice page and/or this entire personal injury / accident Website.