Premise Liability Accident
FREE Premise Liability Accident Case Consultation
1-866 INJURY 2
or
1-866-465-8792
Premise Liability Accident Injury Lawyers - Experience You Can Trust!
Have you or someone you care about been involved in a premise liability accident in Los Angeles, the San Fernando Valley or elsewhere in California?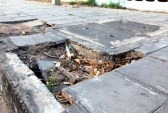 For over 40 years our California personal injury lawyers have been handling premises liability claims, which may include slip and fall claims, trip and fall claims, burn injuries, or other injuries occurring on another's property, caused by the negligence of the owner or operator of the premises.
Getting injured on someone else's property, such as slipping on a mystery substance in a grocery store, tripping over an exposed wire on a walkway, or falling from a staircase, does not automatically impose liability (or fault) on the property owner. In order to obtain a financial recovery for the loss, it must be shown that the owner or operator of the premises was negligent.
This negligence can be shown in various ways, including that the owner or operator of the premises did not properly clean, supervise or maintain the premises. While it certainly helps, it is not enough in a slip and fall case at a grocery store to show that there was a hazard and a person slipped on it. What if another customer at the store caused the hazard only moments before the injury and the store employees had no knowledge or opportunity to fix it? Therefore, it is necessary to show that either the store created the hazard or knew about it and did not fix it, or that the store should have known about it.
Whether the premises owner/operator knows of or created a hazard can be shown through investigation, analysis of the evidence, and discovery, including the taking of depositions. In the case of a supermarket, to show that the store should have known about a hazard, often it is necessary to litigate the case and obtain the store's "sweep sheets" through discovery. These "sweep sheets" should show how frequently the store monitors, inspects and cleans its aisles. If the store does not maintain its aisles on a reasonable basis, the store may be liable.
Premises liability cases can be very tricky and it is often necessary to hire an experienced California personal injury attorney to help you obtain the recovery that you deserve.
It's easy to contact us
There is NO charge for our initial consultation — it is absolutely FREE!
Over 40 years experience successfully handling thousands of personal injury & wrongful death accident cases in California!
If you had a premise liability accident, our personal injury & wrongful death accident lawyers offer an absolutely FREE & CONFIDENTIAL case consultation and evaluation and we work on a contingency fee. That means there is NO fee until you WIN and then the fee comes out of the recovery usually paid by the other parties' insurance company and not out of your own pocket.
There are many easy ways to contact us 24/7:
Please call us Toll Free at 866 INJURY 2 or 866-465-8792 (after hours please dial "1")
You may also call us at 818-222-3400 (again, after hours, please dial "1")
Simply click here for our quick and easy contact form to tell us about your premise liability accident or other injury accident.
Send us an email anytime to info@WalchLaw.com.
We offer FREE consultations and evaluations to those hurt in accidents in Los Angeles, Kern, Orange, Riverside, San Fernando Valley, San Bernardino, Ventura and throughout all of California and there is NO fee until you WIN!
We look forward to speaking with you today and helping you resolve your injury accident legal problems.
SE HABLA ESPAÑOL / SA ATIN PO ITO / FALAMOS PORTUGUÊS / 我們講普通話和廣東話
FREE CONSULTATION * NO FEE UNTIL YOU WIN !