Truck Accident
FREE Truck Accident Case Consultation
1-866 INJURY 2
or
1-866-465-8792
Los Angeles Truck Accident Lawyer - Experience You Can Trust!
Because of their size, truck collisions, including accidents involving very large big rig trucks, referred to as 18 wheelers, often result in very serious injuries and damages to the occupants of smaller vehicles or pedestrians. If you or a loved one has been involved in a truck accident in Los Angeles, the San Fernando Valley or elsewhere in California, it is important for you to know that you are entitled to compensation for your injuries.
Why Truck Accidents Occur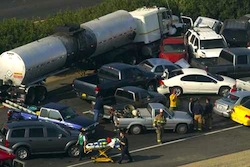 With California truck accident cases, many different issues may arise so prompt investigation is advised. Truck accidents can occur for a variety of reasons such as:
Tired Drivers: The route a truck driver was follows, how much time the driver is given to complete the route, and how many rest stops are allotted and for how long, all contribute to why a driver may be tired. Many truck collisions occur due to drowsy truck drivers who, due to incentives or other reasons, attempt to cover too much ground in a day. This can result in drivers falling asleep on the road and losing control of the truck.

Size of the Truck: Other times, truck accidents occur because, due to the size of the trucks, they cannot stop in time when there is a stopped car or other type of hazard ahead. Truck drivers need proper training, including to maintain an extra space cushion when driving, because of the weight of their vehicle and potential for serious injuries that their vehicles may inflict. When a truck driver does not use extra caution, especially in bad weather, a truck collision causing serious injuries may occur.

Poor Visibility: Many truck accidents are also caused due to the low visibility and large blind spots that most big rig trucks have. For this reason, it is always advised to keep a safe distance from trucks, especially on the freeway.
Obtaining Compensation for Your Truck Accident
Because big rig trucks and other types of commercial trucks are usually covered by commercial insurance policies, the insurance coverage for the drivers of these vehicles is much larger than those for individual automobile drivers. These larger policies are often necessary due to the serious injuries and deaths that their vehicles can cause to the occupants of much smaller cars, motorcycles, and pedestrians.
An experienced Los Angeles truck accident lawyer who understands commercial insurance policies can help you get maximum recovery. Our firm strives to recover the full compensation our clients deserve for their serious injuries resulting from truck collisions. Possible damages allowed under California law include financial compensation for:
Medical Bills—hospital, ambulance, surgery charges
Recovery Costs—physical therapy, psychological and dental care
Lost wages from missed work
Loss of earning capacity
Loss of enjoyment of life
Pain and suffering
Emotional distress and inconvenience
Damaged Property—cars, cell phones, etc.
Rental car costs
Diminished value to vehicle
Get Help From a Los Angeles Truck Accident Lawyer Now
If you or a loved one has been involved in an accident caused by a truck, call the skilled Southern California truck accident attorneys at Walch Law. We have been handling truck injury cases for over 45 years. Call our offices now for a FREE consultation with an knowledgeable personal injury attorney!
It's easy to contact us
There is NO charge for our initial consultation — it is absolutely FREE!
Over 45 years experience successfully handling thousands of personal injury & wrongful death accident cases in California!
If you had a truck accident, our personal injury & wrongful death accident lawyers offer an absolutely FREE & CONFIDENTIAL case consultation and evaluation and we work on a contingency fee. That means there is NO fee until you WIN and then the fee comes out of the recovery usually paid by the other parties' insurance company and not out of your own pocket.
There are many easy ways to contact us 24/7:
Please call us Toll Free at 866 INJURY 2 or 866-465-8792 (after hours please dial "1")
You may also call us at 818-222-3400 (again, after hours, please dial "1")
Simply click here for our quick and easy contact form to tell us about your truck accident or other injury accident.
Send us an email anytime to info@WalchLaw.com.
We offer FREE consultations and evaluations to those hurt in accidents in Los Angeles, Kern, Orange, Riverside, San Fernando Valley, San Bernardino, Ventura and throughout all of California and there is NO fee until you WIN!
We look forward to speaking with you today and helping you resolve your injury accident legal problems.
SE HABLA ESPAÑOL / SA ATIN PO ITO / FALAMOS PORTUGUÊS / 我們講普通話和廣東話
FREE CONSULTATION * NO FEE UNTIL YOU WIN !