Lawyers for Car Accident Caused by Rain
FREE Car Accident Case Consultation
1-866 INJURY 2
or
1-866-465-8792
Car Accidents Caused By Rain – Personal Injury Lawyers for Los Angeles and California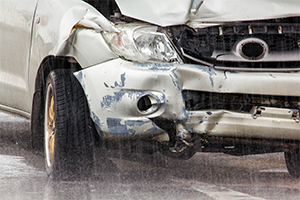 It is well known that rain causes the pavement to be wet, which then reduces the traction of vehicle tires on pavement, thereby reducing braking ability and maneuverability, causing more traffic accidents and injury collisions. Another complication of rain and or fog is that the drivers' distance visibility is reduced, also leading to more traffic accidents and injury collisions. If you were involved in any injury rain related accident or a family member tragically killed in any rain related accident with a wrongful death claim, please call us now at 1.866.INJURY 2 or contact us now for an absolutely FREE case consultation and case evaluation. Question: Would you like to know what your case is worth, simply contact us now. It's very easy and its absolutely FREE!
Impacts from rain, wet pavement and reduced visibility (e.g., from heavy rain and or fog) cause car and truck drivers to drive at reduced speeds which cause more space to be used, less roadway capacity and greater delays.
The United States Department of Transportation (DOT), Federal Highway Administration (FHA) states rain and wet pavement cause speed reductions on roads and streets from ten (10) to twenty-five (25) percent. Heavy rain is estimated to cause a reduction in freeway speeds by three (3) to seventeen (17) percent. Even lighter rain is estimated to cause a reduction in freeway speeds by two (2) to thirteen (13) percent.
The DOT/FHA opines that rain causes most weather related collisions.
The DOT/FHA also states that more than 544,700 people are injured in collisions due to wet pavement each year. And almost 5,700 persons are killed in crashes due to wet pavement every year.
The DOT/FHA further states that 75% of weather caused vehicle collisions occur on wet pavement and 47% of such collisions occur when it is actually raining. Further, flooding caused by heavy rainfall reduces roadway capacity by reducing or sometimes even preventing access to road and freeway lanes that become submerged due to flooding. Such heavy rains, that may become storms, are the greatest cause of road and freeway fatalities. They also cause the most physical damage to roadways.
HERE ARE SOME THINGS TO DO WHEN INVOLVED IN A CAR INJURY ACCIDENT WHEN IT IS RAINING:
When there are any injuries requiring medical care, immediately call 911 for medical assistance and for the police to come to the scene of the accident collision. If you are not at fault we urge you to assertive when demanding the police come as sometimes they are reluctant to come to the scene to investigate and prepare collision accident reports. If the police state they will not come, explain your injuries and strongly request the police come. Sometimes the other at fault parties admit fault at the scene but then with time later change their stories so it may really help you if you have a supportive and favorable police report, usually called a Traffic Collision Report.
Be sure you get to and remain in a very safe location.
If you do need to move your car, truck or any vehicle after an injury accident collision, please take clear videos and photos showing the exact location of each vehicle and any thing else important before moving your vehicle and any involved vehicles (e.g., as time safely allows: lane lines on the road, cross walks and limit lines, traffic signals and stop signs, the time it takes for each traffic light to change colors—some of these may be taken after your vehicle is moved, etc.).
Obtain the identification of all other drivers, including their names, phone numbers, addresses and email addresses. Take photos of their drivers' licenses, vehicle license plates, all signs and writings on all involved cars and trucks, etc. If possible, take photos of all drivers and passengers. Be sure the clarity of all identification photos are clear before leaving the scene. It is recommended that you also write down key ID and contact information just in case the photos or videos are lost. We also recommend that you then email or text that information to you so you reduce the chance that it will ever be permanently lost or deleted.
Try to get the names of and contact information for all helpful witnesses.
Contact our personal injury & wrongful death law offices for an immediate FREE consultation, including assistance with what to say to the police and others and what to do AND what not to say to the police and others and what not to do.
Get any needed health care ASAP. Often its best to go to the local hospital emergency room or urgent care center, then follow-up with a private doctor. If you cannot safely drive there, request an ambulance if it is not offered. Our injury accident lawyers can help you find needed health care, often on a medical lien basis which means there is NO payment due by you until after your injury claim is resolved.
If your car, truck or motorcycle is not a total loss and can be repaired take it to a reputable body shop. If it is not drivable or safely drivable request it be towed by a reputable tow truck driver. Do not just use any tow truck that shows up. Often it is best to avoid an auto body repair shop recommended by insurance companies since such companies' primary goal often appears to be to make a profit and not help their insureds (e.g., such insurance recommended body shops may not use new replacement parts, etc. that cost more and to keep the total costs lower in order to get referrals), and not get you new parts or the best parts because that saves them money.
If your car, truck or motorcycle is not a total loss and can be repaired and is repaired, then ask us about how to prove and make a claim for Diminished Value. Diminished value (abbreviated DV) is the reduced or diminished value of your car, truck motorcycle, or other property, after it is repaired compared to its value right before the collision occurred. Put another way, your repaired vehicle is often just not the same post collision repairs, especially when there is frame and or other major damages, and, therefore, it is worth less even after repaired! This story may put it even clearer: If there were two identical cars for sale worth about $35,000.00 before the collision but one had just been involved in a violent collision with about $12,000.00 in repairs, would you care which vehicle you purchased? Would you want and expect to pay less for the vehicle that had been in the violent collision and repaired? We believe you would want the never damaged car and expect to pay less for the vehicle involved in the collision and that reduced value or price is your DV. Any DV questions, contact us for some FREE information.
When involved in any truck, motorcycle or car injury accident collision, depending on the circumstances and facts there are many different things to do and procedures to follow. For more information, simply click here or call us now.
If you have been in any injury accident or a family member died with a wrongful death claim, please contact us now – Our initial consultation and case evaluation on injury accident cases is always FREE; and if we take your case we do it on a contingency fee basis, which means you pay NO fee unless and until you win. And then our fees just come out of the recovery we get for you – it does not come out of your own pocket.
We have won thousands and thousands of car, truck and motorcycle injury accident cases and have been in business for over 45 years! We are a family owned personal injury and wrongful death law firm that prides itself on providing excellent personal service and obtaining the maximum financial recovery you deserve for all your injuries, expenses, losses and damages.
Please call us now for your FREE case evaluation – You will be very glad that you did!