Bus Accident
FREE Bus Accident Case Consultation
1-866 INJURY 2
or
1-866-465-8792
Los Angeles Bus Accident Attorney – We Have the Experience You Want!
Have you or a loved one been involved in a bus accident in Southern California? If so, here is what you need to know about getting the compensation you deserve for your injuries.
Bus Travel in Southern California
Bus travel, including school bus travel, is the main method of travel for many commuters in the greater Los Angeles area, including the San Fernando Valley, and throughout all of California.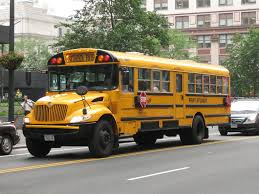 When a bus is involved in an accident, bus companies will fight diligently to deny injury claims or offer significantly less than the claim is worth. However, buses are considered common carriers when transporting persons for money or other compensation (often referred to as carrying for "reward") and MUST be very careful of their passengers' safety. This requirement is explained by California Civil Code Section 2100. This section of the code specifically requires the following of bus carriers: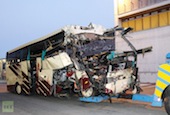 "A carrier of persons for reward must use the utmost care and diligence for their safe carriage, must provide everything necessary for that purpose, and must exercise to that end a reasonable degree of skill."
Bus Accident Facts
Due to their large size, lack of clear visibility and limited maneuverability, bus accidents frequently occur, often causing serious injuries and fatalities that result in wrongful death claims. These injuries occur in many different ways, such as when buses collide with cars and other vehicles, pedestrians or cyclists; or when an anxious bus driver starts moving too quickly while passengers are standing or still getting on or off. These types of accidents often result in very serious and painful injuries.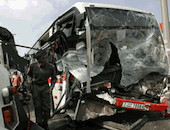 On average, 14 school-age pedestrians are killed by school buses (or vehicles used as school buses) each year, and 6 are killed by other vehicles involved in school bus-related crashes. [National Highway Traffic Safety Administration( NHTSA) for School Bus, 2000, Data Resource Website]. Further, since 1989, 1,445 people have died in school bus-related crashes — an average of 131 fatalities per year. Most of the people who lost their lives in those crashes (65 percent) were occupants of other vehicles involved. Non-occupants (pedestrians, bicyclists, etc.) accounted for 25 percent of the deaths, and school bus occupants accounted for 10 percent. [ NHTSAfor School Bus, 2000, Data Resource Website].
In 45 percent of all crashes involving fatalities to occupants of a school bus or vehicle used as a school bus, the principal point of impact was the front of the vehicle. [ NHTSA for School Bus, 2000, Data Resource Website]. Death or fatality from a bus collision may result in a wrongful death claim.
Victims of bus accidents include the following:
Drivers and passengers in cars and other motor vehicles stuck by buses;
Drivers of motorcycles, mopeds, scooters and bicycles stuck by buses;
Passengers in buses;
Passengers who are in the process of getting on (boarding) or off (alighting) buses;
Pedestrians struck by buses.
Because bus passengers are often standing or seated without safety belts, bus accident injuries can be very serious. Also, because of the size, force and momentum of a bus, occupants of vehicles or pedestrians hit by a bus often sustain catastrophic injuries, including death, which leads to personal injury and wrongful death claims.
There are many different types of buses, from school buses, to public buses, to small private vans or busses run by companies like Access Services.
When bus accident injuries are caused by government run buses, such as the Los Angeles County Metropolitan Transportation Authority (or for short commonly referred to as the MTA), a government claim for personal injury damages must be timely filed with the appropriate agency, usually within just six (6) months from the date of the accident. These deadlines and procedural requirements are different from other types of accident injury cases and MUST be strictly followed, with some exceptions, or one may lose their rights and remedies.
What to Do if You are Involved in a Bus Accident
If you or someone you love is involved in a bus accident, there are many things to do, including the following:
If seriously injured, receive appropriate emergency medical care;
If medical care can wait, then obtain the name and contact information of the bus driver, bus owner and anyone who witnessed the accident, including the passengers on the bus;
Obtain the identifying number and license plate number of the bus;
Obtain the bus driver's driver's license and employee number;
Take photographs of all damaged vehicles and property, all visible injuries and scene of the incident;
Look for any video cameras that may have captured what occurred; and ask the bus driver to identify all video cameras with which the bus is equipped;
Obtain appropriate medical care;
Contact a Los Angeles bus accident attorney who has experience in handling bus accident injury claims.
Many buses are equipped with video cameras that may record the exterior or interior of the bus, including what the bus driver was doing and what happened to the passengers inside the bus during any collision. One should obtain these videos, which, unfortunately, usually require special computer programs to view. These video recordings can be obtained through subpoena or other legal discovery conducted by a bus accident Attorney, including a formal request to produce video recordings, documents and other evidence. To get this information you should contact an experienced California bus accident attorney right away!
Get the Help You Need
At Walch Law, our firm will fight to obtain the evidence necessary to prove your injuries and the damages you suffered as a result of the bus accident. We will then work to help get you the compensation you deserve, including any and all damages allowed under California law. These available damages include:
Past and future medical costs such as hospital, physical therapy, psychological therapy, and dental bills;
Past and future loss of earnings and/or loss of earning capacity. This would include any time you missed at work, even if compensated for sick leave, vacation time or other benefits.
Loss of enjoyment of life and any compensation for activities you missed out on due to your injuries;
Past and future pain, suffering, emotional distress and inconvenience you experience in your life due to your injuries;
You can also receive compensation for property damage such as:
Totaled vehicles, personal property such as broken cell phones or watches. You can also be compensated for rental charges if you have to rent a car while yours is fixed and all loss of use of your property.
All diminution (reduction) in value of your property, that is the difference in value after it was repaired compared to its pre-collision value;
If you are a victim of a bus accident, you may be entitled to these damages and other damages permitted under California law. Our office has been handling California bus accident injury cases for over 45 years. We can help an injured victim identify and obtain the damages they deserve.
Bus accidents can be very sad and physically and emotionally traumatizing. Calling the right Los Angeles bus accident attorney can help injured victims obtain the justice and monetary compensation they deserve. See what others say about us on our Testimonial page. Call our offices now for a FREE consultation with an experienced bus accident injury attorney!
It's easy to contact us
There is NO charge for our initial consultation — it is absolutely FREE!
Over 45 years experience successfully handling thousands of personal injury & wrongful death accident cases in California!
If you had a bus accident, our personal injury & wrongful death accident lawyers offer an absolutely FREE & CONFIDENTIAL case consultation and evaluation and we work on a contingency fee. That means there is NO fee until you WIN and then the fee comes out of the recovery usually paid by the other parties' insurance company and not out of your own pocket.
There are many easy ways to contact us 24/7:
Please call us Toll Free at 866 INJURY 2 or 866-465-8792 (after hours please dial "1")
You may also call us at 818-222-3400 (again, after hours, please dial "1")
Simply click here for our quick and easy contact form to tell us about your bus accident or other injury accident.
Send us an email anytime to info@WalchLaw.com.
We offer FREE consultations and evaluations to those hurt in accidents in Los Angeles, Kern, Orange, Riverside, San Fernando Valley, San Bernardino, Ventura and throughout all of California and there is NO fee until you WIN!
We look forward to speaking with you today and helping you resolve your injury accident legal problems.
SE HABLA ESPAÑOL / SA ATIN PO ITO / FALAMOS PORTUGUÊS / 我們講普通話和廣東話
FREE CONSULTATION * NO FEE UNTIL YOU WIN !