Personal Injury
FREE Personal Injury Case Consultation
1-866 INJURY 2
or
1-866-465-8792
Personal Injury Lawyers - Over 45 Years of Accident Injury Experience in Los Angeles, The San Fernando Valley, Ventura, Orange, Riverside, San Bernardino and all of California That You Can Trust!
Personal injury law, personal injury cases and personal injury claims refer to the area of law where someone suffers physical injury (such as a fracture to the neck, arm, foot or any part of the body; pain to the neck or back; burns, etc.), wrongful death to a family member and/or emotional injury (such as fear of driving after a car collision or fear of dogs after suffering a dog bite or attack; anxiety, stress and depression from pain, disability, huge medical bills, loss of income and/or the death of a family member) due to the fault of another person, corporation or public entity, such as a city, county or state.
As a result of such physical injury, emotional injury or some combination of both, the innocent victim is entitled to monetary compensation for his or her injuries and damages and certain close family members are entitled to compensation for the wrongful death of a loved one. Often the responsible party has insurance which means the insurer will provide a defense (usually including investigation, adjusting services and the legal services of a defense attorney if litigation is commenced or there are complex legal issues or serious injuries and damages) and indemnification (which means usually the insurer is obligated to pay the victim any agreed upon settlement amount, any binding arbitration award or any judgment of the court). Thus, the monetary compensation paid to the victim, our client, for all injuries and damages suffered in the accident or other incident generally is not paid by the person or company at fault but by the insurance company for the responsible parties.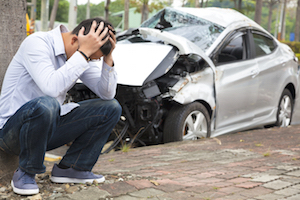 Our Los Angeles and California personal injury & wrongful death accident lawyers handle car, truck, motorcycle, pedestrian, dog bites and a wide assortment of other personal injury accidents and personal injury claims throughout Los Angeles, the San Fernando Valley (SFV), Ventura, Orange, Riverside, San Bernardino and all of California as more fully described on our personal injury home page. For an absolutely FREE & confidential consultation and case evaluation, please call us now at 818-222-3400 or 1.866 INJURY 2 or contact us now.
Tort Law and Personal Injury
The body of law covering such injuries and damages is something you may have heard of before but perhaps not fully understood that is called "tort law". A tort is generally a civil wrong (as contrasted with a criminal act punishable by prison, jail and/or monetary fines) which can be resolved by monetary damages. See, e.g. the federal court case entitled Smith v. United States, 507 U.S. 197 (1993).
There are three (3) general categories of torts: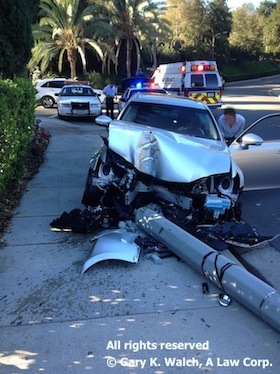 Intentional torts, such as when someone intentionally runs a car into someone or hits another person which is generally referred to as "assault & battery".
Negligent torts, when someone acts carelessly and injures another, such as when one does not pay careful attention while driving and rear ends another vehicle, causing injuries to its occupants. The more specific legal definition of negligence includes the failure of a person to act with the degree of care that someone exercising ordinary care would have exercised under the same or similar circumstance. Negligence can involve actions and also omissions to act when there is a legal duty to act, such as a lifeguard failing to pay attention to rescue a child or when someone causes an unsafe and dangerous condition but then fails (or omits) to act to remedy it, such as when one causes a floor to be slippery but then fails to promptly clean it or place warning cones around it. These negligent torts are the types of personal injury cases our law firm typically handles.
Products liability, where the law imposes "strict liability" on the manufacturer and/or seller of a product, including cars and drugs, regardless of proof of carelessness or other fault.
Three (3) Key Elements to Personal Injury Claims
To recover on a personal injury claim the victim must prove in civil court by a preponderance of the evidence (that is, that it is more likely than not true or, put another way, prove by over 50% - as opposed to the much higher standard required in criminal cases of "beyond a reasonable doubt") these three (3) key elements:
That someone else was legally responsible for causing the incident (often referred to as the "liability" part of a case),
That the victim was actually injured and/or otherwise damaged (referred to as injuries and "damages") , and
That the incident was the actual or proximate cause of the claimed injuries and damages (referred to as "causation").
Types of Personal Injury Accidents
There are many types of personal injury accidents, often divided into the following three (3) main categories:
Motor vehicle accidents, including those accidents and collisions involving cars, trucks, motorcycles, bicycles, pedestrians, buses, trains, and uninsured motorists (UM) and underinsured motorists (UIM)
Premises liability accidents, including slip and falls, trip and falls, dog bites and dog attacks, burns, and other accidents
Products liability or strict liability where a manufactured product is defective and once that defect is proved everyone who manufactured and/or sold the product may be strictly liable to the victim even if that person or company who manufactured and/or sold the defective product had no knowledge of the defect.
For more information on the types of personal injury accident cases our lawyers handle, please click here.
Types of Personal Injury Suffered
Victims of personal injury accidents suffer many different types of injuries, depending on the type and severity of the accident. For example, in a typical rear end car collision, the victims often suffer pain and injury to their necks, shoulders and backs. However, sometimes air bags deploy and victims are struck in their faces and chests, suffering head, jaw (or TMJ) injuries and/or broken ribs. In more serious accidents, victims may suffer fractures to their necks, backs, arms, legs, knees, feet, etc. Sometimes fires break-out and victims suffer burns, ligament tears (such as knee ligament tears including torn ACLs, etc.) head injuries and concussions and other injuries.
For more information on the different types of injuries that our personal injury lawyers handle, please click here.