Determining Causation in a Personal Injury Case—Proving the Accident (and NOT Something Else) is the Cause of the Claimed Injury
FREE Personal Injury Case Consultation
1-866 INJURY 2
or
1-866-465-8792
Causation and Personal Injury Claims
When a person is involved in an accident, that person (the victim) must show by a preponderance of the evidence (i.e., more likely than not) that the subject incident was the cause of the victim's injuries and damages. In other words, the burden of proof is on the injured victim (and his or her personal injury lawyer) to prove the accident caused the injury. For example, if a person was rear ended in a car collision and claims neck and/or back injuries, it is well understood that such injuries occur in and are "caused" by such collisions. In fact, such injuries are so common in rear end car collisions that most of us are well aware of the common term "whiplash injury" given to such injuries. In such cases, proving causation is usually not very difficult. However, if the victim claims much more severe injuries with much more involved care and treatment than is usually seen in such rear end car collisions, or perhaps a knee or shoulder injury that is usually not seen in such collisions (but sometimes certainly is seen), then it may be necessary for the victim to go through greater measures to show or prove that this particular collision caused such injuries. In other words, the burden of proof falls on the injured victim to show how and why the subject collision caused the unusual or unexpected injury. This can be done by an experienced personal injury attorney using experts and detailed reports of the damage to the car, such as proof of damage that is not readily visible or some hidden structural or frame damage that usually means the forces of impact actually were greater than believed or, in the case of a knee injury, that the victim's knee was impacted by something inside the vehicle, such as the dashboard, steering wheel or something else, and there was no evidence of any prior knee injury or problem (e.g., by obtaining then reviewing the victim's prior medical records).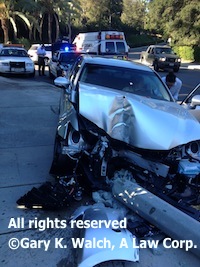 Sometimes the victim is elderly or suffered a prior accident that did not completely heal or has some other pre-existing medical condition, making the victim frail or much more susceptible in even a relatively minor accident to injury and aggravation of pre-existing problems. That later example of someone with a prior injury or medical condition causing someone to be injured to a greater degree than might otherwise be expected is often referred to as the "egg shell plaintiff", referring to someone who is frail and more easily breakable than would be expected, sort of like an "egg shell" is frail and breakable. In such cases it is necessary to obtain the prior medical history and records of the injured victim for the treating medical doctors and specialists who are providing health care services in the new accident case to use to help explain the victim's injuries and medical conditions.
It is not unusual for a claimant to have suffered a prior neck or back injury that is aggravated or exacerbated by a new car accident collision. In such situations, it is necessary to understand the claimant's prior injury and how the claimant was doing just before the new collision compared to right after the new collision, and try to apportion the injuries and damages between the pre-existing condition and all new and aggravated injuries caused by the new collision or accident. This is not an exact science and there is no specific formula to do this. Instead, it is simply a matter of proof and reasonable judgment based upon medical records, reports and testimony of medical experts and, of course, testimony of the claimant and those who know the claimant best, such as spouses, other family members, friends and co-workers.