Fork Lift & Lift Truck Injury Accidents
FREE Fork Lift & Lift Truck Injury Accidents Case Consultation
1-866 INJURY 2
or
1-866-465-8792
Over 45 Years of Experience Handling Personal Injury and Wrongful Death Accident Cases – Experience You Can Trust!
If you sustained any injury in a fork lift accident, lift truck accident or other industrial truck accident in Los Angeles, the San Fernando Valley, Ventura, Orange, Riverside or anywhere in California, you should contact us now for your FREE and CONFIDENTIAL case evaluation and consultation. There are special procedures and time deadlines, so please do not wait.
Fork lifts are sometimes referred to as lift trucks or powered industrial trucks, and their primary purpose is to move materials and things. Fork lifts are also used to raise and lower large things that are on pallets or in crates, boxes or other large containers. Such fork lifts or powered industrial trucks can be operated by a rider or controlled by an operator who is walking and not actually riding the truck.
Due to the heavy and forceful nature of fork lifts, as well as the pallets and other large and/or heavy objects being moved, operators, workers, pedestrians and other bystanders of fork lifts and industrial trucks often suffer serious injuries, sometimes resulting in death giving rise to wrongful death claims by the victim's family.

According to the Occupational Safety & Health Administration operated out of the United States Department of Labor (OSHA), over ninety thousand (90,000) workers and other people are killed or injured in fork lift and lift truck accidents each year in the United States.
There are many hazards and resulting injuries associated with fork lifts and powered industrial trucks. The hazards actually vary with the different types of fork lifts, objects lifted and their surroundings.
Hazards Associated With Operating Fork Lifts
A sit down counter-balanced high-lift rider truck is more likely to be involved in a falling load type of accident than a hand fork lift type truck because a sit-down truck can lift its heavy load of pallets or other objects much higher than the hand truck. In addition, the surroundings, including type of work place and conditions, are factors relating to injuries due to or relating to fork lifts and powered industrial trucks. Often retail businesses face much greater hazards and risk of injury than other, more controlled commercial work places in providing a safe walking place for visitors and employees. Common causes of injuries include the following: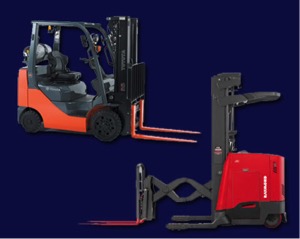 Improper of insufficient training to operate a fork lift, without required certifications
Workers are struck by fork lifts and/or the objects being lifted and/or moved
Fork lifts are accidentally driven off their loading docks
Fork lifts and lift trucks fall between their loading docks and an unsecured truck trailer, injuring the worker and/or bystanders
Fork lifts and other industrial trucks fall while on raised pallets
Fork lifts tip over due to unsafe heavy loads, when driven down or up a steep ramp, and just reckless and unsafe operation
Unsafe operation, including because fork lifts are usually steered by their rear wheels, making distance harder for some operators to account for, coupled with the momentum of such heavy trucks, making it difficult for some operators to stop their fork lifts prior to striking another worker or bystander
Failure to "chock" the fork lift. Since fork lifts often hold heavy loads, their brakes alone may not be sufficient to secure and hold a stopped fork lift. Thus, it is often necessary to "chock" the wheels by placing a heavy wedge in front and behind each wheel to be sure the fork lift will not move on its own and strike another worker, pedestrian or bystander.
Improper maintenance. This can cause a sudden breakdown, causing the fork lift to lose its load which may strike another worker or bystander or even cause the fork lift to tip over, especially when on a ramp. Thus, proper maintenance is essential.
What to do if You Were Injured in a Fork Lift Accident
Injuries from fork lifts can be devastating to the victim and the victim's family. We understand this. Don't try to deal with the other party's insurance company, adjusters, investigators and defense attorneys, or even your employer's workers compensation insurer, on your own. Don't give any statements or limit your medical care and financial recovery. Consult with expert personal injury & wrongful death attorneys now: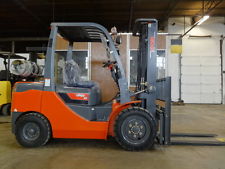 Over 45 years experience handling personal injury & wrongful death claims throughout all of California
Selected Personal Injury Law Firm of Years 2011 and 2014
Lawyers selected to "Top Attorneys in California" (highest in ethical standards & professional excellence)
Entire personal injury law firm concentrates in handling serious personal injury & wrongful death accident claims
See our personal injury Testimonials
See our Attorney Profiles
Learn more about our Personal Injury & Wrongful Death Law Offices
If you or someone you care about suffered any injury due to a fork lift, lift truck or other industrial truck in Los Angeles, the San Fernando Valley, Orange, Kern, San Bernardino, Riverside or anywhere in California, there are many easy ways to contact us for your FREE and confidential case consultation.