Fork Lift & Lift Truck Accident Attorneys
FREE Fork Lift & Lift Truck Injury Accidents Case Consultation
1-866 INJURY 2
or
1-866-465-8792
How to Find a Personal Injury Lawyer if You Suffered any Inury From a Fork Lift, Lift Truck or Other Truck Accident in Los Angeles. The Valley, Riverside, San Bernardino, Kern, Ventura or Anywhere in California
Law Firm With Over 40 Years of Experience Handling Personal Injury and Wrongful Death Accident Injury Claims – Experience You Can Trust!
Fork lifts are also called lift trucks and powered industrial trucks, and their primary purpose is to move and lift materials and things. Such fork lifts or powered industrial trucks can be operated by either a rider or controlled by an operator who is walking and not actually riding in the truck.
There are approximately ninety thousand injuries and deaths each year due to fork lifts in the United States alone.
If you suffered any accident injury, or a family member suffered a wrongful death accident, due to a fork lift, lift truck or other industrial truck accident in Los Angeles, the San Fernando Valley, Ventura, San Bernardino, Kern, Riverside or anywhere in California, there are many easy ways to contact our experienced personal injury & wrongful death accident lawyers for your absolutely FREE and confidential case evaluation and consultation.
Our personal injury and wrongful death attorneys and legal team offer the following to our clients: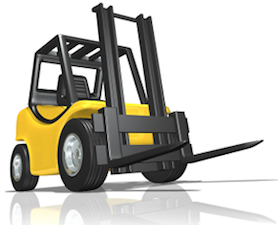 Over 40 years experience handling personal injury and wrongful death claims throughout all of California
Selected Personal Injury Law Firm of years 2011 and 2014
Attorneys selected to "Top Lawyers in California", based on Highest in Ethical Standards and Professional Excellence
Recovered over $100 Million for our clients
Successfully resolved thousands of personal injury claims
Immediate assistance with medical care and medications (often on a lien basis), financial advances when appropriate and aggressive negotiation to settle claims as soon as possible
Born and raised in California
Please see our Testimonial Pages
Please visit our Attorney Profile Pages
Please learn more about our firm by clicking here
There are many convenient ways to contact our personal injury and wrongful death lawyers for your FREE and CONFIDENTIAL case evaluation and to obtain legal representation on a contingency fee basis (which means NO fee until you WIN).