Damages in California for Amusement Park & Theme Park Accident
FREE Amusement Park Accident Case Consultation
1-866 INJURY 2
or
1-866-465-8792​
Damages in Amusement Park Injury Claims
When spending a fun day at a California amusement park, the last thing you want to worry about is the possibility of getting injured. Unfortunately, however, sometimes a trip to an amusement park can take a turn for the worse and a personal injury can occur.
If you are injured at a California amusement park, you can bring a personal injury claim against the park to cover your expenses and losses caused by the injury, or in legal terms the damages caused by the injury. Because the park is responsible for your injuries, the park must give you financial compensation for any and all damages you suffer as a result of the injury. You can receive damages for a personal injury accident that occurs at any one of California's many amusement parks such as:
Disneyland and Disney's California Adventure
Knott's Berry Farm
Six Flags Parks (including Magic Mountain and Discovery Kingdom)
Universal Studios Hollywood, or
Sea World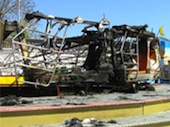 Trying to understand exactly what you deserve for compensation for your injuries can be difficult and overwhelming. That is why should you or a family member be the victim of an amusement park injury anywhere in California, we invite you to contact our office for a FREE consultation.
Our Woodland Hills Theme Park Injury Lawyer will fight to obtain the compensation that you deserve, including all damages allowed under California law for all amusement park & theme park injuries. You can receive compensation for:
Any medical care expenses—this includes hospital, physical therapy, psychological, dental, cosmetic and plastic surgery charges. If you have scars as a result of your injuries, you can have compensation for scar revision expenses.
Loss of enjoyment of life and pain and suffering—this includes compensation for activities you miss out on due to your injuries as well as any emotional distress or other inconvenience caused by your injuries.
Loss of earnings and loss of earning capacity—this includes past and future loss of earnings and any time lost at work, even if paid for this time under sick leave or vacation time.
Interest on damages—interest accrued on damages awarded for your injury may be available;
And any other appropriate damages allowed under California law.
How to Find an Experienced Woodland Hills Theme Park Injury Lawyer
An amusement park injury can be very disruptive to your life and result in a lengthy recovery time. Our Woodland Hills theme park injury lawyers handle all types of injuries, including amusement park injury and wrongful death claims and can assist with your specific case. We can take the time to look over the details of your case and will be ready to help you get the compensation you deserve for your losses. We are always available to speak with the victim or the loved one of a victim of a California amusement park injury or death. We help victims who were injured at parks in the Los Angeles area and throughout California. Contact us today for your free consultation by calling our office at 866-465-8792 or using our online contact form.
It's easy to contact us
There is NO charge for our initial consultation — it is absolutely FREE!
Over 45 years experience successfully handling thousands of personal injury & wrongful death accident cases in California!
If you had an amusement park accident, our personal injury & wrongful death accident lawyers offer an absolutely FREE & CONFIDENTIAL case consultation and evaluation and we work on a contingency fee. That means there is NO fee until you WIN and then the fee comes out of the recovery usually paid by the other parties' insurance company and not out of your own pocket.
There are many easy ways to contact us 24/7:
Please call us Toll Free at 866 INJURY 2 or 866-465-8792 (after hours please dial "1")
You may also call us at 818-222-3400 (again, after hours, please dial "1")
Simply click here for our quick and easy contact form to tell us about your amusement park accident or other injury accident.
Send us an email anytime to info@WalchLaw.com.
We offer FREE consultations and evaluations to those hurt in accidents in Los Angeles, Kern, Orange, Riverside, San Fernando Valley, San Bernardino, Ventura and throughout all of California and there is NO fee until you WIN!
We look forward to speaking with you today and helping you resolve your injury accident legal problems.
Damages In California For Amusement Park & Theme Park Accident
SE HABLA ESPAÑOL / SA ATIN PO ITO / FALAMOS PORTUGUÊS / 我們講普通話和廣東話
FREE CONSULTATION * NO FEE UNTIL YOU WIN !