Hip Injury
FREE Hip Injury Case Consultation
1-866 INJURY 2
or
1-866-465-8792
Hip Injury and Hip Fracture Accident Lawyers in Los Angeles, San Fernando Valley, Ventura, Riverside and all of California - Over 45 Years of Experience You Can Trust!
If You or Anyone You Know Suffered a Hip Injury, Including a Hip Fracture, Please Contact Our Hip Injury & Hip Fracture Personal Injury Attorneys Now for a Free Consultation
Hip injuries and fractures, sometimes requiring a hip replacement, are a common result of car, truck, motorcycle and pedestrian accidents. If you or anyone you care about suffered any hip injury or hip fracture due to an accident in Los Angeles, the San Fernando Valley, Ventura or anywhere in California, please contact our hip injury lawyers now for a completely FREE consultation.
Anatomy of the Hip

The hip is made up of three (3) bones, the ilium, ischium and pubis, which meet at the acetabulum, which forms part of the hip joint. The hip joint is between the femur, the largest bone of both the leg and body, and acetabulum of the pelvis, and its main function is to support a person's body weight when standing still and when walking or jogging. The hip joint is the most important part of the body for maintaining balance.
The hip joint has an articular capsule that attaches to the outside of the acetabular lip. The capsule permits the hip joint to have the second largest range of movement by being strong and loose. The capsule is also fibrous by consisting of longitudinal and circular fibers, the former traveling along the femoral neck carrying blood vessels while the latter forming a collar around the femoral neck.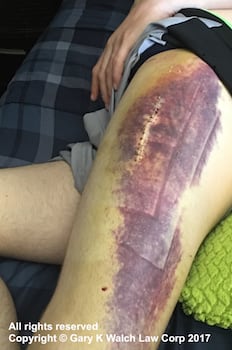 The hip joint is reinforced by four (4) ligaments. Three (3) of these ligaments are extracapsular ligaments that attach to the bones of the pelvis to strengthen the capsule and prevent excessive joint movement, while one is a intracapsular ligament that is attached to the acetabulum and femoral head, which stretches only when the hip is dislocated and acts to prevent further displacement of the hip. The hip's muscles have three (3) degrees of freedom with three (3) pairs of principle directions passing through the femoral head.
If you or a loved one has encountered any hip damage from a car accident, truck accident, motorcycle accident, a slip and fall or from any other personal injury accident, please contact our hip injury lawyers now.
Hip Fracture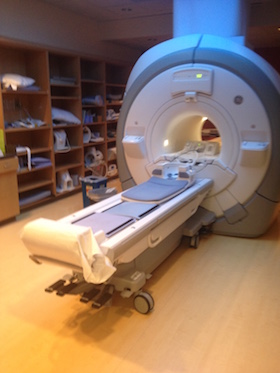 A hip fracture occurs when the proximal end of the femur near the hip breaks. A hip fracture is a common occurrence for people with osteoporosis or a weakened bone, especially elderly people, but most of the hip fractures that occur in people with normal bones are from the result of high-energy trauma, commonly occurring in the following accidents:
Car Accidents
Truck Collisions
Motorcycle Accidents
Bicycle Collisions
Pedestrian Accidents
Slip & Fall, Trip & Fall and other Premise Liability Accidents
How to Get Legal Help If You Suffered a Hip Injury In Any Car or Other Accident in Los Angeles, San Fernando Valley, Riverside or Anywhere in California
We encourage and invite you to contact our hip injury lawyers for a FREE case evaluation and advice. With our hip injury personal injury attorneys and law firm there also is NO fee unless and until you WIN!
It's easy to contact us
There is NO charge for our initial consultation — it is absolutely FREE!
Over 45 years experience successfully handling thousands of personal injury & wrongful death accident cases in California!
If you had a hip injury, our personal injury & wrongful death accident lawyers offer an absolutely FREE & CONFIDENTIAL case consultation and evaluation and we work on a contingency fee. That means there is NO fee until you WIN and then the fee comes out of the recovery usually paid by the other parties' insurance company and not out of your own pocket.
There are many easy ways to contact us 24/7:
Please call us Toll Free at 866 INJURY 2 or 866-465-8792 (after hours please dial "1")
You may also call us at 818-222-3400 (again, after hours, please dial "1")
Simply click here for our quick and easy contact form to tell us about your hip injury or other injury accident.
Send us an email anytime to info@WalchLaw.com.
We offer FREE consultations and evaluations to those hurt in accidents in Los Angeles, Kern, Orange, Riverside, San Fernando Valley, San Bernardino, Ventura and throughout all of California and there is NO fee until you WIN!
We look forward to speaking with you today and helping you resolve your injury accident legal problems.
Hip Injury Treatment
Hip Injury Accident Lawyers
SE HABLA ESPAÑOL / SA ATIN PO ITO / FALAMOS PORTUGUÊS / 我們講普通話和廣東話
FREE CONSULTATION * NO FEE UNTIL YOU WIN !