Hip Injury Accident Lawyers
FREE Hip Injury Treatment Case Consultation
1-866 INJURY 2
or
1-866-465-8792
Los Angeles and California Hip Injury Accident Attorneys Here to Help!
Over 45 Years of Personal Injury Legal Experience You Can Trust
If you or a loved one suffered a hip injury, including a hip fracture, from any car, truck, motorcycle or pedestrian accident in Los Angeles, the San Fernando Valley, Ventura, Riverside or anywhere else in California, please contact our hip injury accident attorneys today for a FREE case consultation. We truly care about our injured clients and really want to help, both in assisting with medical care & treatment, and also with top legal advice and aggressive representation to help obtain the maximum financial recovery possible.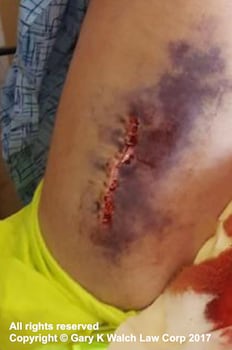 We provide a full range of personal injury legal sources to help our injured clients, and can often arrange immediate medical appointments and care for you the same day with a doctor or schedule surgery with hospitalization, prescribed pain medications and physical therapy with no payment due until we resolve your hip injury or other personal injury accident case. With over 200,000 hip replacements performed each year, appropriate medical care, including surgery and medications when required and physical therapy, should be secured as soon as possible. And, with our personal injury lawyers, there is NO fee on a hip injury accident claim until your case is WON! So please do NOT delay and please contact us now so we may take immediate action to help you as delay with medical care and required legal action may cause problems and damage your case.
Our hip injury accident lawyers are highly qualified and experienced, offering aggressive and caring legal representation for hip injury victims. Our experience also includes the following:
Over 98% success rate with personal injury and accident cases
Over $100,000,000.00 recovered
Personal Injury Attorney of the Year 2010
Personal Injury Law Firm of the Year 2011
Selected to Top Attorneys in California (Based on Highest in Ethical Standards and Professional Excellence)
Graduated UCLA Summa cum laude (with highest honors) & Phi Beta Kappa (Nations oldest and most acknowledged Honor Society)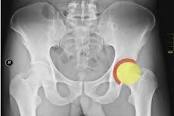 Our law firm has over 45 years of experience handling personal injury accident cases in Los Angeles, the Valley and throughout all of California. We care about our clients and are passionate about helping them with their claims. To learn more about what has been said about our law firm, please visit our Testimonial Pages and to learn more about our personal injury attorneys, please visit our Attorney Profile Pages.
If You Had a Hip Injury or Other Injury Accident, Please Contact Our California Personal Injury Lawyers & Law Firm Now for a FREE Consultation
There are many time deadlines and procedural requirements in personal injury claims, especially if the injury occurred on public or government owned or controlled property (such as on a public sidewalk) or due to medical negligence or malpractice, so please do not delay in contacting our personal injury lawyers and law firm and please obtain appropriate medical care without any delay or your claim may be lost or damaged.
It's easy to contact us
There is NO charge for our initial consultation — it is absolutely FREE!
Over 45 years experience successfully handling thousands of personal injury & wrongful death accident cases in California!
If you had a hip injury, our personal injury & wrongful death accident lawyers offer an absolutely FREE & CONFIDENTIAL case consultation and evaluation and we work on a contingency fee. That means there is NO fee until you WIN and then the fee comes out of the recovery usually paid by the other parties' insurance company and not out of your own pocket.
There are many easy ways to contact us 24/7:
Please call us Toll Free at 866 INJURY 2 or 866-465-8792 (after hours please dial "1")
You may also call us at 818-222-3400 (again, after hours, please dial "1")
Simply click here for our quick and easy contact form to tell us about your hip injury or other injury accident.
Send us an email anytime to info@WalchLaw.com.
We offer FREE consultations and evaluations to those hurt in accidents in Los Angeles, Kern, Orange, Riverside, San Fernando Valley, San Bernardino, Ventura and throughout all of California and there is NO fee until you WIN!
We look forward to speaking with you today and helping you resolve your injury accident legal problems.
Hip Injury Treatment
Hip Injury Accident Lawyers
SE HABLA ESPAÑOL / SA ATIN PO ITO / FALAMOS PORTUGUÊS / 我們講普通話和廣東話
FREE CONSULTATION * NO FEE UNTIL YOU WIN !