Asbestos and Mesothelioma Injuries
Lawyers who can help you with your Asbestos and Meso Injury or Wrongful Death Case
How to get Compensated for your Asbestos and Meso Injury
Asbestos Exposure and Mesothelioma (Meso) Claim and Case Information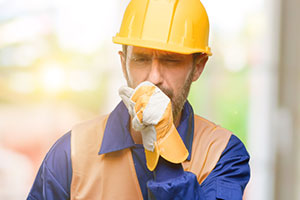 If you or a loved one has been exposed to asbestos, often found at worksites in Los Angeles, California and throughout the country, you may be at risk for developing serious asbestos related illnesses, including a serious form of cancer, Mesothelioma (aka Meso). If this has happened to you or a family member, it important to talk to our Woodland Hills Asbestos and Mesothelioma (Meso) injury attorney to see how you could receive compensation for your injuries.
Should you think you or a family member may be a victim of asbestos or Mesothelioma (Meso), please call us now at 1.866 INJURY 2 (1.866.465.8792) and after hours dial "1" or contact us now for an absolutely FREE consultation and case evaluation.
We have over 45 years experience successfully winning injury cases throughout all of California, we have all the resources needed to WIN and we have won thousands and thousands of injury cases!
With our personal injury law firm there is NO fee unless and until YOU WIN! Because there are so many time deadlines and complex procedural rules in prosecuting Meso cases, please do not delay—Please contact us now so you do NOT lose your rights!
History of Asbestos
Asbestos is a naturally occurring mineral found in mountainous areas across the United States. It is fibrous, meaning it is made up of tiny fibers and can be made into a fluffy material. It is removed through a mining process and then used in products, building materials, clothing and more.
In the past, for hundreds of years, asbestos was viewed as a useful mineral because of its heat resistant qualities. Companies worldwide used asbestos in a wide variety of products and in buildings that needed to be heat resistant or well insulated.
However, eventually it was discovered that Asbestos had deadly health consequences including causing Mesothelioma (often called Meso for short), a serious form of cancer. Still, even though many companies knew of the harmful nature of asbestos, they wrongfully failed to warn their employees of the health risks associated with working directly with and around asbestos. As a result, many workers and even those who came into contact with the clothing worn by these workers, such as the wives of the workers (as in a case our law firm handled) became seriously ill. Some even died, creating what is called in law as a wrongful death injury case.
Where Asbestos Exposure Occurred
In the early to mid 1900s, asbestos was used widely in the workplace. This includes worksites such as:
Energy plants
Paper mills
Sugar mills
Nuclear power plants
Oil refineries
Product manufacturing plants
Shipyards
Military bases
Mines
Construction sites
At all of these locations, workers were either directly exposed asbestos (while mining asbestos or related minerals or using asbestos insulation) or indirectly (while working around asbestos insulated materials). As asbestos insulation became old or was disrupted, the fibers became airborne—as a result, these very dangerous fibers were inhaled by many unsuspecting employees. Employees who worked with or around products that were made with or insulated with asbestos to help withstand heat, were put at risk for developing asbestos related illnesses. Some of these products include:
Boilers, pipes, and furnaces
Car brake linings
Shipbuilding materials
Construction materials such as ceiling tiles
"Protective" clothing and gloves containing asbestos
Sadly, not only were workers exposed to asbestos on the job, but many of their family members were also exposed to asbestos dust that was brought home on worker's clothing, which could even result in death, as allegedly occurred in a case we handled.
Harmful Effects of Asbestos
Exposure to asbestos is extremely harmful and even deadly. The most common form of cancer that results from asbestos exposure is called Mesothelioma (Meso). Mesothelioma is a tumor caused by asbestos fibers. When these fibers are inhaled, they can form tumors in the lungs, stomach or heart.
Symptoms of Mesothelioma can include:
Coughing and shortness of breath
Fluid around lungs
Respiratory problems
Chest and stomach pain
Weak muscles and fatigue
Perhaps the most difficult aspect of Asbestos related illnesses and Mesothelioma is that it can go dormant for decades before a victim is diagnosed. Even though mainstream use of asbestos ended in the 1970s and 1980s, a person who was exposed to asbestos during or before that time may still be at risk for developing Mesothelioma. Many times, once the diagnosis is finally made, the victim has already suffered significantly, and the cancer may be in advanced stages. Though the cancer does have available treatments such as surgery and chemotherapy, tragically, those with an advanced diagnosis shockingly generally have only about one (1) year to live.
Mass Torts and Asbestos Litigation
For years, victims and their families, who were exposed to toxic levels of asbestos while in the workplace have brought personal injury and wrongful death claims against the various corporations that used asbestos on site.
A central argument to this litigation is that large companies that owned these worksites—such as oil refineries, power plants, manufacturing sites, paper mills, etc.—knew about the health risks asbestos presented to their workers, and yet failed to warn their employees or put in place safety measures to prevent exposure.
Due to their failure to warn, so many workers and their families were exposed to harmful levels of asbestos that have caused serious disease and deadly cancer, such as and including Mesothelioma (aks Meso). If you have discovered that you have or a family member has an asbestos related illness or have developed Mesothelioma due to your asbestos exposure, you can bring a claim against the company that caused your exposure. Do not worry if you are not sure which company caused your Meso illness. That is because many companies have been lumped together and more than one company may be responsible for causing your asbestos related injuries. We shall endeavor to get to the bottom of this in our consultation process, which as mentioned is FREE. We only get paid if and when we WIN! Because so many people (referred to as plaintiffs) are bringing claims against companies responsible for asbestos exposure, it is considered a mass tort.
In a mass tort action, many plaintiffs bring a claim against a defendant (typically a company) or group of defendants which is common in asbestos cases, but are still treated as individuals and their unique, individual circumstances and damages are taken into account. Thus a mass tort claim for your asbestos exposure injury case will take into account your own unique individualized harm it caused to your life. During our FREE consultation and following communications we shall explore all injuries and damages you suffered, including how asbestos interfered with your enjoyment of life.
Get Help with Your Asbestos and Mesothelioma (Meso) Mass Tort Claim
No one should have to deal with the harmful consequences caused by asbestos exposure, especially when they were not warned that their health may be at risk. If you or a family member has developed asbestos related illnesses, including Mesothelioma, it is important you speak to a Woodland Hills Asbestos injury attorney as soon as possible. We handle claims and cases throughout all of Los Angeles and California. Remember that asbestos illnesses can take years to manifest themselves, so even if your exposure was decades ago, you may still be at risk.
The attorneys at Walch Law have over 45 years of experience helping clients who have suffered all kinds of injuries get the compensation they deserve for their injuries. Our injury lawyers and law firm have successfully won many thousands of cases. If you have been harmed by asbestos in the work place or home, you deserved to be compensated for the damage it has caused in your life. To get more information on mass tort and asbestos claims, you can contact our personal injury office online 24/7 or on the phone by calling 866-465-8792 (after hours press "1").
We offer a FREE initial case consultation and evaluation to those suffering from asbestos illnesses or to family members of individuals who have died as a result of asbestos cancers such as Mesothelioma with a wrongful death injury case. During your consultation you can ask questions and we can discuss the details of your case. Everything discussed is CONFIDENTIAL. Contact us today to take the first steps toward getting the financial recovery you deserve.