Temporary Visas
FREE Temporary Visas Case Consultation
1-866 INJURY 2
or
1-866-465-8792
Temporary Visa Immigration Lawyer Ready to Help!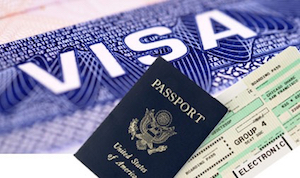 The largest numbers of visas issued by the United States each year are to those individuals who are classified as non-immigrants. A non-immigrant is an alien who wishes to enter the United States for a short period of time. Visas may be obtained for a short duration of time for business, pleasure or educational purposes. If you need help with a temporary visa, your green card or any other immigration matter, or just have a question, please call our temporary visa and green card immigration lawyer at 818-222-3400 or 1-866-465-8792 or by email at info@WalchLaw.com or simply click here
Temporary VISAS Include
A VISA: Foreign government officials
B VISA: Business, Tourist and Visitors
C VISA: Transit Visa
D VISA: Crewmen
E VISA: Treaty Readers and Treaty Investors
F-1 VISA: Foreign Students
G VISA: Designated Representatives of International Workers
H-1B VISA: Specialty Occupations
H-2A VISA: Temporary Seasonal Agricultural Workers
H-2B VISA: Temporary Skilled or Unskilled Workers
H-3 VISA: Trainees
I VISA: Media Representatives
J VISA: Exchange Visas
K VISA: Fiancé and Spousal Visas
L-1 VISA: Employment Visa For Intracompany Transferees
M VISA: Vocational Students
N VISA: Parents and Children of Special Immigrants
O-1 VISA: Aliens of Extraordinary Ability
P VISA: Athletes and Entertainers
Q VISA: Cultural Exchange
R-1 VISA: Religious Workers
S VISA: Alien Witnesses and Informants
T VISA: Victims of Trafficking
TN VISA: Professionals Under NAFTA
U VISA: Victims of Certain Crimes
V VISA: Spouses and Children of Lawful Permanent Residents
For more information regarding the visa categories listed above or how to qualify for a temporary visa, click here to see the Official Website of the United States Department of Homeland Security
If you are interested in applying for a VISA, CALL US TODAY!
We offer an absolutely FREE & confidential consultation
There are many easy ways to contact us:
Please call us:

Local: 818-222-3400 (after hours please dial 1) or
Toll Free: 866-465-8792 (again after hours please dial 1)

Send us an email at info@WalchLaw.com
There is NO charge for our initial consultation – it is absolutely FREE & confidential!
We look forward to speaking with you and helping you resolve your temporary visa, green card and any other immigration legal problems.