Temporary Visas
FREE Temporary Visas Case Consultation
1.866 INJURY 2
or
1.866.465.8792
Temporary Visa Immigration Lawyer Ready to Help!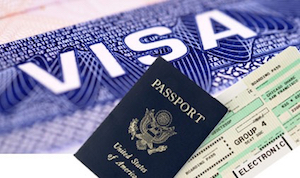 The largest numbers of visas issued by the United States each year are to those individuals who are classified as non-immigrants. A non-immigrant is an alien who wishes to enter the United States for a short period of time. Visas may be obtained for a short duration of time for business, pleasure or educational purposes. If you need help with a temporary visa, your green card or any other immigration matter, or just have a question, please call our temporary visa and green card immigration lawyer at 818.222.3400 or 1.866.465.8792 or by email at info@WalchLaw.com or simply click here
Temporary Visas include:
A VISA: Foreign government officials
B VISA: Business, Tourist and Visitors
C VISA: Transit Visa
D VISA: Crewmen
E VISA: Treaty Readers and Treaty Investors
F-1 VISA: Foreign Students
G VISA: Designated Representatives of International Workers
H-1B VISA: Specialty Occupations
H-2A VISA: Temporary Seasonal Agricultural Workers
H-2B VISA: Temporary Skilled or Unskilled Workers
H-3 VISA: Trainees
I VISA: Media Representatives
J VISA: Exchange Visas
K VISA: Fiancé and Spousal Visas
L-1 VISA: Employment Visa For Intracompany Transferees
M VISA: Vocational Students
N VISA: Parents and Children of Special Immigrants
O-1 VISA: Aliens of Extraordinary Ability
P VISA: Athletes and Entertainers
Q VISA: Cultural Exchange
R-1 VISA: Religious Workers
S VISA: Alien Witnesses and Informants
T VISA: Victims of Trafficking
TN VISA: Professionals Under NAFTA
U VISA: Victims of Certain Crimes
V VISA: Spouses and Children of Lawful Permanent Residents
For more information regarding the visa categories listed above or how to qualify for a temporary visa, click here to see the Official Website of the United States Department of Homeland Security
If you are interested in applying for a VISA, CALL US TODAY!
We offer an absolutely FREE & confidential consultation
There are many easy ways to contact us:
Please call us:

Local: 818.222.3400 (after hours please dial 1) or
Toll Free: 866.465.8792 (again after hours please dial 1)

Send us an email at info@WalchLaw.com
There is NO charge for our initial consultation – it is absolutely FREE & confidential!
We look forward to speaking with you and helping you resolve your temporary visa, green card and any other immigration legal problems.
Client Reviews
You guys did a great job in settling my case! Hope you all do well and prosper. Thank you for a job well done.
Jackie C.
We had two prior attorneys who were unable to settle our car accident case. We then hired Gary and Robert Walch and they not only got us both great settlements, but personally spent time with us explaining everything clearly. We couldn't be happier. Thank you!
A.M. and M.A.
Dear Gary, I just want to thank you for working so hard on my case! I know at times we were a bit difficult, but you did a great job. I thank you and your son for good results. I will pass your number on to any one that I run across who may need a PI attorney! I send you warm regards
Julie B.
Dear Gary, I just wanted to tell you how much I appreciate all your efforts on my behalf. The car accident was a very traumatizing experience for me. But knowing that I could trust you and your son, Robert, helped alleviate my fears and worries.
Carmella C.
Thank you for all of your hard work and thank you for making it so easy over e-mail for me. I'm a busy working mom of an Autistic 5 year old son and you guys were great. I will definitely recommend your services to family and friends.
Edna G.