Hot Topic– The J1 Visa
Who is Eligible for the J-1 Visa Program?
Who may be Known as a J-1 Sponsor?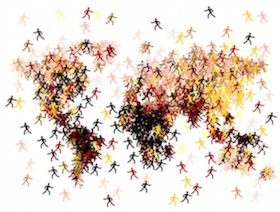 A sponsor is one who must be accredited by an exchange visitorprogram, which is designated by the United States Dept. of State.
What is the Criteria I Have to Meet in Order to Obtain a J-1 Visa?
The individual must:
Fall under one or more of the J-1 categories.
The individual must have funds sufficient for the trip.
Fluent in English.
Have a residence abroad and no intent of abandoning such residence.
Possess sufficient medical insurance.
What is the Process I Have to go Throu to Obtain a J-1 Visa
The individual must apply for a J-1 Visa at the U.S embassy or consulate in their home country. The process is as follows:
DS-2019 Form provided by sponsor
Form DS-156 (non immigrant visa app)
DS-158 (detail work history /contacts )
Passport (valid) /2x2 photographs /non refundable 160 USD
Once the individual receives their visa they can enter the U.S. up to a period of 30 days before the program date.
What is the Duration for the J-1 Visa Duration for J-1 Visa
This will depend on the J-1 Category that the individual is in. Depends on the J-1 category the individual is in.
See the USCIS WEBSITE FOR THE MAXIMUM DURATION OF EACH CATEGORY
What is the Extension Periof for the J-1 Visa?
The J-1 visa can be extended by Sponsor who completes the IAP6. Extension is possible only if the duration falls within the maximum duration of stay for the category the individual falls under.
Can the Two Year Requirement for Foreign Residency Requiremenet be Waived?
The J1- Visa holder must move to their home country for a period of 2 years In order to be eligible for a green card. However, there is a statutory basis that may be used to waive this 2 year foreign residency requirement
Statutory basis categories are as follows:
No objection Statement Waiver
Exception to hardship waiver
Fear of persecution waiver
Interested U.S. federal government agency waiver
Designated state public health department or its equivalent waiver
Visit the following website for more information on these specific waivers.
Contact a Lawyer
While we previously handled immigration cases, we still provide some general immigration information on our web site for assistance to the general public. This is no substitute for consulting with an immigration attorney about your specific facts and/or case which we highly recommend, especially since some laws, rules and procedures may change at any time and web site pages are not intended to provide legal advice and are not always updated. Thus, we urge you to consult with an immigration attorney now and if you need any assistance in finding one please contact our law offices now for help.
Meanwhile, we continue to offer an absolutely FREE consultation and case evaluation for anyone injured in a car, truck, motorcycle or any other accident or to any family who suffered the death of a family member with a wrongful death accident claim in Los Angeles, Orange, Riverside, San Bernardino, San Fernando Valley, Ventura and all of California.
We have over 40 years experience handling personal injury & wrongful death accident cases and during that time our injury accident lawyers have successfully resolved thousands and thousands of injury accident cases for many millions of dollars.
For more information,
please see our Personal Injury & Wrongful Death home page
and our many
Client Testimonials
.
There are many easy ways to contact our personal injury & wrongful death accident lawyers:
Call us:

Local: 818-222-3400 (after hours, please press 1)
Toll Free: 866-465-8792 (after hours, please press 1)

Send us an email at info@WalchLaw.com
On personal injury accident cases & wrongful death accident cases there is NO charge for our initial consultation – it is absolutely FREE! And we work on a contingency fee which means we do not get paid until you win and then our fee comes out of the recovery paid by the insurance company and not out of your own pocket!
We look forward to speaking with you and helping you resolve your legal problems.
FREE CONSULTATION & CASE EVALUATION – NO FEE UNTIL YOU WIN!