From Permanent Resident to United States Citizen
I am a Permanent Resident, How Can I Become a United States Citizen? What are the Requirements I Must Meet?

Certain requirements for a Permanent Resident to become a U.S. Citizen
The individual must be:
18 or older
Permanent resident for a certain amount of time
Of Good moral character
Basic knowledge of United States history and government
Have continuous residence and physical presence
Read/write/speak basic English
Is There an Exception to the Requirement of Reading/Writing/And Speaking English?
Yes,
If the individual is 55 years old and a perm resident for at least 15 years (or)
50 years old and has been a perm resident for at least 20 years (or)
Has a physical or mental impairment such that they cannot fulfill this requirement.
Contact a Lawyer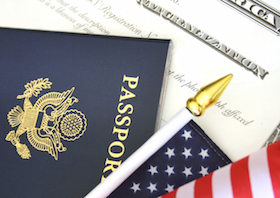 While we previously handled immigration cases, we still provide some general immigration information on our web site for assistance to the general public. This is no substitute for consulting with an immigration attorney about your specific facts and/or case which we highly recommend, especially since some laws, rules and procedures may change at any time and web site pages are not intended to provide legal advice and are not always updated. Thus, we urge you to consult with an immigration attorney now and if you need any assistance in finding one please contact our law offices now for help.
Meanwhile, we continue to offer an absolutely FREE consultation and case evaluation for anyone injured in a car, truck, motorcycle or any other accident or to any family who suffered the death of a family member with a wrongful death accident claim in Los Angeles, Orange, Riverside, San Bernardino, San Fernando Valley, Ventura and all of California.
We have over 40 years experience handling personal injury & wrongful death accident cases and during that time our injury accident lawyers have successfully resolved thousands and thousands of injury accident cases for many millions of dollars.
For more information,
please see our Personal Injury & Wrongful Death home page
and our many
Client Testimonials
.
There are many easy ways to contact our personal injury & wrongful death accident lawyers:
Call us:

Local: 818-222-3400 (after hours, please press 1)
Toll Free: 866-465-8792 (after hours, please press 1)

Send us an email at info@WalchLaw.com
On personal injury accident cases & wrongful death accident cases there is NO charge for our initial consultation – it is absolutely FREE! And we work on a contingency fee which means we do not get paid until you win and then our fee comes out of the recovery paid by the insurance company and not out of your own pocket!
We look forward to speaking with you and helping you resolve your legal problems.
FREE CONSULTATION & CASE EVALUATION – NO FEE UNTIL YOU WIN!