DAPA
FREE Immigration Reform Case Consultation
1-866 INJURY 2
or
1-866-465-8792
Deferred Action for Parental Accountability Program
DAPA Immigration Lawyers
DAPA Requirements
An individual may qualify for DAPA - Deferred Action for Parental Accountability - if they meet all of the following requirements:
Continuous residence in the United States since the date of January 1, 2010.
Presence in the United States on November 20, 2014 and at the time of the DAPA application.
Did not have lawful immigration status on November 20, 2014.
On November 20, 2014 had a child who was a U.S. Citizen or lawful permanent resident.
The individual must not be an enforcement priority for removal.
Through this program the applicant will be eligible for deferred action of removal and a three (3) year work authorization.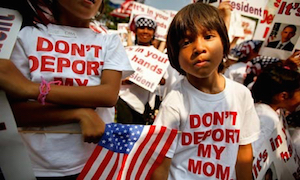 Evidence You Should Gather for DAPA
Basic documents

Birth Certificate
Identification (ID)
Three (3) pictures passport style
Copy of your passport and visa
Copy of the birth certificate of your United States or Legal Permanent Resident child
If your child is a resident, copy of the resident card
Proof of residency in the United States from January 1, 2010 through and including the present time
Proof of physical presence in the United States on November 20, 2014
Any criminal records, including copies of any court dispositions
Copy of income tax returns

Full document list of what you should gather by category:

Click on the categories below in order to determine what documents you should gather to support your DAPA request:
For More Information on how you can prepare for DAPA, CONTACT US NOW!
Our immigration attorney offers an absolutely FREE & confidential consultation
There are many easy ways to contact us:
Please call us:

Local: 818-222-3400 (after hours please dial 1) or
Toll Free: 866-465-8792 (again after hours please dial 1)

Send us an email at info@WalchLaw.com
There is NO charge for our initial consultation – it is absolutely FREE and confidential!
We look forward to speaking with you and helping you resolve your immigration and DAPA legal problems.