Red Light Car Accident Personal Injury Lawyers
FREE Car Accident Case Consultation
1-866 INJURY 2
or
1-866-465-8792
Woodland Hills Red Light Car Accident Attorney
With over 45 years of experience handling red light car accident injury cases in Los Angeles, San Fernando Valley, and throughout California, we are attorneys that you can trust to get you the compensation you deserve!
Red Light Collisions: The Facts
According to a 2008 report from the National Highway Traffic Safety Administration (NHTSA), red light accident collisions caused 762 deaths; and the NHTSA also has estimated that approximately 165,000 people are injured in red light car and other accidents each year.
Causes of Red Light Collisions
In over 45 years of experience in dealing with thousands of red light car, motorcycle, truck and other motor vehicle accidents and collisions, our Woodland Hills red light accident attorneys have discovered several common factors that lead to these red light accidents, which include the following:
Car, truck or motorcycle rushes to "make the light" while it is on yellow and ends up entering the intersection on a red traffic signal light, where other vehicles are turning or driving perpendicular to the driver, leading to a hard impact car accident
Car driver makes an error by thinking he or she could beat the light on the yellow, but then changes mind and attempts to stop at red light, but, due to high speed, car ends up passing through the red light anyways, crashing into another car, truck or other vehicle
A driver passes the red light due to inattention or recklessness and crashes into another car on its green traffic light
A car lawfully in the intersection turns left after its traffic signal turns red as another second driver, not aware that the first car is making a left turn, accelerates (or "jumps the light") on the green light and crashes into the left turning car.
Bad weather conditions that include a blinding setting sun, rain, snow, icy roads and fog.
California Red Light Law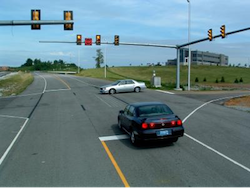 California Vehicle Code Section 21453 addresses red light rules. This section states that:
A driver heading toward a red light must stop at or before the marked line or crosswalk. The driver cannot enter the intersection until "indication to proceed" is shown—or until the light turns green.
However, the driver can go on a red if they are making a right turn, or turning left from a one-way street onto another one-way street. When drivers make this kind of turn at a red light, they must "yield the right-of-way to pedestrians lawfully within an adjacent crosswalk and to any vehicle that has approached or is approaching so closely as to constitute an immediate hazard to the driver."
When a driver encounters a red arrow at an intersection, that driver cannot enter the intersection or make the turn. The car must stop before the intersection (at the marked line or before the crosswalk) and then must stay stopped until the light indicates go.
Red light laws also apply to pedestrians—"Unless otherwise directed by a pedestrian control signal…a pedestrian facing a steady circular red or red arrow signal shall not enter the roadway."
Legal Liability and Responsibility for Red Light Accidents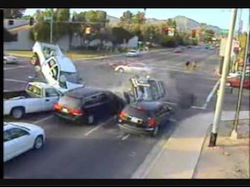 Most of the time, the fault (i.e., the legal liability) for a red light car accident falls on the driver who entered or crossed into the intersection on the red light. A typical example occurs when the at fault car enters on a red traffic light when the opposing car, already lawfully in the intersection, turns left blocking the path of the car that entered the intersection on a red light, resulting in a violent two-car collision.
In addition, there are times when a driver enters the intersection on a green but is still at fault—for example, this can occur when a driver, already lawfully in the intersection and waiting for traffic to clear before turning left, completes the left-turn right after the light turns red, and hits a vehicle that entered the intersection on a green light before the intersection clears.
The driver at fault for the accident is legally responsible for compensating those harmed in the accident for their injuries.
Injuries Suffered in Red Light Car Accidents
In a typical red light intersection car accident, the first car or vehicle lawfully entered the intersection on a green or yellow light and is slammed into by a second car or other vehicle which entered against a red traffic signal. Such intersection accidents usually result in violent collisions, with major property damage, often totaling one or both cars or other vehicles, and causing severe personal injuries to the drivers and passengers in their cars, trucks or motorcycles.
Due to the strong impact to the side of the vehicle from the second car, injuries suffered in a red light collision can be very serious. Common injuries include: neck and whiplash injuries, and back, shoulder, arm, hip and leg injuries. In addition, the driver of the car that runs the red light and causes the accident may also suffer multiple injuries and fractures ranging from broken shoulders to broken legs, and even spinal cord injuries that could be permanent injuries, beyond repair.
Finding Highly Qualified Red Light Accident Personal Injury Attorneys
At Walch Law, our very experienced and highly qualified car, truck, motorcycle and motor vehicle collision personal injury accident lawyers have over 45 years of experience in helping injured victims of red light car and motor vehicle accidents throughout Los Angeles, Riverside, and all of California.
Some of the accomplishments and credentials of our Woodland Hills red light car accident attorney and law offices include the following:
Over $100,000,000 recovered for our clients
Over 98% success rate in thousands of car accident injury cases
Selected as Top Lawyers in California (Highest in Ethical Standards & Professional Excellence)
Experience as an Arbitrator, Los Angeles Superior Court
Graduated UCLA Summa cum laude (with highest honors) and selected to Phi Beta Kappa (nation's oldest national honor society)
Member of the California State Bar since 1975
Our attorneys will use their knowledge, skills, and experience to help you get the recovery you deserve in your case. No one should have to suffer as a result of a drivers negligence or poor choice to run a red light. If you or a loved one have sustained any injury, or if a family member was killed in a red light car accident resulting in a wrongful death accident claim, in Los Angeles, the San Fernando Valley, San Bernardino or anywhere in the state of California, we encourage you to contact our personal injury lawyers now to receive an absolutely FREE CONSULTATION. Call us today at 866-465-8792.