Stop Sign Accident
FREE Car Accident Case Consultation
1-866 INJURY 2
or
1-866-465-8792
Stop Sign Accident Attorneys With Over 45 Years of Experience That You Can Trust!
If You or Anyone You Care About Was Involved In Any Stop Sign Car, Truck or Motorcycle Accident Personal Injury Collision in Los Angeles, San Fernando Valley, Ventura or Anywhere in California, Please Contact Our California Personal Injury Lawyers Now for a FREE Courtesy Consultation and Case Evaluation
California motorists run or pass through stop signs or "roll" through stop signs daily. The latter violation is so prevalent in Los Angeles and California that many years ago it became known as the "California Roll." Stop sign violations are a significant cause of accidents and collisions in Los Angeles, the San Fernando Valley, Riverside and throughout all of California.
Please contact our very experienced stop sign car accident collision personal injury attorneys for an absolutely FREE consultation today if you or a loved one suffered any stop sign car, truck, motorcycle or pedestrian accident in Los Angeles, San Fernando Valley, Ventura or anywhere in California.
To learn more about our stop sign personal injury attorneys and law firm, please visit our web site for our accident law firm information and credentials, our Attorney Profiles, and our many client Testimonials.
Causes of Stop Sign Accidents
Having 45 years of experience and expertise in successfully handling thousands of car injury accident cases, including stop sign collision cases, our personal injury lawyers have recognized several common factors that cause stop sign accidents, which include the following: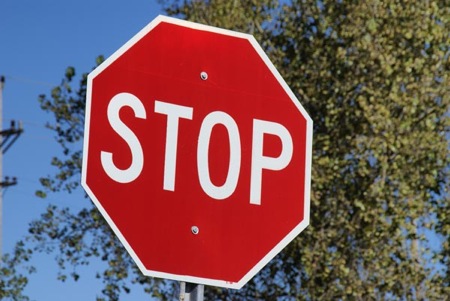 Inattention: Recklessly, carelessly or negligently driving and passing a stop sign without noticing the stop sign, which often leads to a violent intersection impact with another car, truck or other vehicle that had the right of way to drive through the intersection
Two drivers believing they each have the right of way at an "ALL-WAY STOP" sign (where each street at an intersection has a stop sign for its direction of traffic) and, due to lack of understanding, inattention and/or knowledge, both accelerate past their stop signs and collide
Driver Error: Driver making a mistake in believing the intersection is a four-way stop or "ALL-WAY STOP" instead of a just two-way stop, so the driver passes the stop at the same time another car, truck or other vehicle drives through the intersection and crashes into the careless driver
Obstruction: The stop sign is blocked, obstructed or otherwise obscured from view by trees, bushes, a parked or stopped truck, or some other causes
Weather: Harsh weather such as a bright sunset obscuring one's vision, fog, snow, sleet and rain
Legal Liability and Responsibility for Stop Sign Accidents
The driver who does not have the right of way is generally always responsible for a stop sign accident, which usually occurs from a lack of focus and attention while driving on the road or not paying attention to or seeing another car, motorcycle or other vehicle that stopped at the stop sign first.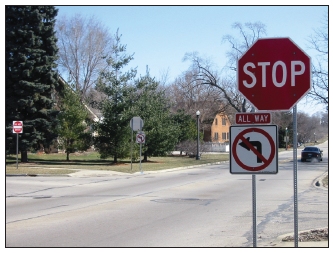 The California stop sign law, California Vehicle Code Section 22450: for stop sign requirements, clearly states the following:
(a) "The driver of any vehicle approaching a stop sign at the entrance to, or within, an intersection shall stop at a limit line, if marked, otherwise before entering the crosswalk on the near side of the intersection." Note: If there is no crosswalk line or limit line before the crosswalk, then the driver has to make a stop just before the beginning of the intersecting roadway.
(b) "The driver of a vehicle approaching a stop sign at a railroad grade crossing shall stop at a limit line, if marked, otherwise before crossing the first track or entrance to the railroad grade crossing."
(c) "Notwithstanding any other provision of law, a local authority may adopt rules and regulations by ordinance or resolution providing for the placement of a stop sign at any location on a highway under its jurisdiction where the stop sign would enhance traffic safety."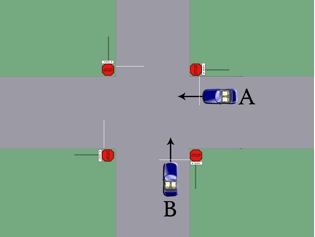 Injuries Suffered in Stop Sign Car Accidents
A stop sign accident usually occurs due to a collision between two vehicles when both drivers believe they have the right of way or due to one careless driver who either passes the stop sign without being aware of it or by assuming the other entrances of the intersection also have a stop sign when they do not. A stop sign collision often results in serious and painful injuries to the driver's or passenger's neck (sometimes called a whiplash injury), back and sometimes fractures or catastrophic injuries that can permanently alter one's life or lead to death and wrongful death claims.
Finding Highly Qualified and Experienced Stop Sign Accident Personal Injury Lawyers in Los Angeles, the San Fernando Valley and California
For over 45 years, our car, motorcycle, truck and motor vehicle accident personal injury attorneys and law offices have assisted injured victims of stop sign car and other motor vehicle accidents throughout all of Los Angeles, the Valley and California. With our vast expertise and credentials, we offer the following:
Over 98% success rate in cases of car and other motor vehicle accidents
Successfully resolved many thousands of personal injury claims, while recovering over $100,000,000 in settlements and verdicts for our clients
Member of California State Bar since 1975
Personal Injury Attorney of Year 2010
For more information about our personal injury attorneys and law firm, including our credentials and experience, please visit our home page, our Attorney Profiles and our Client Testimonials.