U-Turn Car Accident Personal Injury Attorneys
FREE Car Accident Case Consultation
1-866 INJURY 2
or
1-866-465-8792
U-Turn Accident Lawyers With Over 45 Years of Experience That You Can Trust!
If You Had a U-Turn or Any Intersection Car, Truck, Motorcycle or Pedestrian Accident in Los Angeles, San Fernando Valley, Riverside or Anywhere in California, Please Contact Our U-Turn, Intersection and Car Accident Personal Injury Lawyers Now for an Absolutely FREE Consultation
In 2011, there were 2,047 drivers who were injured in u-turn car collisions and 16 drivers who actually had fatal accidents when making u-turns in California, according to the California Highway Patrol (CHP). If you were involved in any u-turn accident or intersection collision, or if any person you care about has been injured or killed in a u-turn accident, or any motor vehicle collision anywhere in Los Angeles, the San Fernando Valley, San Bernardino or in the state of California, please contact our highly knowledgeable and immensely experienced u-turn collision car accident injury attorneys now for an absolutely FREE COURTESY CONSULTATION.
For more information about our u-turn personal injury attorneys and law offices, please see our firm information, our Attorney Profiles, and client Testimonials.
Causes of U-Turn & Intersection Car Accident Collisions in Los Angeles, San Fernando & California
Our 45 years of experience in handling thousands of car accidents and other motor vehicle injury accidents, including u-turn collisions with cars, trucks, motorcycles and bicycles, has shown that there are several common factors that lead to u-turn accidents, which include the following: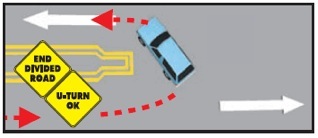 Making a u-turn where it is NOT legal to do so, which drivers of other cars, trucks, motorcycles and vehicles cannot anticipate so the cars and other motor vehicles collide, causing great property damage and serious personal injuries
Making a u-turn from a parked position or stopped position on the right side of the road, when there are cars, motorcycles or trucks driving to the left that are traveling in the same direction or fast opposing traffic traveling in the opposite direction on the other side of the street, causing a particularly violent u-turn type accident and collision with major property damage and serious injuries
Reckless, careless or negligent u-turns without looking for all oncoming traffic
Oncoming traffic rushing through a traffic signal light that is about to turn red while the other driver is making a u-turn
Obstructed vision due to another car in front making a u-turn or left turn, causing the car making the u-turn to get hit
Bad weather conditions, including setting sun obscuring one's vision, snow, sleet and heavy rain
Legal Liability and Responsibility for U-Turn Accidents and Collisions
The driver of the car or other motor vehicle that makes the u-turn is responsible most of the time for u-turn accidents, usually from a lack of attention in checking for other cars coming toward his or her car while making the u-turn, or from making an illegal u-turn so that other drivers do not have time to react to the u-turn by the car that pulls in front of them.

California u-turn law states the following:
Left-Turn or U-Turn California Vehicle Code Section 21801 states as follows:
"The driver of a vehicle intending to turn to the left or to complete a U-turn upon a highway, or to turn left into public or private property, or an alley, shall yield the right-of-way to all vehicles approaching from the opposite direction which are close enough to constitute a hazard at any time during the turning movement, and shall continue to yield the right-of-way to the approaching vehicles until the left turn or U-turn can be made with reasonable safety."
"A driver having yielded as prescribed in subdivision (a), and having given a signal when and as required by this code, may turn left or complete a U-turn, and the drivers of vehicles approaching the intersection or the entrance to the property or alley from the opposite direction shall yield the right-of-way to the turning vehicle."
Injury and Damage Resulting From U-Turn Accidents
A u-turn collision usually occurs when during a traffic accident the car or other vehicle making a u-turn is impacted by an oncoming vehicle. Such collisions are typically called u-turn collisions because the vehicle making the u-turn actually travels in a "U" shape direction; and such u-turn accidents often result in injury, including neck injuries (often called whiplash injuries), back and sometimes even fractures, catastrophic injuries and wrongful death claims.
Sometimes there may be "multi-impact u-turn collisions" where the vehicle making the u-turn is hit by one vehicle traveling straight that gets struck by another motor vehicle that might be right behind the vehicle traveling straight. These collisions may result in multi-impact accidents where more than one car or motor vehicle is moving at impact, leading to some complex liability and injury questions. Immediate investigation and assistance of an experienced personal injury car accident attorney is advised.
Locating Experienced U-Turn & Intersection Accident Personal Injury Lawyers
Our car collision personal injury lawyers and law firm have been helping injured victims of u-turn car, truck, motorcycle and other motor vehicle accidents throughout all of Los Angeles and California for over the past 45 years. This amount of time has provided an extensive and vast amount of experience and knowledge that includes the following:
Successfully handled thousand of personal injury claims, while recovering over $100,000,000 in verdicts and settlements for our clients
Over 98% success rate in motor vehicle accident cases
Immediate help with medical care, specialists, scans, medications, prescriptions, financial advances, property damage repair and settlement, etc.
Selected Personal Injury Law Firm of Year 2011
For more helpful information about our injury attorneys, law firm and legal team, please see our Testimonials and Attorney Profile web pages.