Car Accident Attorney
FREE Car Accident Case Consultation
1-866 INJURY 2
or
1-866-465-8792
How to Find an Experienced Car Accident Personal Injury Lawyer in Los Angeles, San Fernando Valley & California
There were 286,969 drivers in California involved in car accidents with injuries in 2011, according to the California Highway Patrol (CHP). If you have been injured, or someone you care about has been injured or killed with a wrongful death claim, in a car accident in Los Angeles, the San Fernando Valley or anywhere in the state of California, you should call or contact one of our expert car accident injury lawyers now for an absolutely FREE COURTESY CONSULTATION. We sincerely would like to help you and we invite you to see what others say about us.
Our car accident injury attorneys have been representing injured victims of car accidents and other motor vehicle collisions throughout all of Los Angeles and California for over 45 years. During that time, our personal injury law firm has successfully resolved many thousands of car accident cases and recovered over $100 million for our clients. If you or someone you know was involved in a car accident or any other personal injury case, we would like to discuss the case and how we may help you or the person you know.
How to Find an Experienced Car Accident Personal injury Lawyer
If you or someone you care about has been involved in a car accident or a truck, motorcycle, pedestrian, hit & run or any motor vehicle collision anywhere in Los Angeles, the San Fernando Valley or California, please call or contact our very aggressive car accident attorneys now.
The insurance companies have trained adjusters working to increase their profits and either limit or even deny your claim, so please do NOT wait. There are many procedural rules and time deadlines. Please call, email or contact our personal injury law offices now for an absolutely FREE consultation with an experienced car accident injury lawyer or any member of our car accident legal team to be sure that you timely comply with all rules and the statute of limitations.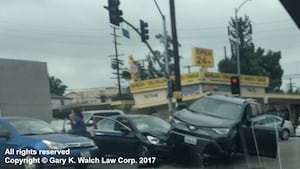 We offer the following credentials and expertise:
Over 45 years experience successfully resolving thousands of car, motorcycle, truck and other personal injury accident claims
Immediate help with property damage repairs, loan cars, medical & dental care with no payment required until your case is resolved, and medications and prescriptions
Immediate assistance with cash advances and emergency loans when appropriate as we understand the many problems that result from accidents with serious injuries, including disability, being out-of-work, loss of income, etc.
Selected Personal Injury Attorney of Year 2010 and Personal Injury Law Firm of Year 2011
Past Chairperson of Civil Litigation-Tort Section of Westwood Bar Association
Served as an Arbitrator with the Los Angeles Superior Court
Graduate of UCLA School of Law, 1975
Graduated UCLA Summa cum laude (with highest honors)
Born & raised in Los Angeles, California
For more information about our car accident lawyers, please click here.