Speeding Accidents in California
FREE Car Accident Case Consultation
1-866 INJURY 2
or
1-866-465-8792
If you were injured in a car accident caused by a speeding driver, or lost a loved one in this type of accident, in Los Angeles or the surrounding areas, please contact our skilled Woodland Hills auto injury lawyers now for a free consultation!
What is Speeding in California?
Speeding is the act of driving a car or other motor vehicle faster than is legally allowed. This includes driving faster than allowed in any particular area, traveling at a speed too fast or unsafe for conditions (the Basic Speed Law), and/or driving in excess of a posted maximum speed limit sign (the Maximum Speed Limit).
Traveling at high speeds on roads and highways in California can contribute to causing not only more traffic injuries, but also worse collisions.
The faster a car or other heavy motor vehicle is traveling when it is involved in a collision:
the more likely the collision will result in serious injuries, and possibly even death,
the greater the stopping distance required to stop the driver's vehicle to prevent a collision,
the less time the driver has to stop or to try to avoid a dangerous hazard on the road, such as debris that has fallen from a truck or other vehicle, animals walking on the road, or a collision between other vehicles.
If you were involved in any injury accident involving a speeding car, motorcycle, truck or other vehicle, or a family member killed because of a speeding car or other vehicle, do not make any decisions until you call us first. We know how to win excessive speed cases! Please contact our very experienced Woodland Hills auto injury lawyers now for a FREE consultation and case evaluation.
What is the Basic Speed Limit in California (aka "The Basic Speed Law")?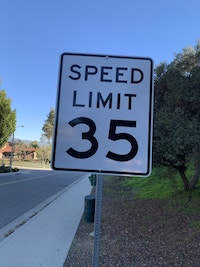 The State of California follows the "Basic Speed Law" which means that drivers in California must never drive faster than the speed which is safe for current conditions. See the " California Driver Handbook – Laws and Rules of the Road", published by the State of California, Department of Motor Vehicles.
California Vehicle Code Section 22350, that is often referred to as the California Basic Speed Law, states as follows:
"No person shall drive a vehicle upon a highway at a speed greater than is reasonable or prudent having due regard for weather, visibility, the traffic on, and the surface and width of, the highway, and in no event at a speed which endangers the safety of persons or property."
Therefore, regardless of a higher posted speed limit, a California driver's speed still must be based upon the following:
The number of other cars and other vehicles on the road at that time and the speed they are travelling at;
The condition of the road surface the driver's car or other vehicle is travelling on, including if the road is smooth, rough, graveled, dry, wet, narrow or wide;
Whether there are pedestrians or bicyclists on the roadway or crossing the roadway; and
The weather conditions at the time, including if it is raining, snowing, foggy, dusty or windy
What is the Maximum Speed Limit in California?

Regardless of the speed a driver may believe safe for conditions, the maximum speed limit on most California highways is only 65 miles per hour (mph). However, a driver may drive or travel at 70 mph if and where it is specifically posted to allow this faster speed. On a two-lane undivided highway (that is, a total of two lanes or one lane in each direction), unless there is a different sign, the maximum speed limit is 55 mph. In addition, the maximum speed limit for cars and other vehicles towing a trailer also is 55 mph.
There may be other lower than 70 mph speed limits posted on various roads based upon the type of road and traffic in the area. These posted speed limits are based on ideal driving conditions, so when the driving conditions are not ideal, such as when there is rain, snow, fog, wind or dust, California drivers should reduce their speed accordingly.
Further, construction zones usually have reduced speed limit zones, with higher fines for certain traffic violations in such construction zones. For more information see the "California Driver Handbook – Laws and Rules of the Road"
Number of Fatalities in California Caused by Speeding
California reported the following fatalities or deaths caused by speeding for the years from 2013 to 2017:
Year: 2013
Total: 992
Year: 2014
Total: 995
Year: 2015
Total: 1,032
Year: 2016
Total: 1,151
Year: 2017
Total: 1,070
Source: National Highway Traffic Safety Administration (NHTSA), Traffic Safety Facts for California for 2013-2017
If you have been injured by a driver who was speeding or someone you care about has been injured or killed in a speed related collision, or any car accident anywhere in Los Angeles, the San Fernando Valley or in the state of California, it is important to speak to an experienced Woodland Hills speeding accident attorney as soon as possible. There are many legal procedures and time deadlines in these types of cases, so please do not delay and risk losing your rights—contact us as soon as possible.
Consequence of Speeding Accident
As stated above, when a driver is speeding there is less time to take evasive action to avoid debris on the road or to avoid another car or truck stopped in front of the speeding driver. Further, the impact and damage, because of greater momentum when speeding, is usually much more devastating.
Momentum is essentially the mass or weight of the speeding vehicle multiplied by its speed. The heavier and faster the vehicle travels, the greater its momentum and likelihood of causing greater damage to the other car or vehicle and greater injuries to the driver and any passengers in the other car or vehicle.
The most common consequence of a collision caused by speeding or traveling too fast is property damage to the other cars and vehicles involved and injury to the driver and passengers in those vehicles.
The amount of damage to each vehicle varies depending on the type and structure of each vehicle. For example, if small car is rear ended by a larger speeding vehicle there may be major rear-end bumper damage to the smaller car and little or even no damage to the front of a larger truck that caused this rear-end collision. Other times we see little visible damage to the rear of the first car or vehicle (e.g., when it has a bigger, stronger or impact absorbing rear bumper) while the full front-end of the second vehicle (that is, the car or truck rear-ending the other vehicle) shows major front grill damage and other damages.
Our team of lawyers has handled many accidents caused by speeding and/or traveling too fast for conditions, including rear-end accident claims. It is important to accurately document all the damage from such collisions. This includes taking good photos of all vehicles involved. Additionally, you will want to take your car to a good auto body repair shop and obtain detailed estimates of all damage to clearly document all damages. This documentation is important because insurance adjusters often dispute injuries when the visible property damage to the claimant's car does not appear too significant.
What Injuries are Caused by Speeding Accidents
When an accident or collision is caused by speeding, it can result in very serious injuries due to the force at which the speeding car hits the other. Injuries caused in this kind of accident can differ in type and severity but may include head and face injuries (concussions and TMJ), broken arms or legs, whiplash and other neck and shoulder pain, or knee and hip injuries.
It is always important to seek medical attention as soon as possible after you have been in an accident caused by speeding. By doing so, you help prevent injuries from getting worse. Some of your injuries may even require serious medical care such as surgery or a cast. If you are having trouble getting proper medical care and need help, contact us right away as we can assist in finding excellent medical care. It may also be possible to get this care on a lien basis which means NO payment is due until your claim is resolved—contact us today to see if this is possible in your case.
What Damages can be Recovered from Injury Accidents Caused by Speeding?
When you are injured due to another person's decision to speed, you can bring a personal injury claim against that person to recover for your losses, or damages. If you have lost a loved one in a speeding accident, you can bring a wrongful death claim against the party responsible. At Walch Law our personal injury and wrongful death lawyers will work to help you receive any available damages and compensation permitted under California law for injuries or death caused by speeding drivers.
Damages for these types of accidents include;
Money for the cost of medical & hospital expenses
Money any lost earnings or lost earning capacity;
Compensation for loss of enjoyment of life and missed activities;
Financial recovery for all pain, suffering, inconvenience & emotional distress;
You may also receive compensation for property damage caused to your car by the speeding accident. You can receive funds to compensate for:
Cost of repairs to your vehicle
Towing Charges
A rental car costs (if you need a rental while yours is fixed)
Total loss or diminished value of vehicle (when the car is worth less after it is repaired that it was before the accident)
How to Find Experienced Woodland Hills Auto Injury Lawyers
At Walch Law, we have over 43 of experience representing injured victims or their family members of who were harmed by a speeding driver. Our Los Angeles personal injury and wrongful death attorneys have successfully handled thousands of cases a throughout Los Angeles and Southern California, achieving helpful financial recovery for our clients.
When you or someone you love is injured in a speeding accident, the last thing you want to worry about is handling the claim. Many insurance companies have adjusters that fight to limit or deny the compensation you deserve and can be extremely difficult to deal with. Instead of facing them on your own, contact an experienced personal injury or wrongful death attorney who knows exactly what to do to help you get the financial recovery you need and deserve. Let our attorneys tackled getting your financial recovery while you focus on your physical recovery! We are ready to help you, so please contact our law offices now for an absolutely FREE consultation concerning your speeding accident case.