Dog Bite Cases
FREE Dog Bite and Animal Attack Case Consultation
1.866 INJURY 2
or
1-866-465-8792
Dog Bite Injury Cases - Over 40 Years Experience You Can Trust!
Personal injury claims for dog bites, dog attacks and animal attacks can be extremely painful, causing severe injuries, leaving permanent and disfiguring scaring and maqy even cause extreme emotional distress and trauma. Fast medical care for the victim, often with a cosmetic or plastic surgeon to try to diminish permanent scarring and disfigurement, and also prompt investigation by a California Personal injury Attorney and also the local Animal Control Department to determine the identity of the owner of the dog, if the dog had proper vaccinations and often to quarantine the dog to determine if it has rabies, may be appropriate and necessary.
California Civil Code Section 3342(a) states that the owner of a dog is liable for the damages suffered by anyone bitten by that dog while in a public place or lawfully in a private place regardless of any prior knowledge of the dog's viciousness.
Thus, under California statutes there is automatic liability or strict liability under law for the owner of the dog if the owner's dog bites another person.
However, note the following: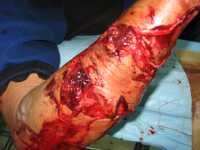 A dog bite is required. This law does not apply to an attack without a bite. However, there are other remedies for injuries from dog attacks that do not involve dog bites. See our web page practice area entitled Dog & Animal Attack.
The owner of the dog is the person who is automatically responsible under this law. It does not automatically apply to persons who just "keep" or "control" a dog. Such persons may be held liable under different legal authority, including the dangerous animal rule.
If the bite occurred in a private place, the victim must lawfully be there. This would include invited guests of the owner as well as government employees performing their duties imposed by law such as postal employees and police officers. It would exclude and not protect trespassers or a person seeing a barking dog yet opening a gate to engage the barking dog.
It is not necessary that the skin be broken in order for this code section to apply. Johnson v. McMahan (1998) 68 C.A. 4th 173, 176.
California Civil Code Section 3342(a) provides as follows:
3342. The owner of any dog is liable for the damages suffered by any person who is bitten by the dog while in a public place or lawfully in a private place, including the property of the owner of the dog, regardless of the former viciousness of the dog or the owner' s knowledge of such viciousness. A person is lawfully upon the private property of such owner within the meaning of this section when he is on such property in the performance of any duty imposed upon him by the laws of this state or by the laws or postal regulations of the United States, or when he is on such property upon the invitation, express or implied, of the owner.
Nothing in this section shall authorize the bringing of an action pursuant to subdivision (a) against any governmental agency using a dog in military or police work if the bite or bites occurred while the dog was defending itself from an annoying, harassing, or provoking act, or assisting an employee of the agency in any of the following:

In the apprehension or holding of a suspect where the employee has a reasonable suspicion of the suspect's involvement in criminal activity.
In the investigation of a crime or possible crime.
In the execution of a warrant.
In the defense of a peace officer or another person.

Subdivision (b) shall not apply in any case where the victim of the bite or bites was not a party to, nor a participant in, nor suspected to be a party to or a participant in, the act or acts that prompted the use of the dog in the military or police work.
Subdivision (b) shall apply only where a governmental agency using a dog in military or police work has adopted a written policy on the necessary and appropriate use of a dog for the police or military work enumerated in subdivision (b).
Animal Attacks Without Bites
The keeper or controller of a dog or other animal of a kind that is by nature dangerous may also be strictly liable to a victim if a person is injured due to those dangerous propensities. Hillman v. Garcia Ruby (1955) 44C2d625, 626 (where a dog jumped on people). This strict liability rule, unlike the dog bite law, applies to the following:
Keepers of the animals (not just owners) Buffington v. Nicholson (1947) 78 C.A.2d 37, 41 (where the animal keeper must know the animal is dangerous)
Dangerous animals, not just dogs. Gooding v. Chutes Co. (1909) 155 C.620, 623.
Injuries caused by dangerous animals other than by biting persons.
Responsibility for injuries caused by actions of dangerous animals other than biting is further explored in our Dog & Animal Attack practice area web page.
It's easy to contact us
There is NO charge for our initial consultation — it is absolutely FREE!
Over 40 years experience successfully handling thousands of personal injury & wrongful death accident cases in California!
If you had a dog bite accident, our personal injury & wrongful death accident lawyers offer an absolutely FREE & CONFIDENTIAL case consultation and evaluation and we work on a contingency fee. That means there is NO fee until you WIN and then the fee comes out of the recovery usually paid by the other parties' insurance company and not out of your own pocket.
There are many easy ways to contact us 24/7:
Please call us Toll Free at 866 INJURY 2 or 866-465-8792 (after hours please dial "1")
You may also call us at 818-222-3400 (again, after hours, please dial "1")
Simply click here for our quick and easy contact form to tell us about your animal attack or other injury accident.
Send us an email anytime to info@WalchLaw.com.
We offer FREE consultations and evaluations to those hurt in accidents in Los Angeles, Kern, Orange, Riverside, San Fernando Valley, San Bernardino, Ventura and throughout all of California and there is NO fee until you WIN!
We look forward to speaking with you today and helping you resolve your injury accident legal problems.
Dog Bite Cases
California Dog Bite Law
Damages in California for Dog Bite Attack
Objectives in California Dog bite Cases
Contact Dog Bite Lawyer
SE HABLA ESPAÑOL / SA ATIN PO ITO / FALAMOS PORTUGUÊS / 我們講普通話和廣東話
FREE CONSULTATION * NO FEE UNTIL YOU WIN !