CRPS Attorneys
FREE Complex Regional Pain Syndrome (CRPS) Injury Case Consultation
1-866 INJURY 2
or
1-866-465-8792
How to Find a Complex Regional Pain Syndrome (CRPS) Lawyer to Handle Your Accident Claim
CRPS Attorneys in Los Angeles, San Fernando Valley, Ventura, Orange, and All of California with Over 40 Years of Legal Experience That You Can Trust!
Complex regional pain syndrome, commonly known as CRPS, is a chronic pain disorder usually affecting its victim's arms, hands, legs and feet. It is thought that CRPS is caused by injury or damage to its victim's peripheral and/or central nervous systems.
Almost anyone can suffer from CRPS. CRPS seems to strike both men and women, although it is reported more in women than men. People of any almost any age can have CRPS, and the average age of CRPS victims is about 40 years of age. CRPS seems to be very rare among the elderly, children under the age of five (5) years do not get it and it is very rare among children ages five (5) to ten (10). Unfortunately, CRPS is common among teens and those below and above its average age of 40.
For a helpful in depth summary on CRPS, please see the Complex Regional Pain Syndrome Fact Sheet published by the National Institute of Neurological Disorders and Stroke, June 2013
How to Find a CRPS Lawyer in Los Angeles, San Fernando Valley, and Anywhere in California
Our CRPS personal injury attorneys handle CRPS and other injury accident cases in Los Angeles, San Fernando Valley, Ventura, and throughout all of California. We recently were: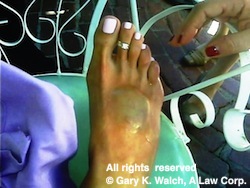 Selected Personal Injury Law Firm of the Year,
Selected to Top Attorneys in California (Highest in Ethical Standards & Professional Excellence) and
Resolved one CRPS foot injury case for about $500,000.00, by closely working with our client and our client's doctors to obtain the best medical care and proof possible.
We have over 40 years of experience handling personal injury cases in Los Angeles and throughout all of California, have successfully resolved thousands of personal injury accident cases, obtained over $100 million in settlements & verdicts, and we invite you to read our Client Testimonials and Attorney Profile pages.
So, if you or anyone you know has Complex Regional Pain Syndrome (CRPS) because of any injury, including a car accident, truck accident, motorcycle accident, premises liability fall or crush-like injury, or any other personal injury accident, be sure to get appropriate medical care (which, when we are requested, we can help find doctors, usually without any payment due to the doctor until the case is resolved), and then please immediately contact our CRPS personal injury lawyers for a FREE case evaluation.
It's easy to contact us
There is NO charge for our initial consultation — it is absolutely FREE!
Over 40 years experience successfully handling thousands of personal injury & wrongful death accident cases in California!
If you had a complex regional pain syndrome injury, our personal injury & wrongful death accident lawyers offer an absolutely FREE & CONFIDENTIAL case consultation and evaluation and we work on a contingency fee. That means there is NO fee until you WIN and then the fee comes out of the recovery usually paid by the other parties' insurance company and not out of your own pocket.
There are many easy ways to contact us 24/7:
Please call us Toll Free at 866 INJURY 2 or 866-465-8792 (after hours please dial "1")
You may also call us at 818-222-3400 (again, after hours, please dial "1")
Simply click here for our quick and easy contact form to tell us about your CRPS injury or other injury accident.
Send us an email anytime to info@WalchLaw.com.
We offer FREE consultations and evaluations to those hurt in accidents in Los Angeles, Kern, Orange, Riverside, San Fernando Valley, San Bernardino, Ventura and throughout all of California and there is NO fee until you WIN!
We look forward to speaking with you today and helping you resolve your injury accident legal problems.
SE HABLA ESPAÑOL / SA ATIN PO ITO / FALAMOS PORTUGUÊS / 我們講普通話和廣東話
FREE CONSULTATION * NO FEE UNTIL YOU WIN !