Truck Accident in Woodland Hills
Woodland Hills Truck Accident Personal Injury Attorney - Over 45 Years of Legal Experience Handling Injury & Wrongful Death Accident Claims That You Can Trust and Count on!
If You or A Loved One Suffered a Truck Accident Injury or Car Accident Injury in Woodland Hills or Nearby Calabasas, Los Angeles, Calif., or Have A Wrongful Death Claim, Here Is How You Can Get Your FREE Case Evaluation By An Expert Truck Accident Injury Lawyer:
Drunk Driving Statistics
An average drunk driver has driven drunk 80 times before first arrest
Males were more likely than females (15.1 vs. 7.9 percent) to drive drunk
Drunk driving costs the United States $132 billion a year
Source: MADD
No one wants to be in any accident. Certainly not an accident involving a truck which, due to the large size, heavy weight and powerful momentum of trucks, often causes very serious injuries, sometimes even resulting in death with a wrongful death claim brought by the victim's family, and substantial property damage. Our Woodland Hills truck accident injury and wrongful death lawyers and law offices provide aggressive personal injury legal services for anyone injured in a truck crash, including collisions with tractor trailers, 18 wheelers and tanker trucks, and for the families of the victims killed in truck, car, motorcycle, bicycle, uninsured motorist (UM), pedestrian and other deadly accidents.
Learn more about your rights and our truck accident injury and wrongful death lawyers by visiting our home page and also by looking at our Client Testimonials, our record of Verdicts & Settlements and our Personal Injury Lawyer Profiles.
What to do if You had an Accident Involving a Truck in Woodland Hills, Los Angeles, California
For some general advice about what to do, and also sometimes even more importantly what not to do, if you are the victim of a truck accident with injuries or a family member was killed and you think you may have a wrongful death claim, please see our Truck Accident Advice web page.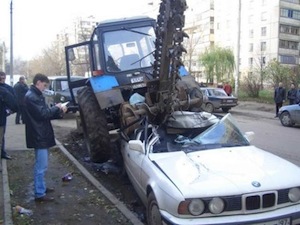 And for more specific advice about your own particular case, we suggest you call us now for your absolutely FREE case evaluation and consultation at 818-222-3400 or 1.866 INJURY 2 (after hours, please press "1") or simply click here.
So if you or a loved one was injured in any truck accident in Woodland Hills, Calabasas, Los Angeles or anywhere in California, or a family member is the victim of a truck collision resulting in a wrongful death claim, you should contact us now for an absolutely FREE case evaluation and consultation. The consultation on accident cases is always FREE and if we agree to take your case then with our truck accident and wrongful death lawyers there is NO fee until you win!
There are so many time deadlines and procedural rules in truck accident cases, both with the DMV and insurance companies, so it's best to know your rights and responsibilities at the beginning and not risk damaging or even losing your case.
More About Woodland Hills, Los Angeles, California
Woodland Hills is a beautiful, affluent community located in the city of Los Angeles, within Los Angeles County, California. Woodland Hills has a population of 67,006 people and is bordered by West Hills to the northwest, Winnetka to the northeast, Canoga Park to the north, Hidden Hills along with Calabasas to the west, and Tarzana to the southeast.
Woodland Hills has some of the most extreme temperatures in the region, from very hot and occasionally even over 110 degrees in the summer to very cold and below freezing in the winter.
Woodland Hills is home to the Motion Picture and Television Hospital (where many famous celebrities have lived in retirement until their passing; and which is located right next to the city of Calabasas), both El Camino Real and Taft High Schools (frequent winners of the infamous academic decathlon), Pierce College, The Cheesecake Factory Restaurant (which re-located to the Westfield Topanga Mall), and is known for its many recreational centers and parks including the Warner Center Park with a playground for children and summer music festivals, and the Woodland Hills Recreation Center that has an indoor gymnasium, swimming pool and multiple courts and fields for many types of sports.
Woodland Hills also has been home to many celebrities and other famous people that include Rick Auerbach, Roy Campanella, Helena Carroll, Mary Carver, Ted Cassidy, Ryan Hurst, Buster Keaton, Jack Klugman, John Larch, Ryan Lavarnway, Dolores Moran, Hoy Picus, Malcolm Smith and Don Van Vliet.
Woodland Hills Truck Accident Injury & Wrongful Death Claims
Woodland Hills truck crash victims can sustain serious injuries, including fractures and brain damage, that sometimes and most unfortunately result in fatalities with wrongful death claims.
Truck drivers need to go through extensive training to limit the chances of a truck accident with the catastrophic injuries that result from large, heavy trucks colliding with much smaller cars and even motorcycles, bicycles and pedestrians. Trucks must be carefully maintained and closely inspected before being driven and their truck drivers must have proper training and licenses with adequate sleep and rest before using their trucks in order to know how to operate them improperly, especially in rain, ice and other poor weather conditions, not get distracted, lose attention or even fall asleep while driving. Factors instrumental in causing truck accidents include the following:
Truck's tire exploding on the road causing it to swerve and collide with other trucks and cars
Truck driver inattention, due to fatigue or texting while driving
Faulty truck maintenance and inspection, especially with brake systems
Heavy rain, especially at night, and fog making it difficult to see much smaller cars, motorcycles and other vehicles
Truck driver being careless while passing under a low bridge with a truck that cannot make the clearance due to its height
How to Avoid a Truck Accident Collision: Tip #7 - Do not Drive Under the Influence of any Substance, Drug or Alcohol That Impairs Judgment or Ability

One should never drive any vehicle with any intoxicating substance in one's system, such as alcohol or debilitating drugs. Such drugs are not just the well known unlawful drugs like cocaine, but also legal, prescription drugs with unwanted side effects. This is because many people do not know what is in certain prescription medicines or even in non prescribed pills like sleeping aids or generic forms of Tylenol or Motrin. There could be ingredients, especially when combined with other drugs or beverages, which alter motor skills or make an individual drowsy without them realizing such effects are taking place. Even medicine that is specified as a day time drug can affect a person's driving ability and/or judgment. A person that intends to drive their truck or car within a few hours after taking any medication should also be aware that, depending on the person's body weight and how much food was in the body, a medicine can vary in how many minutes to hours it needs to take effect and the effects is has on the driver. Therefore, one must pay very close attention to one's own body and not risk driving when recently taking any drug, other medication or alcoholic beverage.
Injuries From Truck Collisions
Victims of truck collisions can suffer many different types of injuries, from bruises to neck and low back sprains to bone fractures, brain injury or damaged organs. One painful type of injury that occurs in violent truck accidents is an ankle fracture. The ankle can suffer a slight fracture with minimal difficulty or the fracture might be much more serious from a truck accident that cause multiple bones to be broken, leading to an ankle to go out of place and require immobilization, special boots and braces for several months, including potential surgery. Please contact us now if you or anyone you know suffered an ankle fracture or any fracture from any truck accident or other personal injury accident in Woodland Hills, Los Angeles or anywhere in California, including for referrals to orthopedic specialists who specialize in ankle and foot injuries who may provide specialized medical care and treatment without requesting payment until the claim is resolved.
Experience You Can Trust and Rely Upon in Truck and Car Accident Injury Claims in Woodland Hills, Los Angeles, Calif.
Our Woodland Hills truck and car accident injury and wrongful death lawyers and legal staff are highly qualified and experienced, and we offer:
Over 45 years experience successfully resolving thousands of truck accident and other personal injury cases throughout all of Woodland Hills, Canoga Park, Calabasas, Los Angeles, the San Fernando Valley and California
Our entire law firm concentrates in handling Personal Injury Accident Cases
Over 98% success rate
Over $100,000,000.00 recovered
Immediate help with medical care, medical specialists (including orthopedic surgeons, neurologists, psychologists, dentists, MRI, etc.), property damage repair and settlement, rental cars, emergency monetary advances, medications, prescriptions, etc.
For more information about our senior attorneys, please visit our Attorneys' Profile Pages and to see what our clients have to say about our personal injury and wrongful death legal services please see our Testimonial Pages.
Our personal injury and wrongful death law offices provide you with the strong advocacy that you need when you or a loved one has gone through a horrible truck accident or other personal injury accident, along with the understanding and care to make this process easier for you and your family in Woodland Hills, Calabasas, Los Angeles or anywhere in California. Our duty is to best represent your interests, provide you with the help you need to get medical care, property damage resolved, explain the process to you and aggressively pursue your rights. Our personal injury and wrongful death attorneys and law offices handle accidents involving truck, car, train, bus, motorcycle, bicycle, hit and run, uninsured motorist (UM), underinsured motorist (UIM), pedestrian and much more.
Receive an Absolutely FREE Consultation Today by Contacting Our Woodland Hills Truck Accident Injury & Wrongful Death Accident Lawyers and Law Offices
You may call us now at 818-222-3400 or 1.866 INJURY 2 (after hours, please press 1) or contact our personal injury law offices now via email for a FREE legal consultation and case evaluation with an experienced truck accident injury attorney or any member of our dedicated legal team.
There are many easy ways to reach us:
By Telephone:
Local: 818-222-3400 (after hours, please press 1) or
Toll Free: 866 INJURY 2 or 866-465-8792 (after hours, please press 1)
Email us: info@WalchLaw.com or click on our contact link
to tell us about your case
Remember, with our Woodland Hills personal injury and wrongful death accident lawyers and
law firm, on truck & car accident injury cases
We offer an absolutely FREE consultation and case evaluation
and
There is NO fee until you win!