Truck Accident in Wilmington
Truck Accident Personal Injury & Wrongful Death Lawyers for Wilmington, California
More Than Three Decades of Experience in Handling Personal Injury & Wrongful Death Accident Claims Involving Trucks, Cars & Motorcycles in Wilmington, Los Angeles and all of California!
Truck and car accidents can occur at any time. The injuries and damages from such collisions can be catastrophic. If you or someone you care about was unlucky enough to have had a truck accident in Wilmington, Los Angeles or anywhere in California, or if a family member was killed leaving you with a wrongful death injury claim, then you need to consult an experienced personal injury and truck accident injury lawyer and our law offices to help you pursue your rights and obtain maximum compensation for your physical injuries, as well as for the emotional turmoil and financial losses.
Please visit our Truck Injury Accident Web Site to learn more about the truck accident injury claims process. For more information on our lawyers' background and experience in dealing with personal injury and wrongful death accident claims, particularly truck accident and collision claims, feel free to browse through our lawyer profiles and our personal injury & wrongful death cases and relevant testimonial pages. And for a specific and FREE case evaluation of your own claim, please call us now at 1.866. INJURY 2 or 818-222-3400 (after hours, please press 1) or simply go to our easy to use contact form.
About Wilmington, Los Angeles, Calif.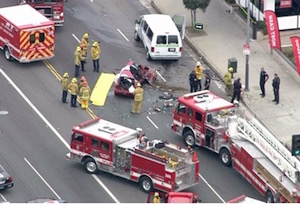 Covering approximately 9.14 square miles, Wilmington is a neighborhood in the South Los Angeles area of Los Angeles, California. It shares borders with Carson towards the north, San Pedro to the south and west, Long Beach in the east and Harbor City towards the northwest. According to the 2010 U.S Census, the approximate population of Wilmington, California is 53,815. Wilmington is known for several local attractions including the Drum Barracks Civil War Museum and The Phillips 66 refinery, home to the "world's largest jack-o'-lantern", which is a 3 million gallon storage tank decorated every year for Halloween.
Recent Fatal Truck Crashes in Wilmington
Collisions with large trucks can often be fatal, leaving victims and families to cope with unimaginable losses, both personal and financial. An example of a catastrophic truck accident happened on Wilmington's Pacific Coast Highway, where a teenage brother-sister duo were killed and two other high school children were injured. The crash was the result of alleged street racing and a pick-up truck being driven against traffic regulations. The siblings were pronounced dead at the accident site while their friends were rushed to the nearest hospital and treated for critical injuries. Source: KTLA 5
A truck, car, motorcycle or any other kind of automotive accident can have serious implications, sometimes even resulting in fatalities of innocent and young lives. Filing a wrongful death claim and any amount of compensation for the lives lost won't bring them back or make things much better, but it will send a strong statement to all those large scale truck carrier companies as well as negligent truck drivers and street racers who break the rules only to make a few extra bucks or have a few cheap thrills.
So, if you have been injured in truck or car accident or have a wrongful death claim because someone you love was brutally killed as a result of negligent or unlawful truck driving, and you need support with your wrongful death claims or other personal injury claims in Wilmington, Los Angeles or anywhere else in California, please contact our personal injury & wrongful death accident attorneys and legal team now for a completely FREE CONSULTATION.
Call Us now for a Free Consultation & Case Evaluation
To know more about how we can assist you further and what you need to do to protect your rights and comply with required time deadlines and other rules, please contact us now for your FREE case consultation and/or evaluation:
Please call us at 1-866-INJURY 2 or 866-465-8792 or 818-222-3400 (after hours, press 1) for a FREE, no-obligation consultation.
You can also email us at info@WalchLaw.com
Fill-out our simple contact form to learn more about your options.
FREE Consultation and NO Fee Until You WIN!