Truck Accident in Sherman Oaks
Sherman Oaks Truck Accident Injury Lawyer - Over 45 Years of Experience You Can Trust!
Were You or Anyone You Know Injured in a Truck or Car Accident in Sherman Oaks?
Facts For Motor Vehicle Accidents
Motor vehicle accident crashes cost the U.S. about $4,900 per second
Most drivers in America will average a vehicle collision every 5 to 8 years
20% of Americans will be involved in an alcohol related vehicle crash at some time in their lives
Source: Truck Info
Our Sherman Oaks truck accident injury attorneys and law office provide forceful and caring legal help for truck accident injury victims, including accidents with delivery trucks or fire trucks, and for the families of the victims killed in the dreadful crashes or for wrongful death claims in the Sherman Oaks community of Los Angeles in Los Angeles County, California. Sherman Oaks has a population of 52,677 and is located east of Encino, south of Van Nuys, west of Studio City and north of Bel Air. Sherman Oaks offers visitors a variety of places to go for entertainment and dining. There is The Village at Sherman Oaks, which is a well known shopping district in Sherman Oaks, that has a few traditional bars, boutiques and fine dining restaurants. For example, there is the Mad Bull Tavern and Barrel Sports Bar for those looking to have drinks and watch a sports match, and if you want to go to a restaurant with a more calm atmosphere, then there is the Italian restaurant called Fab's Corner Cucina and the more casual El Torito Grill. Sherman Oaks also has a shopping mall called the Sherman Oaks Galleria that offers dining and a movie theater. One food place to visit is Buffalo Wild Wings, which has great wings and a wide selection of sauces ranging from very mild to the extremely spicy Blazin' sauce. Sherman Oaks has been home to many famous people that have included James Dean, Joseph Gordon-Levitt, Demi Lovato, Bridget Marquardt, Mary-Kate Olsen, Ashley Olsen, Jean Rogers, Tom Selleck, Barry Sullivan, Paula Abdul, Jennifer Aniston, Melissa Joan Hart, Ariel Winter, LeVar Burton and Nick Young.
To obtain more helpful facts about other truck accident injury claims, visit our Truck Injury Accident Web Site.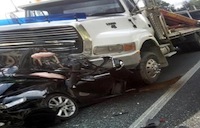 Sherman Oaks truck collision injury victims can suffer agonizing, stressful experiences as well as sustain fractures and nerve damage, sometimes resulting in wrongful death claims. In order to prevent truck crashes and protect people on the road, truck drivers should do their part by following their company's proper procedures that require examinations of the trucks before going on duty and making sure that as truck drivers, they are in the right mind to drive. Factors contributing to truck accidents include:
Driving through storms at night, making visibility extremely limited
Truck driver being careless by not paying attention to vertical clearance height for bridge and attempting to pass through
Car or truck having a mechanical defect on the road that causes an accident
Ways to Avoid Getting Into an Accident: Tip #12-Get Ample Sleep Before Getting Behind the Wheel
This is one of the essential requirements that needs to be met before getting into a vehicle to drive, regardless of whether a person has years of experience or if they recently obtained their license. Lacking sleep makes a driver's reactions slower on the road, so that if an emergency situation comes up, the driver would not be able to use good judgment in a quick manner to avoid an accident. Even having a couple hours of less sleep than normal can alter a person's focus on the road without the person realizing. This is very dangerous, but many people put themselves in this position every day. Truck drivers, especially those working for companies, are a group of drivers that have a responsibility to themselves and others to get an adequate amount of sleep every day, because they drive trucks on a daily basis and for long periods. If every driver is well rested before going on the road, accident rates will be significantly lower in the future.
Sherman Oaks Truck Accident Injury Facts
A serious injury from a truck collision is a pelvic fracture. The most significant pelvic fractures, which include any damage to the hip bone, sacrum or coccyx, are the result of a high-energy force that usually occurs during a motor vehicle accident. Pelvic fractures may lead to a large amount of internal bleeding, with emergency treatment being required through advanced trauma life support management. After the pelvis is stabilized, it may also have to be surgically reconstructed. Please contact us now, including for referrals to doctors who may provide treatment without a request for payment until the claim is resolved, if you or a loved one sustained a pelvic fracture injury from any truck collision or other personal injury accident in Sherman Oaks, Los Angeles or anywhere in California.
Experience You Can Depend on in Truck and Car Accident Injury Claims
Our Sherman Oaks truck and car accident lawyers and legal team are highly qualified and experienced, offering:
Over 45 years experience successfully resolving thousands of truck accident and other personal injury cases throughout all of Sherman Way, Van Nuys, Los Angeles, the San Fernando Valley and California
Over 98% success rate
Over $100,000,000.00 recovered
Personal Injury Law Firm of Year 2011
For additional information about our law firm, please go to our Attorneys' Profile Pages.

The Law Offices of Gary K. Walch, A Law Corp., provides you with the strong advocacy that you need, along with understanding and compassion, when you or a loved one has gone through a devastating truck collision or other injury accident in Sherman Oaks or anywhere in California. It is our duty to aggressively pursue your rights and best represent your interests. Our lawyers handle accidents involving truck, train, bus, motorcycle, bicycle, car, uninsured motorist (UM), hit and run, pedestrian and much more.
Contact Our Sherman Oaks Personal Injury Law Offices to Receive a FREE Consultation
You may call or contact our offices now for a FREE legal consultation with an experienced truck accident injury attorney or any member of our dedicated legal team:
Local: 818-222-3400 (after hours, please press 1) or
Toll Free: 866 INJURY 2 or 866-465-8792 (after hours, please press 1)
Email us: info@WalchLaw.com or click on our contact link
to tell us about your case
Remember, with our firm on truck & car accident injury cases
We offer an absolutely FREE consultation
and
There is NO fee until you win!