Truck Accident in Los Angeles City
Los Angeles Truck Accident Injury Lawyer - Over 45 Years of Experience You Can Trust!
Were You Injured in a Truck Accident or Car Accident in Los Angeles?
Fatalities & Injuries From Truck, Car and Other Motor Vehicle Accidents In The City of Los Angeles
Fatalities in 2005 – 277
Injuries in 2005 - 42,831
Fatalities in 1998 – 230
Injuries in 1998- 39,931
Source: Los Angeles Almanac
---
Fatal truck, car and other crashes and road traffic accident statistics for 2011
Fatal accident count: 204
Vehicles involved in fatal accidents: 305
Fatal accidents caused by drunken drivers: 51
Fatalities: 209
Persons involved in fatal accidents: 389
Pedestrians involved in fatal accidents: 107
Source: City-Data
Our Los Angeles truck accident injury lawyers and law office provide expert personal injury legal services for those injured in truck collisions, including accidents with big rig trucks known as 18 wheelers, and for the relatives and families of those killed in truck and other fatal accidents for wrongful death claims in Los Angeles, a city located in Los Angeles County, California. If you or anyone you know had a truck accident or other personal injury claim in Los Angeles, West Hollywood or anywhere else in California, please contact our truck accident injury attorneys and law firm now for a completely FREE CONSULTATION. To find more helpful information about truck accident injury claims, please visit our Truck Injury Accident Web Site. Los Angeles is the most populous city in California and the second most populous in the United States, just behind New York City, with a population of 3,792,621. Los Angeles is the focal point of Southern California, with Santa Monica, West Hollywood and Beverly Hills bordering it to the west and Calabasas bordering it on the northwest. Los Angeles is known as the "City of Angels", "Angeltown", "Lalaland" and "Tinseltown".
It also leads the world in the creation of television productions, video games, recorded music, and is one of the leaders in motion picture production. People can walk through downtown Los Angeles and pass by historical buildings and see the different districts for business such as the financial and jewelry district. Famous residents who have lived or are currently residing in Los Angeles include or have included Ben Affleck, Jennifer Aniston, Tyra Banks, Ryan Braun, Jeff Bridges, Keith Carradine, Sasha Cohen, Jamie Lee Curtis, Ice Cube, Gabby Douglas, Dr. Dre, Jordan Farmar, Joseph Gordon-Levitt, Jake Gyllenhaal, Paris Hilton, Marques Houston, Elta James, Sandy Koufax, Kim Kardashian, Juliet Landau, Adam Levine, Chris Masters, Liza Minnelli, Bill Nye, Bob Ojeda, Gwyneth Paltrow, Paul Rodriguez, Mitchell Schwartz, Mike Shinoda, Willow Smith, Earl Sweatshirt, George Takei, Shirley Temple, Earl Warren, Jane Wiedlin and Sam Yorty.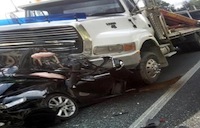 A truck accident in Los Angeles can cause devastating injuries that leaves its victims with both physical and emotional injury. Truck drivers must inspect their vehicles before taking off on the road to ensure safety and prevent a higher probability for accidents. The truck drivers must also receive proper training so that they take careful measures to prevent collisions that could lead to serious injuries. Common factors that contribute to truck accidents and truck collisions include, but are not limited to, the following:
Mechanical problems with truck (defective tires, failed brakes)
Cars driving in blind spot areas behind and beside a truck where the truck driver has limited or zero visibility
Car drivers changing lanes unexpectedly (in front of a truck, maneuvering to the right of a truck that is making a right turn, pulling to left of speeding truck at intersection, etc.)
Experience You Can Rely on in Truck and Car Accident Injury Claims
Our Los Angeles truck and car accident injury attorneys and legal staff are very experienced and qualified, and we offer: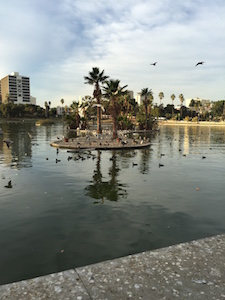 Over 45 years experience successfully resolving thousands of truck accident and other personal injury cases throughout all of Los Angeles, Beverly Hills, Santa Monica, the San Fernando Valley and California
Our entire law firm concentrates in handling Personal Injury Accident Cases
Over 98% success rate
Over $100,000,000.00 recovered
FREE consultation and NO fee until you WIN! Please call 1-866-INJURY 2 or 866-465-8792 to speak to an EXPERT accident injury attorney or just click here for our easy contact form
Truck Accident Injury Information
One of the most serious and common injuries that victims of truck accidents experience is a cervical fracture or neck injury. Traffic collisions cause abnormal movement of the neck bones and can lead to a loss of sensation, paralysis, or death. The head and neck must be completely immobilized as soon as possible and before the patient is moved. If you or someone you care about sustained any neck injury from any truck accident or other personal injury accident in Los Angeles, West Hollywood or anywhere in California, please contact us now, including for referrals to doctors who may provide treatment without requesting any payment until the claim is resolved.
The Law Offices of Gary K. Walch, A Law Corp., provides you with the strong advocacy that you need when you or a loved one has been through a devastating truck accident or other injury accident in Los Angeles or anywhere in California, and at the same time the understanding and compassion to make this process easier for your family and you. It is our job to best represent your interests and aggressively pursue your rights. Our staff handles accidents involving car, motorcycle, truck, bus, train, bicycle, pedestrian, hit and run, uninsured motorist (UM) and much more.
Easy Ways to Contact Our Personal Injury Law Offices and Receive a FREE Consultation
You may call or contact our offices now for a FREE legal consultation with an experienced truck accident injury attorney or any member of our dedicated legal team:
Local: 818-222-3400 (after hours, please press 1) or
Toll Free: 866 INJURY 2 or 866-465-8792 (after hours, please press 1)
Email us: info@WalchLaw.com or click on our contact link to tell us about your case
Remember, with our firm on truck & car accident injur y cases
We offer an absolutely FREE consultation
and
There is NO fee until you win!