Truck Accident in Hidden Hills
Hidden Hills Truck Accident Injury Lawyer - Over 45 Years of Experience You Can Trust!
Have You or Anyone You Know Been Injured in a Truck or Car Accident in Hidden Hills?
2011 Injury Collisions By Weather
Most motor vehicle collision injuries in foggy weather occurred in January
The majority of motor vehicle accident injuries on a rainy day occurred in March
Source: CHP
---
Motor Vehicle Injury Facts
A motor vehicle accident with as low as 5mph speed can produce a whiplash injury
A person is injured or killed in a truck collision every 16 minutes
Source: Truckinfo
Our Hidden Hills truck accident injury attorneys and law office offer aggressive and compassionate legal help for the injured victims of truck accidents, including victims of crashes involving long haul trucks, and for the families of the victims killed in fatal collisions or for wrongful death claims in the Hidden Hills community of Los Angeles in Los Angeles County, California. Hidden Hills, with a population of 1,856, is bordered by Calabasas to the south, Agoura Hills to the southwest, Woodland Hills to the east and West Hills to the north. The small area of Hidden Hills has a nature reserve and a park with biking, hiking and horse trails. There is also the Leonis Adobe National Historic Landmark that offers a tour of its museum, which was once the home of Miguel Leonis, a sheepherder from France. Many iconic figures reside or have lived in Hidden Hills, including Aubrey Drake Graham, Melissa Etheridge, Bruce Jenner, Kendall Jenner, Jennifer Lopez, Marc Anthony, Howie Mandel, Ozzy and Sharon Osbourne, Denise Richards, LeAnn Rimes, Jessica Simpson and Britney Spears.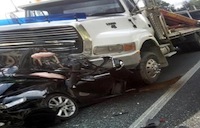 Please be sure to visit our Truck Injury Accident Web Site, which provides more information about truck accident injury claims.
Hidden Hills truck accident injury victims can end up with injuries that could alter their quality of life, sometimes resulting in wrongful death claims. Trucks must be carefully examined to determine if there are problems with any parts, and the drivers should take the time to go through their cargo and see if any items need to be adjusted to avoid an imbalance that could cause a tilting of the truck in an emergency situation. Factors contributing to truck accidents include:
Car drivers being reckless and cutting off a truck on a crowded street or freeway, causing the truck to swerve or slam into the car that abruptly came in front of it
Truck drivers not getting sufficient sleep, causing them to doze off on the road
Brake failure from truck while at higher speeds
Ways to Avoid Getting Into an Accident: Tip #-14 Get Brakes Checked Every 15,000 miles
The brakes are one of the most important parts of a vehicle, saving lives every day and helping drivers avoid close calls with others. So it makes sense that the brakes should be checked after a certain amount of time to ensure they continue working properly. When a vehicle's brakes start squeaking, that could mean that it is not stopping the vehicle fast enough and that the brakes need to be changed. For truck drivers, the brakes are very important because trucks are heavier vehicles and take more time to stop, so weaker brakes could make it almost impossible to avoid an accident. For example, if the truck driver is at higher speeds and there is a sudden halt on the road or some other driver carelessly gets in front of the truck without acknowledging the small gap of space the truck driver has to brake, an accident will result and cause serious injuries. Therefore, truck drivers must be sure that their brakes are working efficiently to effectively slow down the truck when necessary.
Truck Accident Injury Information for Hidden Hills
One injury that victims of truck accidents suffer is a concussion. A concussion leads to a temporary loss of brain function and is the most common form of a brain injury. Adults frequently end up with concussions from car accidents. The concussion can cause dizziness, vomiting, difficulty balancing, nausea, headache, blurred or double vision, sensitivity to bright lights and at times even post-traumatic seizures. To help reduce symptoms, the injured victim needs to have physical and cognitive rest. Please contact us now, including for referrals to doctors who may provide treatment without a request for payment until the claim is resolved, if you or a loved one sustained a elbow fracture injury from any truck collision or other personal injury accident in Hidden Hills, Los Angeles or anywhere in California.
Experience You Can Trust in Truck and Car Accident Injury Claims
Our Hidden Hills attorneys and legal team, which deal with truck and car crashes, are highly knowledgeable and well qualified, providing you with:
Over 45 years experience successfully resolving thousands of truck accident and other personal injury cases throughout all of Hidden Hills, Calabasas, Los Angeles, the San Fernando Valley and California
Our entire law firm concentrates in handling Personal Injury Accident Cases
Over 98% success rate
Over $100,000,000.00 recovered
Graduate of UCLA School of Law, 1975
Please visit our Attorneys' Profile Pages to gain more insight about our law firm.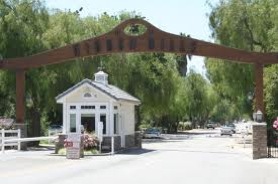 The Law Offices of Gary K. Walch, A Law Corp., provides you with the strong advocacy that you need, along with understanding and compassion, when you or a loved one has gone through a devastating truck collision or other injury accident in Hidden Hills or anywhere in California. It is our duty to aggressively pursue your rights and best represent your interests. Our lawyers handle accidents involving truck, train, bus, motorcycle, bicycle, car, uninsured motorist (UM), hit and run, pedestrian and much more.
A FREE Consultation Awaits When You Contact Our Hidden Hills Truck Accident Injury Law Firm Today
You may call or contact our offices now for a FREE legal consultation with an experienced truck accident injury attorney or any member of our dedicated legal team:
Local: 818-222-3400 (after hours, please press 1) or
Toll Free: 866 INJURY 2 or 866-465-8792 (after hours, please press 1)
Email us: info@WalchLaw.com or click on our contact link
to tell us about your case
Remember, with our firm on truck & car accident injury cases
We offer an absolutely FREE consultation
and
There is NO fee until you win!