Truck Accident in Glendale
Glendale Truck Accident Injury Lawyer - Over 45 Years of Experience You Can Trust!
Have You Been Injured in a Truck Accident or Car Accident in Glendale?
Motor vehicle traffic crash facts in the United States (2011 Data)
4,432 pedestrians were involved in traffic crashes in 2011 29,757 motor vehicle accidents out of the 32,367 were fatal crashes
Source: NHTSA
---
Glendale fatal traffic accidents statistics for 2011
Fatal accident count: 1
Vehicles involved in fatal accidents: 1
Fatal accidents caused by drunken drivers: 0
Fatalities: 1
Persons involved in fatal accidents: 1
Pedestrians involved in fatal accidents: 1
Source: City-Data
Our Glendale truck accident injury attorneys and law firm provide outstanding personal injury legal services for people injured in truck collisions, which includes accidents involving 18 wheelers or big rigs, and for the families and relatives of those killed in truck and other fatal accidents for wrongful death claims in Glendale, a city located in Los Angeles County, California. If you or anyone you know was involved in a truck collision or other personal injury claim in Glendale, Los Angeles, Burbank or anywhere else in California, please contact our truck accident injury attorneys and law office now for a completely FREE CONSULTATION.
Please visit our Truck Injury Accident Web Site to find out more helpful facts about truck accident injury claims and our law firm. Glendale, nicknamed "The Jewel City", is the third largest city in Los Angeles County, bordered by Sun Valley to the northwest, La Canada Flintridge to the northeast and Burbank to the west. Glendale has a population of 191,719 according to the 2010 U.S. Census. Tourists can visit the Americana at Brand, which is one of the several large outdoor shopping communities in Los Angeles County, featuring several terrific restaurants, including Frida Mexican Cuisine, and nearby Universal Studios, which is located close by in the community of Universal City. Glendale also is the location for the famous Forest Lawn Memorial Park, a private cemetery that contains notable burials such as Walt Disney and Michael Jackson, and Mt Sinai Cemetery.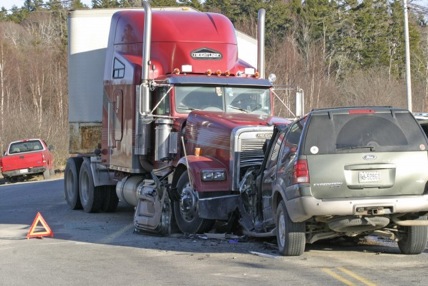 A Glendale truck collision can cause traumatic injuries where the victims are left with both physical and emotional injuries. Truck drivers must be responsible by performing pre-trip inspections before taking their vehicles on the road. The truck drivers, especially of big rigs or 18 wheelers, must be well trained to prevent accidents that could cause fatal injuries. Common factors that contribute to truck accidents and truck collisions include, but are not limited to, the following:
Driver error (inattention, lack of sleep, abuse of drugs/alcohol)
Mechanical malfunction (bad tires, failed brakes)
Low visibility from bad weather (rain, hail, etc.)
Experience You Can Depend on in Truck and Car Accident Injury Claims
Our Glendale truck and car collision injury lawyers and legal staff are immensely experienced and qualified, and we offer:
Over 45 years experience successfully resolving thousands of truck accident and other personal injury cases throughout all of Glendale, Burbank, Los Angeles, the San Fernando Valley and California
Over 98% success rate
Over $100,000,000.00 recovered
Personal Injury Law Firm of Year 2011
Immediate help with medical care, specialists, property damage repair and settlement, prescriptions, medications, advances, etc.
FREE consultation and NO fee until you WIN! Please call 1-866-INJURY 2 or 866-465-8792 to speak to an EXPERT accident injury attorney or just click here for our easy contact form
Truck Collision Injury Information
Victims of truck accidents face various injuries ranging from fractures to nerve damage. One of the most serious injuries a victim may obtain from a truck accident is brain damage or traumatic brain injury (TBI). The brain is the center of the nervous system and any trauma to the brain can cause permanent damage or even death. One of the common causes to brain damage is from a vehicle collision because of the sudden impact that leads to sudden acceleration or deceleration within the cranium, causing alterations in the cerebral blood flow and pressure within the skull. If you or a loved one have sustained a brain injury from any truck accident or other personal injury accident, please contact us now, including for referrals to doctors who may provide treatment without a request for payment until the claim is resolved, in Glendale, Burbank or anywhere in California.
The Law Offices of Gary K. Walch, A Law Corp., provides you with the strong advocacy that you need when you or someone you care about has been through a tragic truck collision or other injury accident in Glendale or anywhere in California, and at the same time the compassion and understanding to make this process easier for you and your family. It is our task to best represent your interests and aggressively pursue your rights. Our staff handles accidents involving truck, car, bus, train, hit and run, pedestrian, uninsured motorist (UM), motorcycle, bicycle and much more.
Contact Our Personal Injury Law Firm Today and Receive a FREE Consultation
You may call or contact our offices now for a FREE legal consultation with an experienced truck accident injury attorney or any member of our dedicated legal team:
Local: 818-222-3400 (after hours, please press 1) or Toll Free: 866 INJURY 2 or 866-465-8792 (after hours, please press 1)
Email us: info@WalchLaw.com or click on our contact link to tell us about your case Remember, with our firm on truck & car accident injury cases We offer an absolutely FREE consultation and There is NO fee until you win!