Truck Accident in Downey
Downey Truck Accident Injury Attorney - Over 45 Years of Experience You Can Trust!
Were You or a Loved One Injured in a Truck or Car Accident in Downey?
California Truck and Car Injuries and Deaths for 2011
Just under 46% of pedestrian injuries and deaths occur from crossing a crosswalk at an intersection, making it the most common way for pedestrians to be injured
The most common form of truck and car accident that leaves people severely injured is a collision with an object on the road
The majority of passengers that get injured in car or truck accidents are females
Source: CHP
Downey traffic accident statistics for 2011
Fatal accident count: 4
Vehicles involved in fatal accidents: 6
Fatal accidents caused by drunken drivers: 0
Fatalities: 4
Persons involved in fatal accidents: 6
Pedestrians involved in fatal accidents: 2
Source: CityData.com
Our Downey truck accident injury lawyers and law firm offer aggressive and compassionate personal injury services for truck accident victims, including victims of crashes with grain and gravel trucks, and for the families of the victims killed in fatal collisions or for wrongful death claims in Downey, a city located in Los Angeles County, California. 111,772 people reside in Downey, which is bordered by South Gate to the west, Lynwood to the southwest, Bellflower to the south, Pico Rivera to the northeast and Montebello to the north. Downey is named after the seventh governor of California, John Gately Downey, who was of Irish decent and also the first nonnative governor of California. Downey originally began as a major city that provided dairy and later developed farmlands, which eventually became replaced by homes and factories after World War II. Downey is known for having the first Taco Bell and the oldest remaining McDonald's restaurant. Downey's main attraction is its farmers' market that is located in the downtown area. Famous people who live or lived in Downey include Miranda Cosgrove, Rosario DeSimone, Walt Faulkner, Kevin Gross, James Hetfield, Ron McGovney, Kenneth Shelley, Dennis Sproul, JoJo Starbuck, Aimee Teegarden and Weird Al Yankovic.
Please visit our Truck Injury Accident Web Site to discover more about other truck accident injury claims.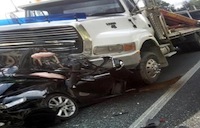 Downey truck collision injury victims can have serious injuries, sometimes resulting in wrongful death claims. Truck drivers, especially those driving commercial vehicles with oversize loads of cargo, should take special care to watch out for other drivers and create safer conditions on the road. Several reasons for the occurrence of truck and car accidents include:
Extreme Climate such as heavy rainfall that makes it difficult to see ahead in the road
Faulty car or truck brakes, forcing drivers to lose control
Truck driver having alcohol intoxication beyond legal level of 0.08 and driving
Ways to Avoid Getting Into an Accident: Tip #18-Do not Text and Drive
Texting while driving has led to numerous accidents in recent years, especially among the youth who have grown up with smart phones. Texting while behind the wheel can be extremely dangerous because you are taking your eyes completely off the road to look at your phone and write a message, which means that at that moment or several seconds you are texting, there is no awareness as to what is happening in front of your vehicle. For example, there may be a sudden stop in traffic or maybe another driver who is not focused and cuts into your lane, but you do not have enough time to react or you might end up crashing before you look back onto the road, which can cause a catastrophic accident with critical injuries. It is best to stop your car on the side of the road or get to your destination before you text, because it can save you and other peoples' lives on the road.
Truck Accident Injury Information for Downey
A very common form of injury from a truck or car collision is a whiplash injury. A whiplash injury can be a label given to any injury to the neck that is caused by or in relation to a sudden distortion of the neck. Usually a whiplash occurs in an auto collision when the victim's vehicle is struck from the rear. Symptoms can include headaches, pain and aching from the neck down into the back and shoulders or a sensory disturbance in the arms and legs. Treatment requires doing light exercises with slow movements that work the area combined with acupuncture or massage therapy. Please contact us now, including for referrals to doctors who may provide treatment without a request for payment until the claim is resolved, if you or a loved one sustained a elbow fracture injury from any truck collision or other personal injury accident in Downey, Los Angeles or anywhere in California.
Experience You Can Trust in Truck and Car Accident Injury Claims
Our Downey truck and car accident lawyers and legal staff are immensely qualified and experienced, and we offer:
Over 45 years experience successfully resolving thousands of truck accident and other personal injury cases throughout all of Downey, Lynwood, Los Angeles, the San Fernando Valley and California
Our entire law firm concentrates in handling Personal Injury Accident Cases
Over 98% success rate
Over $100,000,000.00 recovered
Personal Injury Attorney of Year 2010
For additional information about our law firm, please go to our Attorneys' Profile Pages.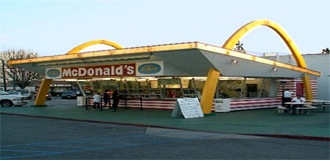 The Law Offices of Gary K. Walch, A Law Corp., provides you with the strong advocacy that you need, along with understanding and compassion, when you or a loved one has gone through a devastating truck collision or other injury accident in Downey or anywhere in California. It is our duty to aggressively pursue your rights and best represent your interests. Our lawyers handle accidents involving truck, train, bus, motorcycle, bicycle, car, uninsured motorist (UM), hit and run, pedestrian and much more.
Contact Our Downey Personal Injury Law Offices and Receive a FREE Consultation
You may call or contact our offices now for a FREE legal consultation with an experienced truck accident injury attorney or any member of our dedicated legal team:
Local: 818-222-3400 (after hours, please press 1) or Toll Free: 866 INJURY 2 or 866-465-8792 (after hours, please press 1) Email us: info@WalchLaw.com or click on our contact link to tell us about your case
Remember, with our firm on truck & car accident injury cases We offer an absolutely FREE consultation and There is NO fee until you win!