Truck Accident in Burbank
Burbank Truck Accident Injury Attorney - Over 40 Years Of Experience You Can Trust!Were You or a Loved One Hurt in a Truck Accident or Car Accident in Burbank?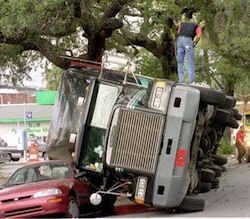 Motor vehicle traffic crash facts in the United States (2010 Data)
Of the persons who were killed in traffic crashes in 2010, 31% died in alcohol-impaired driving crashes
Per 100,000 population, persons 21 to 24 years old had the highest fatality rate and the highest injury rate
Source: NHTSA
Burbank fatal traffic accidents statistics for 2011
Fatal accident count: 6
Vehicles involved in fatal accidents: 15
Fatal accidents caused by drunken drivers: 0
Fatalities: 6
Persons involved in fatal accidents: 17
Pedestrians involved in fatal accidents: 4
Source: City Data.com
Our Burbank truck accident injury lawyers and law office provide excellent personal injury legal services for anyone injured in truck collisions, as well as for the families and relatives of those killed in truck and other deadly accidents for wrongful death claims, including accidents involving big rigs or 18 wheelers, in Burbank, a city located in Los Angeles County, California. If you or anyone you know was involved in a truck accident or other personal injury claim in Burbank, Glendale, Los Angeles or anywhere else in California, please contact our truck accident injury lawyers and law firm now for a completely FREE CONSULTATION. To learn more helpful facts about truck collision injury claims and our law firm, please visit our Truck Injury Accident Web Site. Burbank is surrounded by Los Angeles to the south, Glendale to the southeast and the community of North Hollywood to the west. Burbank is known as the "Media Capital of the World" for being home to numerous media and entertainment companies such as Warner Bros. Entertainment, Cartoon Network Studios, Nicktoons Studios, Warner Music Group and The Walt Disney Company. The Bob Hope Airport is also located in Burbank and is undergoing an expansion with future projects to increase its size. One of Burbank's most famous restaurants to dine at is Bob's Big Boy, and its Burbank location is the oldest remaining from the restaurant chain, making it a great place to visit and eat a delicious burger within an old fashioned diner setting. According to the 2010 U.S. Census, Burbank has a population of 103,340.
A Burbank truck collision can cause devastating injuries where the victims of the truck accident are left with both physical and emotional injuries. Truck drivers must perform pre-trip inspections and must receive proper training to avert collisions that could cause deadly injuries. Common factors that contribute to truck collisions and truck accidents include, but are not limited to, the following:
Truck driver error (lack of sleep, substance abuse)
Car driver failing to slow down or speed up when truck is changing lanes or merging
Mechanical problems with truck (brake malfunction, tire failing)
Experience You Can Count on in Truck and Car Accident Injury Claims
Our Burbank truck and car accident injury attorneys and legal team are very experienced and qualified, and we offer:
Over 40 years experience successfully resolving thousands of truck accident and other personal injury cases throughout all of Burbank, Glendale, Los Angeles, the San Fernando Valley and California
Over 95% success rate
Over $75,000,000.00 recovered
Personal Injury Law Firm of Year 2011
Our entire law firm concentrates in handling Personal Injury Accident Cases
FREE consultation and NO fee until you WIN! Please call 1-866-INJURY 2 or 866-465-8792 to speak to an EXPERT accident injury lawyer or just click here for our easy contact form
If you or a loved one have been involved in a truck accident or other personal injury claim in Burbank, Glendale, Los Angeles or anywhere else in California, please contact our truck accident injury lawyers and law firm now for a FREE CONSULTATION.
Burbank Truck Accident Injury Facts
Truck accident victims can be inflicted with injuries ranging from minor to life threatening. One serious injury is a shoulder blade fracture or scapular fracture. High speed vehicle accidents are the most common cause of a shoulder blade fracture. Signs of a shoulder blade fracture include pain around the area with swelling and tenderness. Treatment consists of immobilizing the affected area and later having physical therapy. If you or anyone you know sustained a shoulder blade fracture from any truck collision or other personal injury accident, please contact us now, including for referrals to doctors who may provide treatment without requesting payment until the claim is resolved, in Burbank, Glendale or anywhere in California.
The Law Offices of Gary K. Walch, A Law Corp., provides you with the strong advocacy that you need when you or someone you love has been through a horrific truck collision or other injury accident in Burbank or anywhere in California, and at the same time, the understanding and compassion to make the process easier for you and your family. It is our task to best represent your interests and aggressively pursue your rights. Our team deals with accidents involving truck, bus, train, car, hit and run, pedestrian, uninsured motorist (UM), bicycle, motorcycle and much more.
Receive a FREE Consultation By Contacting Our Burbank Truck Accident Injury Law Firm Today
You may call or contact our offices now for a FREE legal consultation with an experienced truck accident injury attorney or any member of our dedicated legal team:
Local: 818.222.3400 (after hours, please press 1) or
Toll Free: 866 INJURY 2 or 866.465.8792 (after hours, please press 1)

Email us: info@WalchLaw.com or click on our contact link
to tell us about your case
Remember, with our firm on truck & car accident injury cases
We offer an absolutely FREE consultation
and
There is NO fee until you win!
Client Reviews
You guys did a great job in settling my case! Hope you all do well and prosper. Thank you for a job well done.
Jackie C.
We had two prior attorneys who were unable to settle our car accident case. We then hired Gary and Robert Walch and they not only got us both great settlements, but personally spent time with us explaining everything clearly. We couldn't be happier. Thank you!
A.M. and M.A.
Dear Gary, I just want to thank you for working so hard on my case! I know at times we were a bit difficult, but you did a great job. I thank you and your son for good results. I will pass your number on to any one that I run across who may need a PI attorney! I send you warm regards
Julie B.
Dear Gary, I just wanted to tell you how much I appreciate all your efforts on my behalf. The car accident was a very traumatizing experience for me. But knowing that I could trust you and your son, Robert, helped alleviate my fears and worries.
Carmella C.
Thank you for all of your hard work and thank you for making it so easy over e-mail for me. I'm a busy working mom of an Autistic 5 year old son and you guys were great. I will definitely recommend your services to family and friends.
Edna G.