Truck Accident in Beaumont
Beaumont Truck Accident Injury Lawyers - Over 45 Years of Truck and Car Accident Experience You Can Trust!
Are You Looking For a Truck Accident Injury Lawyer in Beaumont, California?
Please read this: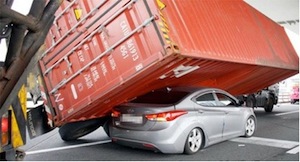 When a truck accident leaves you struggling with a devastating injury or the death of a loved one, the situation can be extremely upsetting and debilitating. Surging medical bills, loss of earnings and uncertainty about the future can start to affect your personal life. If you or a loved one has been involved in a truck accident in Beaumont, Riverside or any other place in California, or a family member killed as a result of a truck accident with a wrongful death accident claim, because of the negligence of the truck driver, you know you need to contact us now for a FREE Consultation and Case Evaluation. There are so many rules and time deadlines by the Calif. DMV and insurance companies that it is imperative to act right away and not delay. For example, if you are hit by a hit and run driver, do you know the rules about reporting the accident to the local police and your insurance company, the procedures of the Calif DMV (and completing and timely filling the required SR 1 and SR 19 forms), and when you should let your lawyer do the talking and taking care of the insurance and DMV forms? Why risk losing your case or having your compensation reduced or completely barred by some rules you are not familiar with?
Our experienced team of personal injury and truck accident injury lawyers has been successfully representing truck accident victims for years. We offer personal injury legal services for those injured in a truck, automobile, motorcycle or other accident and, to the family members of those killed in a truck accident for wrongful death injury claim in Beaumont, California. We help victims pursue their rights and help them get maximum compensation for injuries, as well as for their loss of income and other losses. Please visit our Truck Injury Accident Web Site to learn more about the truck accident injury claim process or please call us for a FREE case evaluation about your specific truck accident claim. With proper and immediate legal representation by an experienced truck accident injury attorney your case can be properly prepared to increase the chances of an excellent settlement without the need for trial or litigation.
To learn more about our Beaumont truck accident and car accident injury and wrongful death lawyers with over 45 years of personal injury experience:
About Beaumont, Riverside, California
Beaumont is a city in Riverside County of California, United States. According to the 2010 U.S. Census, the population of Beaumont was approximately 36,877. The city of Beaumont is surrounded by Banning to the east and Calimesa to the west. It faces the San Bernardino County line and the community of Cherry Valley to the north.
Common Causes of Truck Accidents
When it comes to evaluating a truck accident injury claim, it is important to understand the reasons for the accident. Some of the most common truck driver errors that lead to accidents include the following:
Fatal Car Crashes And Road Traffic Accident Statistics For Beaumont, Calif. for 2011
Fatal accident count: 3
Vehicles involved in fatal accidents: 4
Fatal accidents caused by drunken drivers: 1
Fatalities: 3
Persons involved in fatal accidents: 6
Pedestrians involved in fatal accidents: 1
Read more: City-Data
Driving under the influence of alcohol or OTC or prescription drugs
Crossing the driving lane lines
Poor inspection, maintenance or faulty repairs
Distracted drivers, including due to fatigue and using mobile devices, including holding the phone and texting while driving a truck
Violation of commercial motor vehicle laws
Our experienced team of truck accident personal injury lawyers possesses tremendous experience in resolving personal injury claims and wrongful death cases in California, including in Beaumont, Banning, Palm Springs, Riverside, Los Angeles, the San Fernando Valley, Ventura and San Bernardino.
Call Us now for a Free Consultation & Case Evaluation
To learn about how we can assist you further, and what you need to do to protect your rights and other procedural rules that may affect your claim:
Please feel free to call us at 1-866-INJURY 2 or 866-465-8792 or 818-222-3400 (after hours, please press extension 1) for a FREE, no-obligation consultation.
You can also email us at info@WalchLaw.com, or fill-our simple contact us form, to learn about your options.
FREE Consultation And Case Evaluation…and with our truck accident personal injury lawyers there is No Fee Until You Win!