Tarzana Car Accident Injury Attorney
Over 45 Years of Experience You Can Trust!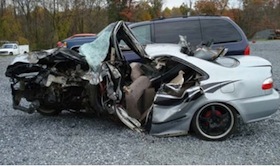 Our Tarzana car accident lawyers and law firm provide expert personal injury legal services for those injured in auto, motorcycle and other accidents, and for the relatives and families of those killed in car and other accidents for wrongful death claims, in Tarzana, California, a neighborhood located in the city of Los Angeles. If you had a car accident or other personal injury claim in Tarzana, Los Angeles or anywhere else in California, please contact our attorneys and legal team now for a completely FREE CONSULTATION. Tarzana is bordered on the south by Topanga State Park, on the east by Encino, on the north by Reseda and on the west by Woodland Hills. Tarzana also is close to Calabasas. According to the 2010 U.S. Census, Tarzana is home to over 35,502 people.
Collisions Resulting in Fatalities, Injuries or Damage in the City of Los Angeles
Auto Collisions With Fatalities - 219
Auto Collisions With Injuries - 24,561
Collisions Resulting In Property Damage - 25,909
Alcohol Involved Collisions With A Fatality Or Injury - 2,068
Source: City-Data
---
Car Accident Advice
Drivers who experience minor accidents with no serious injuries should move cars to the side of the road and completely out of the way of oncoming traffic. Leaving cars parked in the middle of the road can result in accidents and serious injuries.
If a car cannot be moved, it would be best for drivers and passengers to remain in the car with seatbelts fastened until help arrives.
If possible, make sure to turn on hazard lights and set out cones, flares or warning triangles.
After the accident, make sure to exchange names, address, phone number, insurance company, policy number, driver license number and license plate number for the driver and the owner of each vehicle.
For more information on what to do if you have a car accident, please click on
Car Accident Advice
A Tarzana car accident can severely injure people and be extremely traumatizing for the victims involved so it is very important to have an experienced car accident lawyer on your side. Our over 45 years of success and handling car accident and other personal injury cases in Tarzana, Los Angeles and throughout California has given us the recognition of PERSONAL INJURY LAW FIRM OF YEAR 2011. Our aggressive but compassionate attorneys and staff have resolved many thousands of cases and work extremely hard to make the claims process easy for our clients, the victims and their families. We invite you to visit our new and updated Car Accident Web Site.
The Walch Law Corporation has effectively recovered more than $100,000,000.00 in finances for its clients and provides instant help with medical care (usually without any disbursement of money until the case is resolved), specialists, property damage repair and settlement. Our lawyers also invite you to read our Car Accident Testimonial Pages simply by clicking here.
One incredibly painful car accident injury that our clients have experienced is burn injury. Burn injuries are devastating and may result from disastrous incidents such as a car accident, motorcycle crash, explosion or fire, a faulty product, or any other kind of motor vehicle accident. Burn Injuries vary in severity from very terrible severe third degree burns concerning much scarring over the body requiring extensive rehabilitation, surgeries and medical care to much less severe, but often agonizing, first and second degree burn injuries. No matter the cause of the injury, the pain is often very severe and life changing. Burn injuries often involve scarring to the body and may require treatment and multiple corrective surgeries. If you or someone you care about sustained any burn injury from any car accident or other personal injury accident in Tarzana, Woodland Hills or anywhere in California, please contact us now, as well as for referrals to doctors who may offer treatment without expecting any payment until the claim is resolved.
The Law Offices of Gary K. Walch provides you with the strong advocacy that you need when you or a loved one has been through a devastating car accident or other personal injury accident in Tarzana, Los Angeles or anywhere in California. Our profession is based on representing your interests and aggressively pursuing your rights. Our staff handles accidents involving car, motorcycle, truck, bus, train, bicycle, pedestrian, hit and run, uninsured motorist (UM) and much more. Call us for an absolutely FREE consultation to review and analyze your car accident or other personal injury case. For your convenience you don't even need to leave the comfort of your own home. Just like many of our clients you can do everything by telephone at 818-222-3400 or toll free 866 INJURY 2 (465879 2), email (info@WalchLaw.com) or simply complete our very easy to use contact form.
FREE CONSULTATION- NO FEE UNTIL YOU WIN!
EXPERIENCE YOU CAN TRUST