Studio City Car Accident Injury Lawyer
Over 45 Years of Experience You Can Trust!
Our Studio City car accident lawyers and law firm provide expert personal injury legal services for those injured in auto, motorcycle and other accidents, and for the relatives and families of those killed in car and other accidents for wrongful death claims, in Studio City California, a neighborhood located within the City of Los Angeles, California*. If you had a car accident or other personal injury claim in Studio City, Los Angeles or anywhere else in California, please contact our attorneys and legal team now for a completely FREE CONSULTATION. Studio City is a historic neighborhood which is known for the number of celebrities who have been seen or who reside in the area. It is bordered on the north by Valley Village, on the east by Toluca Lake and Universal City, on the south by Hollywood Hills West, on the southwest by Beverly Crest and on the west by Sherman Oaks. According to the 2000 United States Census, Studio City is home to 34,034 residents.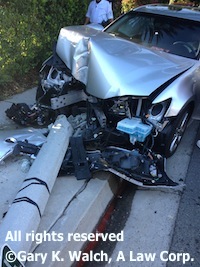 A Studio City car accident can severely injure people and be extremely overwhelming for the victims involved so the importance of having an experienced car accident lawyer on your side cannot be stressed enough. Our over 45 years of success in handling car accident and other personal injury cases in Studio City and throughout California has given us the recognition of PERSONAL INJURY LAW FIRM OF YEAR 2011. Our aggressive but compassionate attorneys and staff have resolved many thousands of cases and work extremely hard to make the claims process as easy as possible for our clients, the victims and their families. for additional information, we invite you to visit our new and updated Car Accident Web Site. Further, two of our attorneys, Gary Walch and Robert Walch, were each selected Top Lawyers In California (Highest in Ethical Standards & Professional Excellence).
Studio City Fatal Car Crashes and Road Traffic Accident Statistics for 2011
Fatal accident count: 1
Vehicles involved in fatal accidents: 1
Fatal accidents caused by drunken drivers: 0
Persons involved in fatal accidents: 1
Pedestrians involved in fatal accidents: 1
Source: City-Data
---
California Motorcycle Safety Statistics for March 2013
Motorcycle fatalities increased 15 percent from 352 in 2010 to 414 in 2011
Total motorcycle registrations peaked at 824,224 in 2008, then decreased two percent in two years to a low of 808,913 in 2010 before increasing one percent to 818,650 in 2011
In 2010, 79 percent of motorcycle operators involved in fatal collisions were at fault and 57 percent of motorcycle operators involved in injury collisions were at fault
The motorcycle fatality rate per 100,000 motorcycle registrations was 51 in 2011, up from 49 in 2009 and 44 in 2010
The Walch Law Corporation has successfully recovered over $100,000,000.00 in finances for its clients and provides direct help with medical care (usually without any payment until the case is resolved), specialists, property damage repair and settlement. Our attorneys and staff also invite you to read our Car Accident Testimonial Pages simply by clicking here.
One serious injury that victims of car accidents experience is a concussion injury. Some of the reasons individuals get concussions is due to car accidents, sports injuries, falls or motorcycle accidents. A concussion is a mild (or sometimes more serious) brain injury that results in a momentary change in brain function. The brain is composed of soft tissues encased within the hard bone of the skull. The injury occurs when your head is hit or jolted and your brain's soft tissue moves in response to the sudden force. At impact with the skull, the brain can become bruised, tissues can be torn and minor swelling can occur. An injury to the brain can cause neurons (nerve cells) and nerve tracts (neurological pathways) to change or not function properly. The changes in brain function can change the way you think, act or feel. Proper medical care is necessary and our firm is able to provide names of multiple doctors to treat such problems without any advance payment. If you or someone you care about sustained any concussion injury from any car accident or other personal injury accident in Studio City, Los Angeles or anywhere in California, please contact us now, including for referrals to doctors who may provide treatment without expecting any payment until the claim is resolved.
The Law Offices of Gary K. Walch provides you with the strong advocacy that you need when you or a loved one has been through a devastating car accident or other personal injury accident in Studio City, Los Angeles or anywhere in California. It is our job to best represent your interests and aggressively pursue your rights. Our staff handles accidents involving car, motorcycle, truck, bus, train, bicycle, pedestrian, hit and run, uninsured motorist (UM) and much more. Call us for an absolutely FREE consultation to review and analyze your car accident or other personal injury case. For your convenience you don't even need to leave the comfort of your own home. Just like many of our clients you can do everything by telephone at 818-222-3400 or toll free 866 INJURY 2 (465879 2), email (info@WalchLaw.com) or simply complete our very easy to use contact form.
FREE CONSULTATION- NO FEE UNTIL YOU WIN!
EXPERIENCE YOU CAN TRUST