Panorama City Car Accident Injury Lawyer
Over 45 Years of Experience You Can Trust!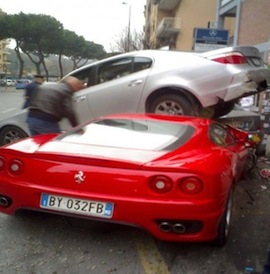 Our Panorama City car accident lawyers and law firm provide expert personal injury legal services for those injured in auto, motorcycle and other accidents, and for the relatives and families of those killed in car and other fatal accidents for wrongful death claims, in Panorama City, California, a neighborhood within the San Fernando Valley in the City of Los Angeles. If you had a car accident or other personal injury claim in Panorama City, Los Angeles or anywhere else in California, please contact our attorneys and legal team now for a completely FREE CONSULTATION . For additional helpful information, please visit our updated and comprehensive car accident web site simply by clicking here. Panorama City touches Mission Hills on the north, Arleta on the northeast, Sun Valley on the east, Valley Glen on the southeast, Van Nuys on the south and North Hills on the west. According to the 2000 U.S. Census, Panorama City is home to more than 65,766 people.
Occupant Protection Statistics for November 2012
California's observed seat belt usage rate dropped from 96.6
percent in 2011 to 95.5 percent in 2012
California's 95.5 percent seat belt use rate is much higher than
the national average of 86 percent
In California, the percent of restrained passenger vehicle
occupant fatalities decreased from 67 percent in 2010 to 64 percent in 2011
NHTSA estimates that about half or 260 of the 521 known
unrestrained fatalities would be alive today had they simply buckled up
Source: California Office of Traffic Safety
---
Car Accident Advice
Don't wait until after an accident to find out that your policy doesn't automatically cover costs for towing or a replacement rental car. Review your policy now with your insurance agent or one of our attorneys. We offer FREE consultations.
Generally, for only a dollar or two extra each month, you can add coverage for rental car reimbursement, which provides a rental car for little or no money while your car is in the repair shop or if it is stolen. Check your policy for specifics.
The final question in dealing with an accident is usually who will pay for the damages? If the accident was minor, you and the other drivers may decide to handle the damages yourselves without the involvement of an insurance company. However, this isn't always the best idea, especially if anyone is injured and receives any medical care.
While the other driver may agree to pay for the damage to your car on the day of the accident, he may see the repair bills and decide it's too high. At this point, time has passed and your insurance company will have more difficulty piecing together the evidence if you file a claim. Feel free to contact us for a FREE consultation.
If anyone is injured, seek medical care and contact an experienced personal injury accident attorney for a FREE consultation.
A Panorama City car accident can be dangerous and distressing for the victims involved so it is very important to have an experienced car accident lawyer to help you through the process. In 2011, our 45 years of success in handling car accident and other personal injury cases in Panorama City. Los Angeles was recognized and our firm was acknowledged as PERSONAL INJURY LAW FIRM OF THE YEAR. Our aggressive but compassionate attorneys and staff have resolved thousands and thousands of car accident and other injury accident cases and work tirelessly to make the claims process as easy as possible for our clients, the victims and their families. Two of our seniorattorneys, Robert Walch and Gary Walch, were each selected as Top Lawyers in California (Highest in Ethical Standards & Professional Excellence). We also invite you to visit our updated and comprehensive Car Accident Web Site.
The Walch Law Corporation has successfully obtained more than $100,000,000.00 for the victims of car accidents and other personal injury claims and provides immediate help with medical care (regularly without any payment until the case is resolved), specialists, property damage repair and settlement. We also invite you to read our Car Accident Testimonial Pages simply by clicking here.
One prevalent personal injury claim that our attorneys handle is shoulder injury. The shoulder is important for many actions such as pulling, pushing and lifting. The Acromioclavicular, Glenonumeral and Sternoclavicucar are three joints of the shoulder that make its range of motion possible. The functions include rotating the arm, raising it behind and in front of the torso, and making the shoulder move in an entire 360 degree motion. Shoulder injury signs include severe pain, shoulder swelling, shoulder stiffness, bruising and loss of sensation on the hand or arm. Immediate medical care is necessary and our firm is able to provide names of multiple doctors to treat such problems without any payment in advance. If you or someone you care about suffered any kind of shoulder injury from any car accident or other personal injury accident in Panorama City or anywhere in California, please contact us now, including for referrals to doctors who may provide treatment without expecting any payment until the claim is resolved.
The Law Offices of Gary K. Walch offers you the tough advocacy that you need when you or a loved one has been through a destructive car accident or other personal injury accident in Panorama City or anywhere in California. Our commitment is to represent your interests and aggressively pursue your rights. Our staff handles accidents involving car, motorcycle, truck, bus, train, bicycle, pedestrian, hit and run, uninsured motorist (UM) and much more. Call us for an absolutely FREE consultation to review and analyze your car accident or other personal injury case. For your convenience you don't even need to leave the comfort of your own home. Just like many of our clients you can do everything by telephone at 818-222-3400 or toll free 866 INJURY 2 (465879 2), email (info@WalchLaw.com) or simply complete our very easy to use contact form.
FREE CONSULTATION- NO FEE UNTIL YOU WIN!
EXPERIENCE YOU CAN TRUST