Huntington Beach Car Accident Injury Lawyer
Over 45 Years of Experience You Can Trust!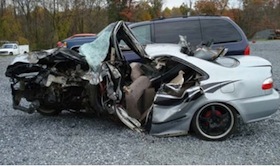 Our Huntington Beach car accident lawyers and law firm provide expert personal injury legal services for those injured in auto, motorcycle and other accidents, and for the relatives and families of those killed in car and other fatal accidents for wrongful death claims, in Huntington Beach, California, a city located in Orange County, California. If you had a car accident or other personal injury claim in Huntington Beach, Orange or anywhere else in California, please contact one of our car accident injury attorneys and legal team now for a completely FREE CONSULTATION. For additional helpful information about car accident injury claims, please visit our updated and comprehensive Car Accident Web Site simply by clicking here. Huntington Beach is a wonderful weekend vacation spot, and holds various exciting outdoor events during the summer, including the U.S. Open of Surfing event and the AVP beach volleyball tour. As of the 2010 U.S. Census, Huntington Beach has a population of more than 189,992 people.
Huntington Beach Fatal Car Crashes and Road Traffic Accident Statistics for 2011
Fatal accident count: 6
Vehicles involved in fatal accidents: 9
Fatal accidents caused by drunken drivers: 0
Persons involved in fatal accidents: 10
Pedestrians involved in fatal accidents: 4
Source: City-Data
---
California Distracted Driving Statistics as of March 2013
Cell phone talking and texting combined were cited by 51.5 percent of respondents as being the biggest safety problems, down from 62 percent in 2011, but higher than the 35.2 percent in 2010
Sixty percent say that they have been hit or nearly hit by someone talking or texting on a cell phone
Nearly 45 percent admit to making a driving mistake while talking on a cell phone
Hand-held cell phone convictions increased 22 percent from 361,260 in 2010 to 460,487 in 2011
A Huntington Beach car accident can result in a great amount of terrible property damage and physical and emotional injury & harm so it is extremely important for those that experienced such an unfortunate accident to have the assistance of a professional car accident lawyer. We have been successful in handling car accident and other personal injury cases for the past 45 years, and our excellence has contributed to our recognition as PERSONAL INJURY LAW FIRM OF YEAR 2011. Two of our senior car accident attorneys, Robert Walch and Gary Walch, were each selected as Top Lawyers in California (Highest in Ethical Standards & Professional Excellence).
Our attorneys are aggressive in representing your rights to the highest standard but compassionate when it comes to walking you through the process of your unfortunate accident case. Our car accident experts have handled thousands and thousands of personal injury cases and work vigorously and extraordinarily hard to make the claims process as easy and straightforward as possible for our clients, the victims and their families. You will find a great amount of helpful information by visiting our new and updated Car Accident Web Site.
An astounding $100,000,000.00 in funds has been recovered by The Walch Law Corporation for its clients; and our firm also offers the victims assistance with medical care (regularly without any payment until the case is resolved), specialists, property damage repair and settlement. You can find out more about what our clients have to say about us on our Car Accident Testimonial Pages simply by clicking here.
One very serious and painful injury that victims of car accidents experience is TMJ and Jaw Joint Injury. TMJ is short for "temporomandibular joint". The temporomandibular joint connects the lower jaw, called the mandible, to the temporal bone at the side of the head. The temporomandibular joint's function is of extreme importance, as it is one of the most frequently used and complex joints in your body. The TMJ is injured by direct impact, such as when an airbag deploys and strikes the victims face, or the momentum of a "whiplash" type injury, including when the victims head hits the seat rest. Symptoms that indicate serious TMJ injury include a clicking sound when opening or closing your mouth, locking of your jaw, difficulty or discomfort while chewing or biting, pain in neck, shoulders and back, hearing problems and dizziness. If you or someone you care about sustained any TMJ or jaw joint injury from any car accident or other personal injury accident in Huntington Beach, Orange or anywhere in California, please contact us now, including for referrals to doctors who may provide treatment without expecting any payment until the claim is completely resolved.
The Law Offices of Gary K. Walch provides you the professional support you need while offering you and the expert advocacy that is essential for you to have when you or a loved one has been through a catastrophic car accident or other personal injury accident in Huntington Beach, Orange or anywhere in California. Our job is to stand for your interests while we personally make it our obligation to protect your rights to the highest standard. Our staff handles accidents involving car, motorcycle, truck, bus, train, bicycle, pedestrian, hit and run, uninsured motorist (UM) and much more. Call us for an absolutely FREE consultation to review and analyze your car accident or other personal injury case. For your convenience you don't even need to leave the comfort of your own home. Just like many of our clients you can do everything by telephone at 818-222-3400 or toll free 866 INJURY 2 (465879 2), email (info@WalchLaw.com) or simply complete our very easy to use contact form.
FREE CONSULTATION- NO FEE UNTIL YOU WIN!
EXPERIENCE YOU CAN TRUST
CALL US - You will be glad you did:
Phone: 323-505-2974 or 323-50LAWPI
Toll Free: 866-465-8792 or 866-INJURY 2
Main Phone: 818-222-3400