Back-In Parking on Ventura Blvd in Woodland Hills, CA: Minimizing Car Accidents and the Importance of Legal Representation
Introduction
Ventura Boulevard in Woodland Hills, California, is a bustling thoroughfare that sees a constant flow of traffic with its share of car, cycle and pedestrian accidents. While important and convenient for businesses and commuters, the heavy traffic can also pose risks, especially when it comes to parking. Typical parking on Ventura Blvd. was always parallel parking, later adding in meters to generate more income for the City of Los Angeles, in which the community of Woodland Hills is located. Recently, the City of Los Angeles decided to change its parallel parking along a section of Ventura Blvd. located in Woodland Hills. Back-in parking, a new practice along Ventura Blvd, may seem like a practical choice to some as, among other things, it allows for more parking spaces than parallel parking and safer exiting of its parking spaces than forward parking, but it comes with its own set of challenges and potential dangers, including the great difficulty of backing into a parking space, especially between other parked cars, while on busy Ventura Blvd. In this article, we'll discuss some of the risks associated with back-in parking on Ventura Blvd.; and when a car, truck, motorcycle or pedestrian injury accident occurs, why it's crucial to have legal representation from experienced accident lawyers at a trusted local personal injury law office like the Law Offices of Gary K. Walch, A Law Corporation. We have over 45 years experience, winning thousands of car accident cases. If you were injured in any accident, and want a local experienced winning lawyer, simply click here to contact us for your FREE consultation and case evaluation.
The Risks of Back-In Parking
Reduced Visibility:

One of the primary risks associated with back-in street parking is reduced visibility. When drivers attempt to reverse into a parking spot on a busy road like Ventura Blvd, it can be challenging to gauge oncoming traffic, cyclists or pedestrians. Limited visibility increases the likelihood of accidents, including fender-benders and more serious collisions causing serious injuries, sometimes even fatalities with wrongful death claims.

Impatient Drivers:

Woodland Hills residents and visitors are often in a hurry, and impatient drivers can exacerbate the risks of back-in parking. Drivers who are trying to navigate around cars and other vehicles while attempting to park in reverse may make hasty decisions that lead to rear-end collisions, sideswipes or other accidents.

Distracted Driving:

Distracted driving is an extremely prevalent and dangerous issue on our roads today. When drivers are preoccupied with their smart phones, cell phones, mobile devices or other distractions, they are more likely to overlook a vehicle attempting to back into a parking space. This can result in rear-end accidents, pedestrian collisions, sideswipes or damage to parked cars.

Difficulty for Novice Drivers:

Back-in parking requires a level of skill that not all drivers possess. Novice drivers or those unfamiliar with the back-in driving technique, especially between two (2) other parked vehicles, may struggle to park safely, leading to awkward and potentially hazardous situations, including smashed cars and expensive to repair property damage.

Vulnerable Pedestrians:

Back-in parking also poses risks to pedestrians walking along Ventura Blvd. When vehicles are backing into tight parking spaces, pedestrians may be in close proximity, making them more susceptible to being hit and injured, sometimes causing even very serious injuries requiring paramedics, an ambulance, a hospital emergency room and even lengthy hospital stays.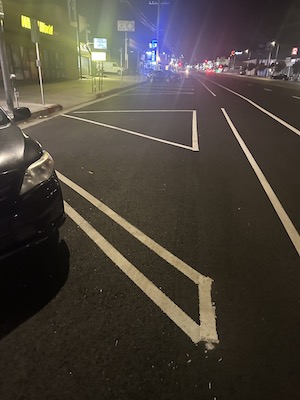 Why Hire the Law Offices of Gary K. Walch, A Law Corporation
Expertise in Personal Injury and Car Accident Cases:

The Law Offices of Gary K. Walch, A Law Corporation, is a trusted name in personal injury law in California. With over 45 years of experience, our legal team has successfully represented thousands of clients in a wide range of cases, including those involving car, bicycle, truck and pedestrian accidents on busy streets like Ventura Blvd. It is very easy to contact us for your absolutely FREE consultation.

In-Depth Knowledge of California Law:

Navigating personal injury cases in California requires an in-depth understanding of California state laws and regulations. Our experienced and skilled attorneys are well-versed in California's legal landscape, enabling us to provide you with the best possible representation.

Proven Track Record:

Our local law firm has a proven track record of securing excellent outcomes for our clients. We have won over 98% of our accident injury cases and recovered millions of dollars in compensation for individuals who have suffered injuries in accidents caused by careless and negligent drivers.

Personalized Attention:

At the Law Offices of Gary K. Walch, A Law Corporation, we are a family owned law firm and we believe in providing personalized attention to each client. We understand that every case is unique, and we tailor our approach to meet your specific needs and circumstances. You will know what is going on, you will be assigned your own experienced and skilled personal injury case manager and all your questions will be answered.

Compassionate and Dedicated Legal Team:

Our legal team is not only highly skilled but also compassionate and dedicated to helping you get the best medical care and financial recovery possible during a challenging time. We are committed to fighting for your rights and ensuring you receive the best compensation you deserve.
Conclusion
Back-in parking on Ventura Blvd in Woodland Hills, California, may seem like a practical choice to some, but it comes with inherent risks. Reduced visibility, impatient drivers, distracted driving, and other factors can lead to accidents and injuries. If you or a loved one has been involved in an accident on Ventura Blvd, it's crucial to seek legal representation from a trusted and experienced personal injury law office which has won thousands of car accident cases like the Law Offices of Gary K. Walch, A Law Corporation. With our expertise, knowledge of California law, and proven track record, we are committed to helping you secure the compensation you need and deserve to recover and move forward with your life. Don't hesitate to reach out to us for your absolutely FREE consultation and evaluation of your case. And if we take your case, we shall do so on a contingency fee basis which means we only get paid at the end of the case out of the recovery we win for you. You pay no fee out of your own pocket so do not worry about fees! Your well-being is our top priority.