Antelope Valley Car Accident Injury Attorney
Over 45 Years of Experience You Can Trust!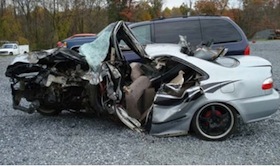 Located in northern Los Angeles County, the Antelope Valley covers the Western portion of the Mojave Desert and is found between the San Gabriel and the Tehachapi Mountains. The Antelope Valley is named after the pronghorn antelope that wandered the area before being hunted and eliminated in the 1880's. With a current population of over 475,000 people and an increasing population growth, the Antelope Valley is estimated to reach about 1,000,000 people by the year 2020. If you or someone you care about was injured or killed in a car accident in the Antelope Valley or anywhere in California, please contact us now us now for a FREE consultation.
Car Accident Statistics
Motor vehicle traffic fatalities in 2011 in the US where 32,310
The centers for disease control estimate that about 2.3 million victims of auto related accidents were treated in 2009.
The long-term costs of crash-related casualties was $70 billion in 2005
The total alcohol-related fatalities in California in 2004 were 4,120
Drug involvement of fatally injured drivers in California was 388 in 2009
Source: National Highway Traffic Safety administration
The attorneys at the Law Offices of Gary K. Walch, a Law Corporation, know that with higher retail and population levels expected to double in the Antelope Valley in the coming years, a rise in the number of traffic and highway car accidents are also expected to occur. When you have been a hurt in an unexpected car, motorcycle, truck or other motor vehicle accident, the lawyers at the Law Corporation are available to offer their extensive knowledge and over 45 years of experience to ensure complete compensation for all the damages you have suffered. It is our job to make sure that your rights are being protected.
The attorneys at our firm know how automobile injuries can lead to life threatening outcomes. One of the most serious and common injuries a driver involved in a car accident can suffer is brain and head injury. These injuries are wide raging and include severe concussions to traumatic brain damage. The Centers for Disease Control estimates that about 2.3 million victims of auto related accidents were treated in 2009. Additionally, the long-term costs of crash-related casualties were $70 billion in 2005. In our over 45 years of personal injury experience we have successful resolved thousands of car injury accident cases. Our aggressive but compassionate attorneys and staff work hard to make the process easy for the victims and their families.
When you have been the victim of a drunk driver or a negligent driver in an accident you may be entitled to compensation of your pain & suffering, medical costs, damaged or lost property, and lost wages. Our Attorneys fight to deliver the strong advocacy that is needed to ensure that at fault drivers are held responsible and, most importantly, that you, the victim of another's' negligence, is reimbursed for any misfortune caused by a car, motorcycle, truck or other motor vehicle accident.
Our firm is committed to protecting your rights. We are successful in over 98% of our cases! The Law offices of Gary K. Walch handles accidents involving car, motorcycle, truck, bus, train, bicycle, pedestrian, hit and runs, uninsured motorist (UM) and much more. Our obligation is to best represent your interests and aggressively pursue your rights. Call us for an absolutely FREE consultation to review and analyze your personal injury matter. For your convenience, you don't even need to leave your home. Just like many of our clients, you can do everything by telephone at 818-222-3400 or toll free 866 INJURY 2 (465879 2), email (info@WalchLaw.com) or simply complete our very easy to use Contact form
FREE CONSULTATION – NO FEE UNTIL YOU WIN!
Experience you can trust!