Truck Accident in San Fernando
The city of San Fernando is located in Los Angeles county, just over 20 miles away from downtown Los Angeles. The city itself is small, but is completely surrounded by several other Los Angeles county cities, as well as several large freeways. On these freeways it is common to find large big rig trucks carrying cargo throughout Southern California. Unfortunately, these big rigs are often involved in truck accidents that result in serious injuries.
Motor vehicle traffic crash facts in the United States (2010 Data)
Midnight to 3 a.m. on Saturdays and Sundays proved to be the deadliest 3-hour periods throughout 2010
The percent of alcohol-impaired driving fatalities has declined from 48% in 1982 to 31% in 2010
Source: NHTSA
---
San Fernando fatal traffic accidents statistics for 2010
Fatal accident count: 1
Vehicles involved in fatal accidents: 2
Fatal accidents caused by drunken drivers: 1
Fatalities: 1
Persons involved in fatal accidents: 3
Pedestrians involved in fatal accidents: 0
Source: City-Data
Common Causes of San Fernando Truck Accidents
Big Rig accidents can occur for a variety of reasons. Some common causes of of these accidents include:
Drowsy driving--Truck drivers often have to drive for long hours at a time. The job can be stressful as deliveries and pickups must be done on time. Though drivers are supposed to have time to get sleep by law, it may not be enough, and sometimes, companies even fail to follow these rules.
Distracted driving--With many hours on the road, it is possible for a truck driver to get distracted. If the driver is attempting to pass the time by using a phone, eating, or any other distraction that causes the driver to take their eyes off the road, an accident can occur.
Poor Truck Maintenance--Trucking companies are supposed to keep their trucks in a safe operating condition by conducting routine inspections. However, if something is missed, a mechanical failure can lead to an accident.
Bad Weather--Poor weather conditions can cause a large truck to skid or jackknife. It can be difficult for even the most experienced drivers to recover in these types of situations resulting in a crash.
Drunk Driving--When a truck driver chooses to drink and then drive, it can cause the driver to become disoriented which may result in an accident.
Speeding and Other Traffic Violations--Big rigs are larger and heavier than other vehicles and take much longer to stop. This makes speeding and traffic violations all the more dangerous.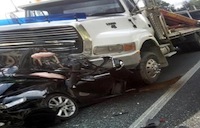 These are just a few of the ways a truck accident can occur on San Fernando streets. The sheer size and weight of large big rig trucks means that when one of these trucks is involved in an accident, the accident is generally serious. If another vehicle or pedestrian is involved in the accident, their injuries can be very severe.
What to do if You are Injured in a Truck Accident
If you are injured in an accident caused by a big rig truck, you deserve compensation for your injuries. You can obtain this compensation through a personal injury claim. A personal injury claim is brought against the person or party responsible for your injuries.
When an accident involves a truck driver, there can be more than one responsible party--not only can the truck driver be held responsible for the accident, but the trucking company may also be liable to the victims. Under the California law, an employer can be held liable for the negligence of their employees. Trucking companies typically carry large insurance policies, and have more funds, than individual drivers. So, when bringing a personal injury claim after a truck accident, you will most likely bring the claim against the trucking company and the individual truck driver.
Because of this, it is important to get as much information as you can after a truck accident. Your first priority is definitely your health--if you are seriously injured, seek medical attention immediately. Next, you will want to contact the police so they can make an accident report and gather information from the truck driver--you want their name and insurance information, as well as the name of the company they drive for. This information will all be helpful in supporting your personal injury claim.
You will also want to contact an experienced San Fernando truck accident lawyer as soon as possible. An attorney can be helpful in guiding you through the personal injury process so that you can get compensation for your injuries.
Experienced San Fernando Truck Accident Attorneys
If you have been injured in a San Fernando truck accident, reach out to the experience at the Law Offices of Gary K. Walch. We understand the intricacies of truck accident personal injury claims. We provide you with the strong advocacy that you need when bringing a claim for your truck accident injuries and, at the same time, the understanding and compassion to make this process easier for you and your family. It is our job to aggressively pursue your rights and best protect your interests. We can discuss the details of your situation during a free case consultation. Give us a call at 866-465-8762 to get answers to your questions and see how we can help with your case!