Truck Accident in Monterey Park
Monterey Park, California Truck Accident Injury Lawyers - More than 45 Years of Experience You Can Rely on!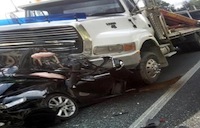 Truck Accidents Facts
1. In 2012, there were 3,921 people killed and 104,000 people injured in crashes involving large trucks (gross vehicle weight rating greater than 10,000 pound).


2. In the United States, 333,000 large trucks were involved in traffic crashes.


3. Fatalities in crashes involving large trucks showed a 4-percent increase from 3,781 in 2011 to 3,921 in 2012.


4. In 2012, there were 104,000 people injured in crashes involving large trucks—an increase of 18 percent from 88,000 in 2011.


Source: NHTSA
Our truck accident lawyers in Monterey Park, California, will take every worry away from your truck accident or car accident claims and other serious personal injury and wrongful death accident claims. We can help if you or a loved one has been injured in a truck or car accident because of someone's negligence. We also represent families in wrongful death truck accident claims. Our years of experience will be your ally, representing and supporting you at every step. Our truck accident injury attorneys and legal team aid individuals who need expert personal injury legal services and counsel.
Monterey Park is a city in Los Angeles County, California, approximately 10 miles east of Downtown Los Angeles. The city is part of a cluster of small cities, that include Alhambra, Arcadia, Temple City, Rosemead, San Marino and San Gabriel, and in the west San Gabriel Valley. According to the 2010 Census, the total population of the city is 60,269. From the total resident population of Monterey Park, approximately 70% of people are Asian American. Moreover, 47.7% of Monterey Park residents are mainly of Chinese descent, making it the largest concentration of Chinese people of any municipality in the United States. The I-710, the San Bernardino Freeway, and the Pomona Freeway serve Monterey Park, California. The Los Angeles County Metropolitan Transportation Authority (LACMTA) mainly provides public transportation.
Our compassionate personal injury lawyers understand how traumatic and devastating a truck accident or car collision can be. Based on the appalling statistics by the National Highway Traffic Safety Administration (NHTSA), any truck collision can lead to tragic outcomes and injuries, from minor scratches to fractures and serious head, brain and other injuries. Victims may undergo a long lasting tragic and emotional trauma, even resulting in wrongful death claims. Such life-altering events often take a toll on the victim, most importantly on their families.
With a reliable and trustworthy truck accident personal injury lawyer by your side, rest assured of experienced representation that will help you obtain the financial compensation for the physical and emotional damages that you have endured. Moreover, you can breathe a sigh of relief knowing that your rights will be protected against large insurers. Thus, everything possible is done to assist you in this legal process in order to ensure that you receive the assistance, help, and compensation you deserve.
If you or your loved ones were involved in a truck crash or other personal injury claims or have a wrongful death accident claim in Monterey Park, Los Angeles, Burbank, Riverside or any other place in California, please get in touch with our truck accident injury lawyers and our legal team now for a completely FREE CONSULTATION and case evaluation.
Don't hesitate to speak with our experienced truck accident injury lawyers or any member of our legal team at 818-222-3400 (after hours, please press 1). You can also call us on our Toll-Free number at 866 INJURY 2 or 866-465-8792 (after hours, please press 1). To Contact Us, click here or email us at info@WalchLaw.com!
REMEMBER: With our Truck Accident and Car Accident Personal Injury Lawyers, the Consultation is Absolutely FREE and there is NO fee until you WIN!