Truck Accident In Frazier Park
FRAZIER PARK TRUCK ACCIDENT INJURY LAWYERS: OVER THREE DECADES OF PERSONAL INJURY ACCIDENT LITIGATION EXPERIENCE!FRAZIER PARK, CALIFORNIA TRUCK & CAR COLLISION PERSONAL INJURY ATTORNEYS YOU CAN TRUST!
If You Had A Truck Accident or Other Injury Accident In Frazier Park, Kern County, Please Read This: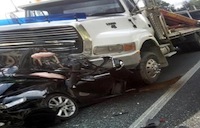 Accidents involving trucks, large commercial vehicles, and big rig vehicles in Frazier Park, Kern County, California can be quite catastrophic. The result of a truck crash or big rig vehicle collision is far more disastrous than a small automobile accident. This is owing to the huge size, weight, and force of trucks and heavy-duty vehicles.
If you are looking for experienced and trustworthy personal injury & wrongful death claim lawyers in or near Frazier Park, Kern County or anywhere else in California, our experienced and compassionate lawyers and law firm will not disappoint you. We are experienced personal injury, wrongful death and truck accident injury attorneys who will pursue your rights and work in your best interests to provide personal attention for your needs and at the same time to obtain maximum monetary compensation for your losses, be it for physical injuries, emotional distress, wrongful death and/or property damage.
Inattentive and rash truck handling occur primarily because of a negligent or unprofessional truck driver. Their neglectful behavior has proven catastrophic for cars and other small vehicle drivers and passengers, especially for those traveling by car or motorcycle in Frazier Park. You can contact us for a completely FREE CONSULTATION. Our truck accident injury lawyers provide truck accident, auto accident and personal injury legal services for Frazier Park, Kern County and other parts of California. For more information on our Frazier Park truck accident personal injury lawyers and law firm, visit our home page. To know more about our lawyers, feel free to check our lawyer profiles, and our personal injury & wrongful death case testimonial pages.
ABOUT FRAZIER PARK, KERN COUNTY, CALIFORNIA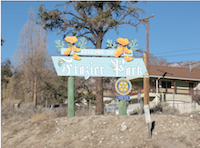 Located five (5) miles west of Lebec, Frazier Park is an unincorporated community in Kern County. The small town is at an elevation of 4,639 feet and is one of the Mountain Communities of the Tejon Pass. According to the U.S. Census 2010, the population of Frazier Park was recorded at around 2,691. Moreover, the population density was 531.2 people per square mile. The racial makeup of Frazier Park includes 2,297 White, 16 African American, 31 Native American, 22 Asian, 3 Pacific Islander, 212 from other races, and reportedly 110 from two or more races.
Our experienced personal injury & wrongful death truck accident and car accident attorneys and legal team can help you pursue your rights and obtain maximum compensation for your injuries, as well as for emotional distress, medical bills, loss of earnings and other financial losses. You can simply visit our Truck Injury Accident Web Site to learn more about the truck accident injury claims process. In fact, if you need a FREE case evaluation about your specific truck accident or other personal injury case, our personal injury & wrongful death accident lawyers are more than willing to help you and provide a FREE case evaluation.
MORE THAN THREE DECADES OF EXPERIENCE HANDLING ACCIDENT INJURY CASES IN LERN COUNTY, CALIF.
Our experienced truck accident injury & wrongful death lawyers have tremendous experience in resolving personal injury claims and wrongful death cases in Frazier Park, Kern County and throughout California. Our success rate exceeds 95% and our persistent personal injury lawyers have recovered more than $75,000,000.00 in money compensation for our clients. Moreover, we offer immediate assistance with medical attention, property damage repair and settlement, loan cars, emergency monetary advances, medications, prescriptions, MRI scans, etc.
Free Case Evaluation: Trust Us With Your Personal Injury or Wrongful Death Claim
Contact our Frazier Park truck accident injury & wrongful death claim lawyers and legal team now for a completely FREE CONSULTATION and CASE EVALUATION. You can reach us most easily:
Call us on our Toll-Free number - 866 INJURY 2 or 866.465.8792 (after hours, please press 1).
Speak directly with our experienced truck accident injury lawyer or any member of our legal team at 818.222.3400 (again, after hours, please press 1)
Contact us by emailing us at info@WalchLaw.com
Please contact us now. There are many time deadlines and procedures that if not properly complied with could damage or ruin your claim.
We work on a contingency fee basis: Absolutely FREE CONSULTATION and NO FEE UNTIL YOU WIN!
Client Reviews
You guys did a great job in settling my case! Hope you all do well and prosper. Thank you for a job well done.
Jackie C.
We had two prior attorneys who were unable to settle our car accident case. We then hired Gary and Robert Walch and they not only got us both great settlements, but personally spent time with us explaining everything clearly. We couldn't be happier. Thank you!
A.M. and M.A.
Dear Gary, I just want to thank you for working so hard on my case! I know at times we were a bit difficult, but you did a great job. I thank you and your son for good results. I will pass your number on to any one that I run across who may need a PI attorney! I send you warm regards
Julie B.
Dear Gary, I just wanted to tell you how much I appreciate all your efforts on my behalf. The car accident was a very traumatizing experience for me. But knowing that I could trust you and your son, Robert, helped alleviate my fears and worries.
Carmella C.
Thank you for all of your hard work and thank you for making it so easy over e-mail for me. I'm a busy working mom of an Autistic 5 year old son and you guys were great. I will definitely recommend your services to family and friends.
Edna G.