Truck Accident in Fillmore
Truck Accident Personal Injury Lawyers in Fillmore, Calif: Over 45 Years of Experience You Can Depend on!
Are You Searching for Best Lawyers for Your Truck Accident Personal Injury Claim in Fillmore, Ventura, Calif?
Please read this:
Fillmore Fatal Crashes And Road Traffic Accident Statistics For 2011
Fatal accident count: 2
Vehicles involved in fatal accidents: 2
Fatal accidents caused by drunken drivers: 0
Persons involved in fatal accidents: 2
Pedestrians involved in fatal accidents: 4
Source: City-Data
There are many trucks on our roads that are being manned by tired, inattentive and negligent drivers, who place motorists at a high risk. Terrible accidents with catastrophic injuries result from large, heavy trucks colliding with smaller cars and even motorcycles and bicyclists. Our Fillmore, Ventura County truck accident lawyers and law firm provide expert personal injury and wrongful death legal services for those injured, and the families of those killed, in accidents involving a truck, car, motorcycle, pedestrian and other personal injury claims. Please visit our Truck Injury Accident Web Site to learn more about the truck accident personal injury claim process and please call us at 818-222-3400 or 866 INJURY 2 or click here to contact us for a FREE case evaluation about your specific case.
About Fillmore, Ventura County, CA
A small city in Ventura County in the Santa Clara River Valley, Fillmore is primarily an agricultural area with rich and fertile soil, and is located within a historic agricultural and tree-farming belt. The small valley town lies below the San Cayetano Mountain Peak with an approximate population of 15,002 according to the U.S. Census 2010. In 1887, Southern Pacific built the historic railroad through the valley. The city is named for J.A. Fillmore, who was a general superintendent for the company's Pacific system. Noted residents of Fillmore include Nati Cano, a Mariachi musician, former leader of the Grammy Award-winning Los Angeles-based mariachi ensemble, called Mariachi Los Camperos.
Truck Accidents in Fillmore, Ventura County, Calif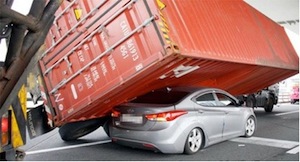 Accidents involving trucks, large commercial vehicles and big rig vehicles in Fillmore, Ventura County, Calif. can prove to be quite disastrous, even leading to fatalities with wrongful death accident claims in many cases. Truck crashes are often much worse than small car collisions or accidents because of the large size, weight and force of a truck. So, for experienced and compassionate attorneys to provide expert truck accident legal counsel, choose our trustworthy personal injury lawyers who handle truck accident, car accident and other injury claims in Fillmore, Ventura and everywhere else in California.
Why Choose Us?
We are backed by over 45 years of experience in successfully handling thousands of truck accident, car accident, pedestrian and other personal injury claims and wrongful death cases throughout Fillmore, Ventura, Los Angeles, the San Fernando Valley, Riverside, San Bernardino and all of California.
Our truck and car accident lawyers and law offices concentrate on successfully resolving Personal Injury Accident Cases, not divorce, criminal, probate or other non-related matters!
We have over 98% success rate
Over $100,000,000.00 recovered
Immediate help with medical care, medical specialists, property damage repair and settlement, loan cars, monetary advances, medications, prescriptions, etc.
Personal Injury Attorney of Years 2010 and 2014
Personal Injury Law Firm of Years 2011 and 2014
Please see our Settlements & Verdicts and our Testimonial pages to know why others use us and strongly recommend us
Contact Us for an Absolutely Free, No Obligation Case Evaluation
It is so easy to contact our Fillmore truck accident injury lawyers and legal team now for a completely FREE CONSULTATION and CASE EVALUATION.
Speak directly with one of our experienced truck accident injury lawyers or any member of our legal team at 818-222-3400 (after hours, please press 1)
You can even call us on our Toll-Free number - 866 INJURY 2 or 866-465-8792 (after hours, again please press 1).
You may also contact us and by emailing us at info@WalchLaw.com
Our consultation is absolutely FREE and we work on a contingency fee basis – which means there is NO fee until you WIN!!!
FREE CONSULTATION & CASE EVALUATION and NO FEE UNTIL YOU WIN!