Truck Accident in Cypress
Cypress Truck Accident Injury Lawyers – Dependable, Responsible and Experienced Attorneys With More Than 45 Years of Litigation Expertise!
Seeking a Truck Accident Injury Lawyer in Cypress, Orange County, California?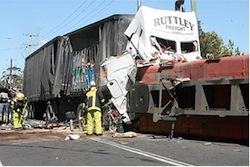 Huge trucks or semi-trucks traveling at high speed in Cypress, California can result in a devastating crash or accident with brutal injuries or even fatalities resulting in a wrongful death accident claim. Truck drivers are often negligent, inattentive or rash in their truck handling and driving, causing truck vs truck or truck vs car collisions. This neglectful behavior has been proven catastrophic for the car and other small vehicle passengers, especially motorcycle drivers. If you or a loved one had a tragic truck accident in Cypress, Orange or any other place in California, because of the negligence of a truck driver, contact experienced truck accident personal injury lawyers.
Our experienced lawyers are proficient in personal injury claims, truck accident injury claims, and wrongful death claims. We offer personal injury legal services for those injured in truck, tractor-trailer, automobile, motorcycle and other accidents, and to the relatives and families of those killed in truck accidents for wrong death claims in Cypress, Orange County, California. We are experienced personal injury and truck accident injury attorneys who work on a contingency fee towards preserving your rights and to obtain maximum compensation for your physical damages, as well as for emotional and financial losses. Please visit our Truck Injury Accident Web Site to learn more about the truck accident injury claims process and contact us now for a FREE case consultation and evaluation about your specific Cypress truck accident or any other personal injury claim.
About Cypress, Orange County, Calif.
Cypress is a suburban city located in the northern region of Orange County within Southern California. According to the 2010 U.S. Census, the population of Cypress was approximately 47,802. The population density was 6,991.1 inhabitants per square mile. Cypress is bordered by La Palma, Lakewood, Garden Grove, Anaheim, Hawaiian Gardens, Long Beach and Los Alamitos.
Common Causes of Truck Accidents in Cypress, Orange County, California
Our Cypress truck accident personal injury lawyers will help you understand your truck accident injury claim, wrongful death accident claim or any personal injury lawsuit. An essential aspect of understanding such claims in Cypress and anywhere in Orange, Riverside, Los Angeles and California is to determine who is at fault. More often, the causes of truck accidents and truck collisions include the following:
Cypress Fatal Accidents and Road Traffic Accident Statistics for 2011
Fatal accident count: 1
Vehicles involved in fatal accidents: 1
Fatal accidents caused by drunken drivers: 0
Persons involved in fatal accidents: 1
Pedestrians involved in fatal accidents: 1
Source: City-Data
Exhausted driver
Overloaded trucks
Poor maintenance of the truck, including its brakes
Inexperienced and/or improperly trained driver
Intoxication or Driving Under Influence (DUI)
Exceeding speed limits or driving at an unreasonable speed for existing conditions
Violation of other commercial motor vehicle laws
Our experienced truck accident personal injury lawyers and law firm possess tremendous experience in resolving personal injury claims and wrongful death cases in Cypress, Orange County, Garden Grove, Anaheim, Los Angeles, the San Fernando Valley, Ventura, Riverside, San Bernardino and throughout California.
Call Us now for Your FREE Consultation & Case Evaluation
To learn more about how we can assist you further with your truck accident claim or other personal injury accident claim in Cypress or anywhere in California, and what you need to do to protect your rights and to comply with special time deadlines and other procedural rules, please call us at 1-866-INJURY 2 or 866-465-8792 or 818-222-3400 (after hours, please dial 1 for immediate assistance) for a FREE, no-obligation consultation. Moreover, you can simply email us at info@WalchLaw.com, or just fill our easy contact form and find out what your options are and what you need to do to protect your rights and financial interests.
On Accident Cases: FREE Consultation & Case Evaluation and NO Fee Until You WIN!