Truck Accident in Culver City
Culver City Truck Accident Injury Lawyers: Over 45 Years of Personal Injury Accident Legal Experience You Can Trust and Count on!
Are You Looking for a Truck Accident or Car Accident Injury Lawyer in Culver City, California?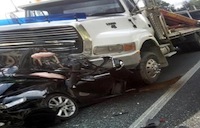 Our Culver City truck accident personal injury and wrongful death lawyers and law firm in Los Angeles county offer legal services for those injured in truck crashes, including big rig, semi or 18-wheeler truck collisions. Our lawyers hold over three decades of litigation expertise in handling personal injury claims, motorcycle accidents, uninsured motorist (UM), underinsured motorist (UIM), and wrongful death claims.
Culver City Fatal Crashes and Road Traffic Accident Statistics for 2011
Fatal accident count: 1
Vehicles involved in fatal accidents: 2
Fatal accidents caused by drunken drivers: 0
Persons involved in fatal accidents: 2
Pedestrians involved in fatal accidents: 1
SOURCE: City-Data.com
If you need assistance with truck accident personal injury claims or have a wrongful death accident claim in Culver City, Venice, Westchester, Redondo Beach, Westwood, Los Angeles, or any other place in California, please get in touch with our truck accident injury lawyers and our legal team now for a completely FREE CONSULTATION and CASE EVALUATION. You can learn more about our truck accident injury lawyers by visiting our home page. Get ADDITIONAL information about our experienced truck accident personal injury attorneys through their individual lawyer profiles. And simply contact us for specific information about your case.
About Culver City, Los Angeles County, California
Culver City is located in western Los Angeles County, California. According to the 2010 U.S. Census, the population of Culver City was 38,883. Since the 1920s, the city has been a major hub for motion picture and now television production and other entertainment businesses. It is known as the home city of Metro-Goldwyn-Mayer (MGM) studios. Today, National Public Radio West and Sony Pictures Entertainment are headquartered in Culver City.
Among road accidents occurring every day on American roads, those involving trucks or big rig vehicles are usually the ones that are the most devastating, inflicting grave injuries on passengers in smaller cars and other vehicles. Our experienced truck accident injury lawyers will assist you and your family in the best possible manner, based on over three decades of experience in personal injury and wrongful death claims. We can help you exercise your rights by enlightening you with knowledge, explaining the process to you, representing you against the trained adjusters at insurance companies whose primary concern is profit, and protecting your rights and interests.
Expertise You Can Rely on
When it comes to truck accident personal injury claims, you definitely need someone on your side whom you can trust. We want to protect your interests and offer the following to you:
Immense experience in resolving thousands of truck accidents, car accidents, personal injury claims, and wrongful death cases in Culver City and throughout Los Angeles, the San Fernando Valley, Ventura, Riverside, San Bernardino and all of California.
Success rate in excess of 98%.
Over $100,000,000.00 recovered.
Immediate help with medical care, property damage repair and settlement, loan cars, monetary advances, medications, prescriptions, etc.
Selected Personal Injury Attorney of Years 2010 & 2014
Selected Personal Injury Law Firm of Years 2011 & 2014
Please see our Attorney Profile pages and Testimonial pages for more information about our personal injury & wrongful death lawyers and law offices.
Get in Touch for a Free Consultation & Free Case Evaluation
Without any hesitation, call us now to speak with our experienced truck accident injury lawyers or any member of our legal team at 818-222-3400 (after hours, please press 1). You can also give us a call on our Toll-Free number at 866 INJURY 2 or 866-465-8792 (after hours, please press 1) or local number at 818-222-3400. To immediately Contact Us by e-mail, just click here or email us anytime at info@WalchLaw.com!
NO Fee Until You WIN! FREE Consultation! Contact us NOW –You will be glad that you did!