Truck Accident in Chino
Chino Truck Accident Injury Lawyer – Over 45 Years of Experience You Can Trust!
If You Were Injured in a Truck Accident or Car Accident in Chino, California, Contact Us Now For Your FREE Case Evaluation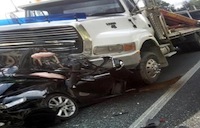 If you or a loved one was injured in a truck or car accident in Chino, California, or a family member killed with a wrongful death claim, then look no further. Our experienced and compassionate truck accident injury lawyers offer expert personal injury legal services for victims of truck crashes, including big rig, semi or 18-wheeler truck collisions, or for the families of deceased in a truck or other fatal accidents for wrongful death claims.
Chino fatal car crashes and road traffic accident statistics for 2011
Fatal accident count: 5
Vehicles involved in fatal accidents: 9
Fatal accidents caused by drunken drivers: 1
Fatalities: 6
Persons involved in fatal accidents: 12
Pedestrians involved in fatal accidents: 2
Source: City-Data
Chino is a city situated in the western end of the Riverside-San Bernardino Area in San Bernardino County, California. It is bounded by Chino Hills to the west, which is a southeastern suburb of Los Angeles in the southwestern corner of the city and Ontario to the northeast. San Bernardino County lies on its north and southeast while Riverside County is on the south. As per the 2010 Census, the city's population was 77,983, while the population of Chino Hills was 74,799.
Truck, car and other accidents cause much hardship, especially when drunk drivers are involved.
Drunk Driving Facts and Statistics
Drunk driving costs each adult in this country almost $500 per year
A person is injured in a drunk driving accident every 90 seconds
Over 1.2 million drivers were arrested in 2011 for driving under the influence of alcohol or narcotics.
In 2011, 15% of all drivers involved in fatal crashes during the week were drunk, compared to 31% on weekends.
Source: MADD
Chino truck accident injury victims, especially the occupants of small passenger vehicles, may suffer serious injuries including fractured humerus, broken shoulder, and damage to the skull. The victims may experience severe emotional distress, and serious injuries can also lead to wrongful death claims. If you or anyone you know sustained any serious injuries from any truck accident or other personal injury accident in Chino, Los Angeles, or anywhere in California, please contact us now. Our personal injury lawyers offer free consultations, legal advice and referrals to doctors who may provide treatment on a lien basis without demanding payment until the personal injury claim is resolved. The sooner you act the better it is for you!
The Lawyers at the Walch Law Corporation: Attorneys You Can Rely on in Truck Accident Injury Claims
In excess of 45 years experience successfully resolving numerous truck accident and other personal injury cases in Chino, Chino Hills, Riverside, Los Angeles, the San Fernando Valley, Ventura and all of California
More than 98% success rate
Over $100,000,000.00 recovered
Persistently involved in handling Personal Injury and Wrongful Death Claims
Graduated UCLA Summa cum laude (with highest honors) and Phi Beta Kappa (Nation's Oldest Academic Honor Society)
Personal Injury Law Firm of Year 2011 and again in 2014!
FREE consultation - NO fee until you win!
Our truck accident personal injury lawyers and law corporation will turn things upside down to uphold the rights of injured victims and their families. Visit our Truck Injury Accident Web Site (http://www.walchlaw.com/lawyer-attorney-1681493.html) to get more detailed information about truck accident injury claims.
You can call us for a FREE legal consultation with an experienced truck accident injury lawyer or any member of our legal team at 818-222-3400 (after hours, please press 1) or on our Toll-Free number at 866 INJURY 2 or 866-465-8792 (after hours, please press 1). You may even drop a line at info@WalchLaw.com! We are always there to help you out.