Truck Accident in Castaic
Castaic Truck Accident Personal Injury Lawyers You Can Trust!
Castaic, Los Angeles Truck Accident Injury and Wrongful Death Claim Lawyers with Over 45 Years of Experience & Success In Handling Personal Injury Claims!
If you had a truck, car or motorcycle accident in Castaic or anywhere in Los Angeles, please read this now: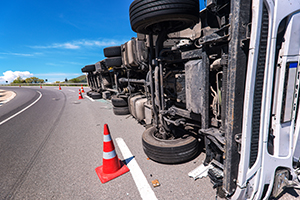 We know that heavy trucks cause major accidents with significant property damage and serious injuries, sometimes even deaths with complex wrongful death claims for relatives to handle. We are reliable and experienced personal injury lawyers who provide expert truck accident injury claims related advice and legal assistance. So, if you were injured in truck, car, motorcycle or any other accident, or need assistance in a wrongful death claim involving a loved one, relative or a family member, in Castaic, Los Angeles, California, you have come to the right place. Contact us 24/7 for a completely FREE & CONFIDENTIAL CONSULTATION.
For more information about our expert lawyers, their experience and success stories, please visit our Client Testimonials, our record of Verdicts & Settlements and our Personal Injury lawyer profiles. If you are searching for more information about truck accident and what should be done or not be done in case of a truck accident personal injury, then you can find general information on our Truck Accident Advice Page; and you can receive specific information about your own truck, car or motorcycle accident case by calling us at 818-222-3400 or 1.866 INJURY 2 (after business hours, dial "1").
About Castaic, Los Angeles, California
Castaic is a rural unincorporated community, which is located in the northern part of Los Angeles County, California. According to the U.S 2010 Census, Castaic had a population of 19,015. The community is located approximately 40 miles northwest of the downtown Los Angeles Civic Center and about ten (10) miles north of the community of Santa Clarita, California. Beautiful Castaic Lake in Castaic is part of the California Water Project and is the site of a hydro-electric power plant.
Truck Accidents in Castaic, California
The mammoth size and force of big rig commercial vehicles like trucks and tractor-trailers can be a major safety concern for those who travel alongside them, particularly in smaller vehicles like cars and motorcycles. Determining the cause of a truck accident is of utmost importance when pursuing a legal case for compensation against injuries and damages incurred in a truck collision. For expert legal assistance and understanding the intricate details of your personal injury case, contact our experienced truck accident personal injury attorneys and wrongful death claim lawyers, who can better explain things to you and simplify the legal process and formalities pertaining to your case.
We assist victims in pursuing their rights to obtain top medical care, clear advice and to acquire maximum compensation for their injuries, as well as for all financial damages and losses. We understand how taxing it can be to be involved in a serious truck accident. Thus, we work hard to provide the best possible service and recover the maximum compensation possible to cover all losses and damages incurred. We use our 45 years of personal injury experience to help YOU!
Free Case Consultation - No Fee Until You Win!
To know more about how we can assist you in protecting your rights and complying with required time deadlines and other rules, please contact us now for your FREE case consultation and/or evaluation.
Feel free to talk to our Castaic personal injury lawyers at our toll-free number 866 Injury 2 or 866-465-8792 (after hours please dial 1) or call us at 818-222-3400 (again, after hours please dial 1)
For our quick and easy way to contact us, fill-out your case details in our contact us form and tell us all about your truck accident personal injury case or details of a wrongful death claim of a loved one.
You can even send us your questions 24/7 by sending us an email at info@WalchLaw.com.
There is NO charge for our initial consultation –ABSOLUTELY FREE CASE EVALUATION!
We also work on contingency fees – NO FEE until YOU WIN!!!